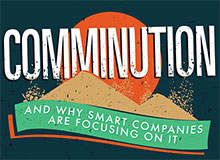 Comminution accounts for a whopping 53% of the energy used in mining operations worldwide, while on a wider scale comminution accounts for around three percent of all total electricity consumed worldwide. And this number is growing.
As stocks dwindle the need to crush, break, smash and sift increasingly lower grade ore is increasing – eking out a payload in lower grade ore requires finer filtering and as a result the amount of energy required goes up.
For an already energy intensive industry looking to offload costs and improve on environmental credentials, exploring more energy friendly methods and technologies to improve and refine the communition process is a no-brainer.
Courtesy of Visual Capitalist the infographic below depicts in vivid details the rising cost of communition and provides some very compelling figures for a smart switch to a less energy intensive mining methodology. Click on the image to see it full size.


Related content
---
Low commodity prices and high operating costs dented mining profits last year, but is business set to improve in 2013?
Activists and state officials are trying to convince legislators in Minnesota to halt silica sand mining until an environmental impact study is completed.
---