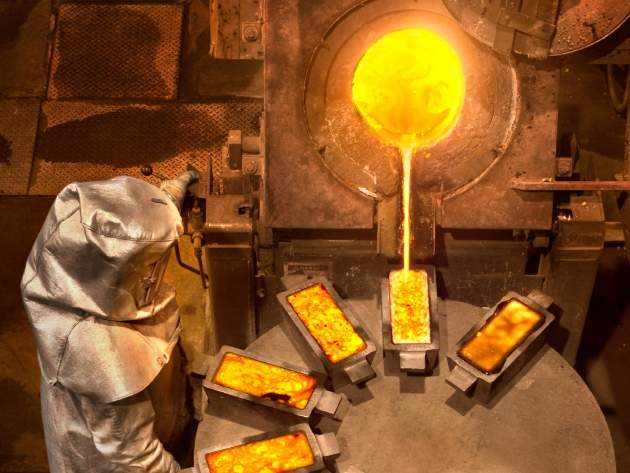 March saw China's second-biggest gold producer unearth what could be the country's largest ever deposit, a discovery that's set to cause ripples worldwide. But it won't be enough to meet demand within the country itself, which continues to grow. Thanks to a combination of government policies and cultural factors, China has its eye on deposits further afield too.
Since 2008, when it overtook Australia, China has been the biggest player in the global gold market. Today it represents around 14% of mining production worldwide. Yet, thanks to a slew of factors, including the country's sheer size and the value its people place on gold as a means of wealth preservation, China is unable to provide for its own domestic market, which makes up around 30% of global demand.
"Consumers in the country want more gold than domestic mines can provide, partly because of cultural impacts," explains KC Chang, a senior economist at global information and analysis firm IHS Markit. "Historically, gold has been used as a way for families to preserve their wealth as well as to pass wealth between generations. It's one of the oldest financial instruments for providing wealth protection as well as helping increase your wealth over time."
Looking ahead, demand will only continue to grow. "Over the next five years, as the middle class grows in terms of its own wealth and disposable income, you are certainly going to see a greater demand for gold in terms of jewellery and as an investment product," Chang predicts. "It's going to continue to be preferred over some of the other products on offer in terms of offering financial protection as well as potentially higher financial returns."
Biggest ever discovery
In March, Shandong Gold, China's second-biggest producer by output, announced that it had discovered deposits in eastern China containing an estimated 380t of gold, the equivalent of 20% of the country's reserves and potentially its largest ever discovery.
The volume of reserves in the Xiling mine in Shandong province could reach more than 550t once exploration is completed in two years, according to Shandong Gold, which also said that when operating at full capacity, the mine would have a life of 40 years.
"This find would help increase China's own domestic gold production, which should help reduce the amount of gold imports into China."
According to Chang, the impact of this discovery could resonate far beyond China. "This find would help increase China's own domestic gold production, which should help reduce the amount of gold imports into China, and that in turn may potentially impact gold flows between countries," he explains, adding that this could add more price volatility into global markets.
"It's tough to predict the near-term price impact it may have but looking on a longer term basis, more gold supply would result in downward pressure on gold prices for the world."
Such a significance may also have the effect of incentivising further gold exploration in China's high-potential Shandong region, Chang adds. "However, at this point I think a greater focus for Shandong Gold will be on how to develop their recent gold find so they can extract the gold cost-effectively," he notes.
Eyes on acquisitions
China certainly isn't restricting itself to within the country to meet the ever-growing demand for gold. Indeed, the month after Shandong announced its ground-breaking domestic discovery came news that the company was also to acquire a 50% interest in Barrick Gold's Veladero mine in San Juan, Argentina, for a cool $960m. The mine is expected to produce as much as 830,000oz of gold this year alone.
As a second step, Shandong and Barrick, which is the world's largest producer of the precious metal, will form a working group to explore the joint development of the cross-border Argentina-Chile Pascua-Lima deposit, situated 10km from Veladero. The two companies are also set to evaluate additional investment opportunities on the highly prospective El Indio gold belt on the border of Argentina and Chile, where both aforementioned deposits are located.
And Shandong isn't the only Chinese producer that's been looking further afield over recent years. Overseas deals by companies based in mainland China in 2015 quadrupled from the year before to $483m according to data compiled by Bloomberg. Included amongst those deals was the sale of a near 50% stake in Barrick's Porgera gold mine in Papua New Guinea to Zijin Mining, China's biggest gold company by market value.
" It can also help domestic mining firms such as Shandong learn from their partner companies and exchange ideas and technologies."
"This goes back to China's latest five-year plan," Chang explains. The Ministry of Industry and Information Technology recently announced a target to increase gold reserves by 3,000t to as much as 14,000t by 2020.
"Currently, China produces roughly 450t per year so that means they are going to have to grow quite quickly over the next four years. That's part of why we're seeing more aggressive pursuit of acquisitions around the world, as not only does it help grow companies' production base, it can also help domestic mining firms such as Shandong learn from their partner companies and exchange ideas and technologies so they get better at mining domestic Chinese mines."
Looking ahead, Chang believes China is only going to grow in importance as a global gold producer and consumer. "China has already become a major key end market for global gold jewellery demand as well as global gold consumption," he concludes. "The bottom line is that [the Shandong discovery] is just one step towards China playing a bigger role within the gold industry as well as the previous metals market globally."