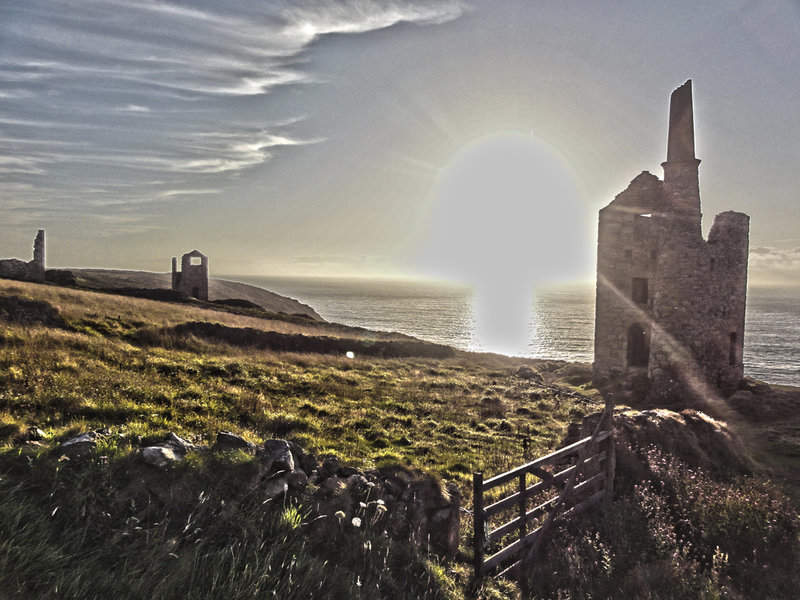 In 2016, Cornish Lithium was set up to take advantage of Cornwall's historic reserves of lithium and the increasingly bullish market for the previously unremarkable mineral. Then in August this year, the company managed to secure the necessary investment to begin exploration works.
Cornish Lithium is now hoping to be the first company in the UK to take advantage of the increasing demand for lithium, driven by the metal's use in electric car batteries. "The brains of not only Britain, but elsewhere are beginning to wake up to the fact that we need an awful lot more lithium if this electric car revolution is to be sustained," says Cornish Lithium CEO Jeremy Wrathall.
It is this 'revolution' in which the company hopes to take part, by using minimally intrusive bore holes to access the lithium-filled saline brines that sit below the Cornish countryside.
If the company successfully retrieves resources, finding a market won't be a problem. As Tesla's new battery factory in Nevada, US ramps up production to its highest ever levels, more lithium ion (Li-ion) batteries will be produced at this single facility by 2020 than the entire global production in 2013. Tesla's Gigafactory, along with other facilities, will rely on finding new sources of lithium to fulfil demand.
The right time and place for investing in lithium
"I was told by a friend of mine about six years ago that he was trying to restart the South Crofty tin mine," says Wrathall. "He said that they've got everything in that mine, tin, copper, zinc and lithium coming in at depth. I promptly forgot about it, and only remembered in 2016 when electric cars started to really gear up."
The growth in the electric vehicles (EV) market and the demand for Li-on batteries that followed has completely changed the prospects for lithium mining. In 2016, the number of EVs on the road rose to over two billion worldwide, marking a colossal jump over the last decade from less than 200,000 on the road in 2006.
How well do you really know your competitors?
Access the most comprehensive Company Profiles on the market, powered by GlobalData. Save hours of research. Gain competitive edge.
Company Profile – free sample
Thank you!
Your download email will arrive shortly
Not ready to buy yet? Download a free sample
We are confident about the unique quality of our Company Profiles. However, we want you to make the most beneficial decision for your business, so we offer a free sample that you can download by submitting the below form
By GlobalData
"Between 2015 and 2016, sales of EVs increased by 60% and growth in the market is set to continue as countries step away from conventional combustion engine cars."
Importantly, between 2015 and 2016, sales increased by 60% and growth in the EV market is set to continue as countries step away from conventional combustion engine cars in efforts to reduce pollution. Earlier this year, Britain followed France's example by committing to banning new petrol and diesel cars by 2040.
This provided a key motivation for Wrathall to pursue lithium in Cornwall. "What gave me great encouragement that [lithium mining in Cornwall] was do-able was a) there's now a market for lithium that there wasn't before because of electric cars and battery storage, and b) because the technology has changed, or is changing," he explains.
"Historically, lithium has been extracted in Chile using solar evaporation, which is a really is old technology," Wrathall continues. "They're merely taking advantage of the fact that they're 4,000m up and there's no electricity, so they have to use an evaporation technique. That technology hasn't really changed in thousands of years – the Romans used solar evaporation pools in places like Malta.
"Now there are new technologies using membranes, reverse osmosis, ion exchange and solvent extraction. All of these processes are being used to extract lithium directly from brine without an evaporation step. That's what encouraged me to do it, because obviously although I'd love to say you could build a solar evaporation pool in Cornwall, it's just not going to happen."
Research by the Lappeenranta University of Technology (LUT), Finland, showed that new methods such as these allowed 99.9% of lithium to be recovered from natural salt pools and brines.
Energy markets driving demand
Cornwall has a history of mining, most famously tin, but records also show large bodies of lithium. "Obviously, the miners then didn't want to hit this stuff because it was hot and highly saline, which is a nightmare for miner," says Wrathall. "In 1864, a professor of chemistry at King's College London, UK, sampled it and found it had large anomalous quantities of lithium. But at that time that was merely a curiosity as they couldn't really extract it, and there wasn't much of a market for lithium."
With estimated lithium grades of about 120ppm, and references across Cornwall to lithium, Wrathall and his team are feeling quietly confident about the resource. "I'm as confident as I can be, because there were numerous mines that experienced this phenomenon," he says. "They all complained about massive inflows of hot saline water, and those who assayed it found lithium in it."
The changing market has meant that lithium is now a very profitable mineral. The price has increased consistently over the last few years, with the price paid for a lithium carbonate contract increasing by 50% between 2014 and 2016. This is predominantly due to its use in Li-ion batteries, ensuring it is no longer a curiosity but, as Goldman Sachs put it, "the new gasoline".
"The price of lithium has increased consistently over the last few years, with the price paid for a lithium carbonate contract increasing by 50% between 2014 and 2016."
Lithium mining is also beginning to move away from the monopoly of the Lithium Triangle, consisting of Chile, Argentina and Bolivia. For years, this triangle has dominated lithium production, holding 54% of the world's resources within easily extractable brines in the Atacama Desert and the Salar de Uyuni. While there is no doubt that production from these regions will still play a major role in the lithium market, internal challenges and quickly increasing demand has opened up the market to the rest of the world.
"I think lithium mining in Chile is going to get much, much, much more difficult," says Wrathall, as  "Chileans have just put a 40% royalty on any new lithium projects. The Chilean Government is increasingly concerned about the amount of water that goes to waste in those evaporation ponds and they are also concerned about the environmental destruction of the Atacama Desert."
Exploration: Pinning down new lithium resources   
Currently, Cornish Lithium is still an exploration project and it expected to be at least five years before production can start. For now, data is being collated in order to build a map and help the company choose the best drilling sites. Further geophysical surveys and sampling will take place where possible, before the company finally applies for permits to drill in the most promising sites.
"We know the lithium's there from historic records but we haven't physically drilled any holes yet," says Wrathall. "The first hole that will potentially tell us what's down there is the one that's going to be drilled in January."
Securing investment was a big step for Cornish Lithium, and one Wrathall says was about far more than money. "We had other offers on the table for the money, but the investors are crucial to this, particularly because they understand the risk they're taking and they give valuable input on mining and processing," says Wrathall about the firm's choice of investor. "Keith Liddell is a processing engineer, hydrometallurgist, and had a hugely important input on possible extraction techniques."
Drilling the first exploration holes in 2018 will be just the beginning of a long journey for the company, and a further £4m is needed to complete exploration over the coming years.
Cornish Lithium is looking to collaborate with energy projects when it comes to mining. "Geothermal energy is drilling into the same structures that we're targeting," says Wrathall. "There's a new geothermal project going in, starting to drill early next year, who've raised money from the Cornwall County Council, the European technology fund and a crowdfunding source to drill a hole 4.5km deep.
"If you can tie lithium production in with production of geothermal power going forwards, not necessarily that project but other projects, you'd have production of power and the extraction of lithium from the same water."
This may be some way in the future, but with demand for lithium set to rise and rise, now seems the perfect time to carve out a Cornish niche.