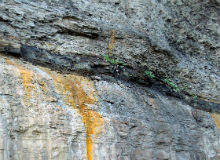 The catalyst for the development of the TruProbe drilling system came about five or six years ago when many of the major mining companies came together and realised there had not been a single innovation in drilling for around 40 years.
"They had been getting a reputation as being not very technology smart," says Professor Anton Kepic of Curtin University in Western Australia. Kepic is also drilling services company Boart Longyear's chair in geophysical instrumentation.
Wanting to address the issue, in 2010 the Australian Government, along with industry, developed the Adelaide-based Deep Exploration Technologies Cooperative Research Centre (DETCRC) to push innovation in the mining industry.
TruProbe is one of the fruits of DETCRC's labour. Developed in conjunction with Boart Longyear, which has an exclusive commercialisation deal with the centre, Global Tech, that makes existing senses for core orientation and survey down the hole, and Curtin University, TruProbe is intended to revolutionise mining exploration.
Looking to the petroleum industry
Taking cues from the data-intensive oil and gas industry and the innovation it has deployed in deep exploration drilling, the TruProbe system centres on on-site data collection and analysis.
"The mining industry has been saying we ought to be more like petroleum, we ought to have proper structural models and other bits of information to make more intelligent decisions," says Kepic.
TruProbe promises to provide cost and time savings by replacing conventional gamma geophysical surveys with new gamma geophysical survey sensors inside drill strings, which collect data and help mining companies identify more valuable information about precious metals and minerals during exploration.
"The mining industry has been saying we ought to be more like petroleum, we ought to have proper structural models."
Surveys are normally conducted at the completion of the borehole before the drill rods are removed, requiring the drill crew and rig to wait while the geophysical crews conduct the survey, which can take around two months. With the TruProbe technology drilling crews will be able to conduct the gamma survey while removing the drill rods, eliminating costly stand-by charges.
"It makes much more sense to deploy that tool during the drilling process," says Kepic. "This extra information tells you, perhaps, that your geological model was wrong, that you've stopped drilling too early, or that you need to drill another 100m or so to properly test your ideas."
"I know from experience some mines get developed too early before the drillers properly understand what the mineralisation is – you can be halfway into digging it up and you realise you could have done a much better job. We'd like to avoid that in future."
De-risking with data
The development of the technology has been a four-year process, fairly rapid by industry standards, and marks Boart Longyear's entry into the information services business. Kepic was there from the beginning.
"I was tasked with trying to find what is called 'low-lying heavy fruit' and felt that putting microphysical sensing in the drilling was one of these things where the technological barriers were reasonably low but the concept was novel enough; it hadn't been done before."
He adds that the technology is not a 'silver bullet', but it is an extra stream of data about the rock that can help geologists and also help de-risk mining investments.
"In the mining industry we don't tend to collect many physical properties of the rock; we focus on elemental composition. However, properties such as how heavy or dense it is, how much magnetic materials are in there, electrical resistance, all of these are characteristics of the rock too.
"They are not typically measured by the mining industry and mineral exploration so we want to change that as this is clearly important information. However, it is too costly to collect independently so it needs to be collected as part of the drilling process to make it viable.
"Having worked in the industry for over 20 years I find the more information you have about your rock mass the smarter your decision-making is on how you drill, test it and evaluate it – it is part of the puzzle."
A new digital era
Kepic says a high commodity price has resulted in a lack of innovation because when mining companies are doing well they don't focus on improvement, "but at the current price no one is doing very fine, everybody now looks to be smarter from exploration to development."
"My perspective is that there is going to be changes," he adds. "Data will come straight on-site. Currently data is sent to offsite laboratories and it is two months before you get a result.
"I think the future is that the drilling rig is much smarter because it measures all sorts of things as it drills."
"I think the future is that the drilling rig is much smarter because it measures all sorts of things as it drills. That information will then [be sent] to an office somewhere in the world and analysed instantly.
"I think there will be more highly skilled persons supervising the drill rigs and a lot of it will be automated and the jobs will be a lot more knowledge-intensive and the operator will be focused not only on the drilling performance but managing the information streams coming from that drill rig so that the people in the office can up their models of what is happening and the impact."
TruProbe is one element of the first phase of bringing the industry fully into the digital era, which is long overdue. The technology is currently being field tested by BHP Billiton and the South Australian Government, and once it has been tweaked and gained significant operational hours will be commercially available in 2016.
"This is part of the game changer; I think there is no doubt the mining industry over the next five to ten years is going to change considerably its approach in exploration and development and this is the initial wave," adds Keptic.
"It's about being smarter. Mining has to go into the digital age."