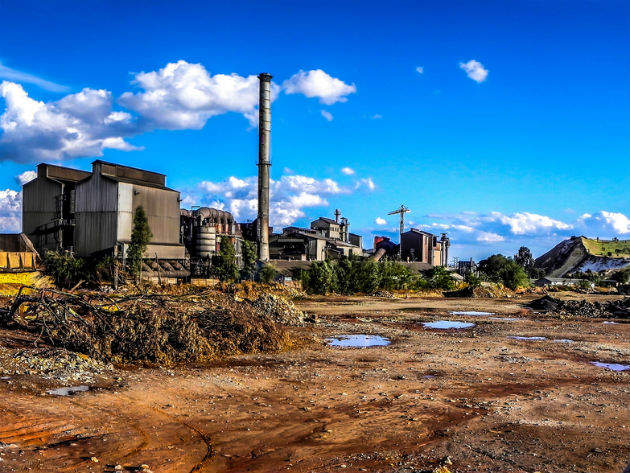 Mining remains the biggest industry in South Africa, contributing 7.1% of GDP in 2015 and despite having declined over the last decade it remains important for economic growth and stability. But according to many mining companies, this is now under threat from the new '2017 Mining Charter, An Instrument of Change: Giving Practical Expression to Radical Economic Transformation,' which was presented by Minister of Mineral Resources Mosebenzi Zwane on the 15 June.
"This Mining Charter we present to you today is a key instrument for radical change, designed to address many of the inequalities in the mining and minerals sector prior to 2002," Zwane announced.
Despite the country's huge black ethnic majority, the mining industry is mostly run by white executives overseeing a huge, low-skilled and cheap black workforce.
To overturn this inequality, the previous 2002 Mining Charter stipulated that 26% of mine ownership in South Africa must be held by black people, which was achieved by 2014 with coal mining now seeing the largest percentage of black ownership at 47.2%, whereas diamond mining is lowest at the minimum 26%.
Reading the Mining Charter
The new Mining Charter will introduce several important changes to current regulations and South African companies will have twelve months in which to increase their black stakeholder share to 30%, from a mix that may include employees, companies and entrepreneurs.
"On the element of ownership, not only have we increased the thresholds required for prospecting rights, mining rights and the transfer of rights, we have ensured that workers and communities receive their fair share of the economic development of their country's mineral resources," said Zwane.
Alongside stakeholders, other areas of the industry will see increased emphasis on black participation. The proportion of goods that must be sourced from black-owned and South African-based companies must  increase to 70% within three years, and 80% of services will have to be sourced from Black Economic Empowerment (BEE) registered companies. While the percentage of black junior managers must be increased to 88%, executive directors to 50% and senior managers to 60% as part of the employment mandate. Of these targets, women must make up half all positions.
Zwane continued: "In order to ensure that the workers, mine communities and black entrepreneurs derive real economic benefit from their participation and ownership in the mining industry, the charter requires the holder of a mining right to pay 1% of its annual turnover to the 30% black persons' shareholding, prior to and over and above any distributions made by a holder to its shareholders."
This change is a response to the racial economic discrepancies of those working in the mining industry. While there is a large percentage of black workers in the sector as a whole, that amount dwindles to very little as you move up the hierarchy, ending at the top with mostly white senior executives. And this is not an isolated situation, as the trend is mirrored by other industries, totalling 72% of directors in South Africa's top 40 listed company boards being white.
An instant impact for South Africa
The fallout from the Mining Charter has had immediate effects, with the South African Rand dropping nearly 2% against the US dollar. "It obviously had an immediate, dramatic, negative effect, firstly with the share prices tumbling and then a general negative from investors," says Warren Beech, head of mining at Hogan Lovells. "Many of the people who had been looking at new projects have now really put them on hold again."
Concerns were raised when the initial draft of the charter was produced at the end of last year, with the Chamber of Mines warning that it could diminish investment and exploration, damaging business in South Africa and, potentially, throughout sub-Saharan Africa.
Presentation of the charter's final version has sparked further criticism, with the industry saying its concerns were not taken into account and that the changes announced are unworkable. In fact, talks were held following the initial draft, but there has been repeated criticism of the level of interaction between the Department of Mineral Resources (DMR) and general industry. It recently came to light that no communication with the Chamber of Mines, the voice of the industry, occurred for two months prior to publication of the charter.
Originally, there was speculation as to whether the update would include the principle "once empowered, always empowered", a concept which indicates that once a shareholder has benefitted from the company they remain 'empowered' even if they no longer own that stake. However, this has not been included in the latest charter, meaning that companies must ensure that black ownership stay at 30% even if black shareholders sell their shares. Miners have railed against this point, however, arguing that they should not have to renew their BEE credentials every time a share is sold.
The Chamber of Mines, which represents 90% of mining companies in South Africa, including Anglo American, Glencore and Lonmin, has launched a court case against the charter on constitutional grounds. This forms part of the group's #NotOurCharter movement, which claims "that it would have been in the best interests of the industry, employees, communities, investors and South Africans at large if the DMR had opted to engage on the basis of an outcome that advances transformation with the intention of achieving progressive and realistic targets over a period of time".
Less than a month after the charter was officially introduced, it has been suspended as a direct result of the Chamber of Mine's case. Implementation has been indefinitely put on hold while the chamber seeks an 'urgent interdict' with hopes to prevent the charter being enacted.
But a court case is a lengthy process and the challenge will undoubtedly lead to policy uncertainty making South Africa an unappealing investment. It is thought that the case will take several years, extending beyond the next national election in 2019, causing further uncertainty.
All of this controversy is likely to compound the investment concerns the Mining Charter has created, as despite its wealth of natural resources, South Africa has lost 60,000 jobs in the last five years as funds and exploration have dwindled. Meanwhile, Royal Bafokeng Platinum CEO of platinum Steve Phiri described the Mining Charter as another "nail in the coffin" for South African mining, given its effect on investment.
All a matter of time
However, while the overall reaction to the Mining Charter has been broadly negative this is predominantly due to the timescale it will impose upon mining companies. "Can we achieve the procurement targets and can we achieve 30% black ownership? The answer is probably yes, given time, and for me it's not so much about the targets, and I think people are correct," says Beech.
A year to increase black ownership 4% and three years to increase procurement, particularly for junior mining companies, is very demanding. This was raised as the key issue following publication of the draft charter in 2016, but was not amended in the final charter.
"A progressive implementation over a five to ten year period, [is a] realistic time period," suggests Beech. "If we had the mining charter and we could change just one thing it would be the timing."
But criticism hasn't fallen on deaf ears and the DMR has responded with anger. "Anybody who does not want to see black people empowered, anybody who still wants to see black people treated like slaves, raise up their hands and say they are not part of the progressive South Africa," Zwane said on the 23 June when asked about the criticism.
The introduction of the 2017 Mining Charter has tapped into a sensitive social issue, but it seems that the overall effect of the dramatic changes it requires could damage the mining industry to the detriment of all involved.
"It's difficult because, in terms of our legislation, all the mining companies have an existing social labour plan within which is an obligation to look after local communities," says Hogan Lovells partner Kevin Pietersen. "I don't think that was controlled well enough, not enforced well enough, so, whilst the Mining Charter might be a bit too drastic, I do agree with what ministers are trying to do now. Mining has always been the backbone of South African industry and they have reason to be aggrieved, but it should be a joint effort: engage with the community, sit down and see what can be done."
Change is clearly required to ensure black empowerment in South Africa, and the mining industry must be part of that. But, as it currently stands, the Mining Charter's flaws may cause more harm than good.