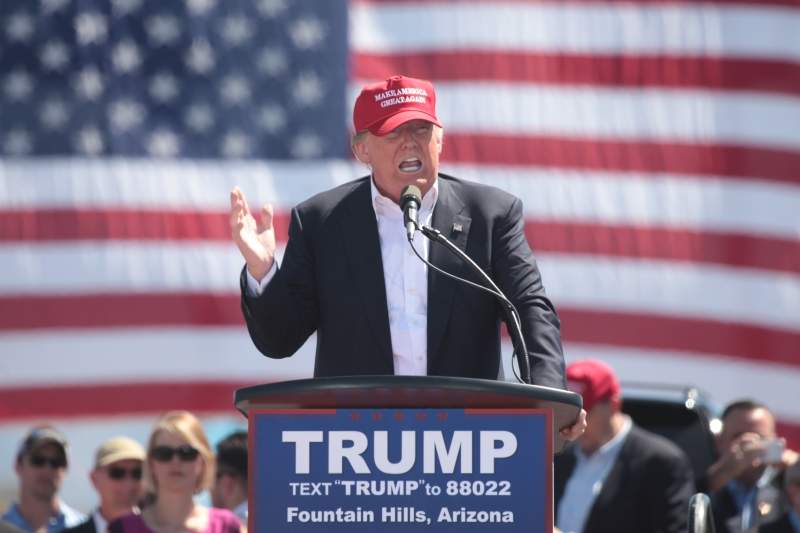 At the Trump administration's first full White House cabinet meeting on Monday 12 June, President Trump highlighted the great strides that had been made in the US energy sector, particularly in mining.
"There are a couple of major stories today in the newspapers about the mines that are opening and the miners are going back to work," said Trump. "[…] People are surprised; it's kicking in very fast."
The president declared in that cabinet meeting that his energy policies have been producing "amazing results". On the campaign trail last year, as the Republican presidential candidate, Trump connected deeply with mining communities in states such as Kentucky, Wyoming, West Virginia and Pennsylvania. "For those miners, get ready, because you're going to be working your asses off," he said at one rally in Charleston, West Virginia.
Back in West Virginia for another rally on 3 August this year, Trump was keen to emphasise a promise kept to America's coal miners. "As president, we are putting our coal miners back to work," he declared.
Certainly there is evidence that Trump has been working to improve the legislative and regulatory landscape for the US coal mining industry, and that those efforts have had an impact. But has America's coal mining industry really bounced back in the way Trump has described, and have his efforts truly had the reviving effect that he has made out?
Supportive moves for the coal industry
The Trump administration does appear to have followed through on the president's campaign promises to US coal country, often in the face of staunch opposition and compromising environmental standards in the process. At the end of March, under the direction of a Trump executive order entitled 'Promoting Energy Independence and Economic Growth', Secretary of the Interior Ryan Zinke signed a secretarial order lifting an Obama-era moratorium on new coal leases on federal lands.
The order also cancelled the environmental impact study that was intended to accompany the moratorium, while a second order signed at the same time directed a review of "mitigation and climate change policies" to balance environmental needs with "the equally legitimate need of creating jobs for hardworking American families".
From a regulatory perspective, Trump's dismantling of the Obama administration's Clean Power Plan, which would have levied strict emissions limits on coal and gas-burning power plants, has been pointedly connected to saving jobs in the coal industry, mining included, by improving the lot of the coal power industry and raising domestic demand.
The US's planned withdrawal from the Paris Climate Agreement, while more of a gesture than anything else, was also linked to preserving jobs in America's energy industries. When Trump, during the announcement of the withdrawal, said he was elected to "represent the citizens of Pittsburgh, not Paris", it was no coincidence that he referred to a rust belt city with a centuries-long history of coal mining.
The EPA – now under the administration of Scott Pruitt, a doubter of man-made climate change and previously a serial litigant against the agency he now leads – has also been quick to put a hold on coal-related eco-regulations such as a recently-finalised curb on toxic wastewater releases from coal plants into public waterways. In August, the Interior Department ordered a halt on research by the National Academies of Sciences, Engineering and Medicine looking into the potential health effects of the mountaintop removal mining technique commonly used in the Appalachian range.
US coal rebound: don't call it a comeback?
With the federal government's legislative and regulatory signals looking significantly friendlier to US coal miners since the start of 2017, what kind of impact is the industry seeing?
Job creation was perhaps the central pillar of Trump's pitch to coal country during the campaign, and jobs growth has been one of the first benefits to be highlighted by the administration, although there is certainly disagreement over the veracity of the government's figures.
In a June interview with NBC's 'Meet the Press', Pruitt asserted that nearly 50,000 coal sector jobs had been added in the US since the last quarter of 2016 – further evidence that Trump is keeping his promise to the coal communities that were so instrumental in getting him elected. But the next day that number was deemed 'mostly false' by political fact-checking site PolitiFact. The US Bureau of Labor Statistics puts the number of American coal mining workers at around 50,000 in total, while jobs in the sector grew by 1,300 between January and June.
While there are many ways to interpret and debate the reality of job statistics in coal mining and the wider coal sector (PolitiFact noted that job growth in the period reaches 38,000 if mining as a whole is merged with the logging sector), it's clear that political spin played as much a part in Pruitt's claim as tangible reality.
Other, more verifiable life signs for the US coal industry have emerged. Trump has placed a great deal of stock in the opening of Corsa Coal's Acosta Deep Mine, a new underground metallurgical coal mine in Pennsylvania, bringing with it 70-100 full-time jobs. The Acosta mine joins Ramaco Resources' Elk Creek mine in West Virginia and several others that are set to open around the US in the coming months to take advantage of spiking metallurgical coal prices in the way of supply disruptions in Australia, the global leader in met coal.
Another positive sign is a noticeable uptick in American coal exports. Energy Information Administration data shows that US coal exports in the first quarter of 2017 spiked by 58% year-on-year, driven primarily by unusually high demand from European countries such as the UK and France, the latter of which doubled its coal imports from the US to make up for a number of nuclear plant outages.
"These numbers clearly show that the Trump administration's policies are helping to revive an industry that was the target of costly and job-killing overregulation from Washington for far too long," said Department of Energy spokesperson Shaylyn Hynes after the export boost was revealed.
Market varies, but a general decline for US coal
Certainly there have been some encouraging signs for the US coal mining industry in 2017, but the extent to which these upticks have come about primarily because of the Trump administration's interventions, rather than prevailing market forces, is difficult to gauge accurately. Most of the coal 'success stories' trumpeted by the government can be explained by shifting market dynamics, from spiking met coal spot prices to European and Asian demand, meaning these trends are reversible and may not last. Putting it all down to six months of the Trump energy agenda requires some wishful thinking.
"Simply to know that coal no longer has to fight the government, that has to have some effect on investment decisions and in the outlook by companies, producers and utilities that use coal," National Mining Association spokesperson Luke Popovich told Reuters in July, and he may be right, but that won't stop a crushing downturn if conditions change for the worse in the future.
Many of the Trump administration's coal policies seem to pivot around a belief that a regulatory 'war on coal' initiated by the Obama administration has been entirely responsible for the industry's economic woes. It's true that tightening regulations and concerted efforts by environmental groups have played a part in shrinking US coal miners' prospects; public opposition, for example, has blocked multiple attempts to build a new West Coast coal export terminal, limiting the industry's ambitions to increase shipments to lucrative Asian markets.
But outside of the environmental debate, coal has been declining in the US and global free markets for decades thanks to cheaper gas and burgeoning renewable technologies edging it out of the energy mix. In December it was reported that around 44% of US coal is produced by companies that have filed for bankruptcy in the last four years, and that includes the country's top two producers, Arch Coal and Peabody Energy. Coal mining jobs, despite the small boost lately, have been declining even faster, with downsizing and automation pressuring the workforce from two sides, cutting 60,000 jobs from the coal mining industry since 2011. Well over half a million jobs have been cut from the sector from its peak in the 1920s.
As much effort as the Trump administration makes, there is likely little it can do to reverse the wider decline of the coal mining industry and the coal-fired power sector that supports it – this is perhaps reflected in the sparse bidding activity undertaken by miners on federal lands since the lifting of the leasing moratorium. As much as Trump has dedicated significant time and resources to supporting the coal industry and its workers, ultimately their future will be shaped – for richer or poorer – by forces beyond his control.