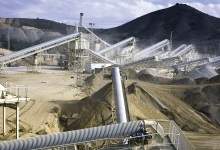 With the settling down of commodity prices and profit margins, the mining industry is under increasing pressure to extract extra efficiency from operations. The materials handling stage of mineral and metal extraction is one of the few areas of the industry's supply chain that firms have total control over and is therefore a strong candidate for chiselling out those extra savings. With complex algorithms calculating optimum train speeds and entirely new materials being developed to extend the life of underground conveyors, the market is starting to respond.
Feeder
A faulty feeder breaker can bring the whole materials handling process to a halt before it has even begun, so reliability and agility are crucial. The latest feeder-breaker systems by Wisconsin based manufacturer Joy Globaldelivers on both counts. Featuring chromium carbide surfaced conveyor deck and alloy steel shafting, the all-welded frame is tough and robust. The powerful and sturdy rotary pick can crush and grind a mix of materials, including limestone, petroleum coke and surface coal, down to an easy and manageable size at a maximum throughput rate of 2,000 TPH, equivalent to 1814 tonnes.
Further flexibility is offered through three separate intake ends – ram car, swing gate and three-way dump – that enable ram cars, shuttle cars, scoops and battery-powered haulers to discharge their load. Staked or hinged sideboards are also available, enabling the capacity of the break feeder to be varied. The system is available in both hydraulic, suitable for extremely hard input materials, and mechanical formats. An optional external component control attachment enables enhanced monitoring of belts and air conditions to be carried out remotely from the surface. A duo-cone breaker seal reduces spillage and lubrication frequency, while high torque, freewheeling crawlers feature variable ground cylinders to maximise manoeuvrability.
Conveyor
While the sturdiness of steel rollers is second to none, their usable lifetime is limited in wet, abrasive or highly corrosive environments. To address this challenge, earth moving equipment manufacturer Caterpillar has developed a new range of rollers from its proprietary high molecular polyethylene material EXALON. The material, which is MSHA certified as both flame retardant and static dissipating, is used to produce rollers that are up to 30% lighter than steel equivalents, 20% quieter and, most importantly, last up to three times longer in highly corrosive or abrasive working environments.
---
---
The Internet of Things, robotics and plasma are transforming mining into a safer and more productive industry.
---
The rollers also feature the company's patented lubrication management technology that uses a tapered design to maximise grease coverage and a wave spring to ensure that pressure is applied on the compensator disc even when the conveyor is not in operation. Added agility comes from a shaft end configuration that enables the rolls to be retrofitted to conveyor belts from other manufacturers.
Each roller is data stamped with manufacturing detail, such as date produced, and technical information, such as rotational torque, to enable engineers and maintenance staff to factor in the age and years of use of individual rollers into identifying issues. Steel remains the go-to material for general mining operations but EXALON rolls offer specialist appeal to miners working in particularly challenging environments.
Crusher
The optional automation system for the Metso manufactured TC1000-C crusher adds smart tech to heavy industry. The system is linked to every aspect of the 553,000 kg machine, enabling automatic control of the air blower, immersion heaters, lube pump and oil coolers. Through data-analysis and mathematic algorithms, the system provides on-screen diagnostics that monitor efficiency and even predict when problems might occur, enabling pre-emptive action or cost-saving maintenance to be carried out.
Further innovations in the design include a patented headnut with burning ring to make the removal of the mantle simpler and reduce the risk of damage, while the mainshaft and head centre are combined into a single forged piece of alloy steel to eliminate the potential for breakage or separation during operation. Steps to maximise its working life and minimise wear include a patented step bearing wear indicator that releases harmless silver powder into the oil at worn bearing thickness and an over-pressure air blower that stops dust from getting into the eccentric and drive. To ease maintenance, the spider bushing and seal can be replaced without having to remove the spider, which can weigh up to 103,964kgs.
Truck
"
Rio Tinto
is going to put self-driving trains on its 1,500km rail network."
The biggest and boldest innovation in the materials handling chain is the removal of the need for human drivers to transport the quarry from the mine to the freight train. The 930E Autonomous Haul System (AHS) by Japanese company Komatsu, has moved more than 100 million tonnes of Iron Ore at Rio Tinto's Pilbara project in Western Australia and has prompted other manufacturers and mining firms to get in on the act.
The dump trucks combine a vehicle control system with a high precision GPS tracker, obstacle detection technology and wireless network to haul up to 290 tonnes of material a time to a pre-determined target. In addition to removing the risk of human error or misjudgement from the equation, autonomous approach also negates the need for rest breaks, enabling transportation to be carried out through the night. The fleet of 13 AHTs currently in operation have enabled Rio Tinto to increase the time utilised for transportation by 10%. During the course of 2014, it will increase its fleet to 40 autonomous trucks.
Rail
Buoyed by the success and efficiency savings delivered by the autonomous trucks, Rio Tinto is going to put self-driving trains on its 1,500km rail network that runs between 15 mines and three ports. The project, which has already received $518 million in investment, will see the first driverless locomotive put on the network this year, with full implementation a year later. While the fully autonomous trains are yet to be unveiled, the company has rolled out computer controlled braking systems and a driver assist system on its existing fleet of 173 freight trains.
Developed as part of the AutoHaul program, the Electronically Controlled Pneumatic (ECP) brakes address the time that elapses between the first and last carriage applying their brakes, which can take up to a second. Using an electronic system, break commands are delivered through the trains, which can stretch as long as 2km, simultaneously. The second rail innovation that has been launched in the lead-up to the fully autonomous solution is Driver Assist, which provides the driver with real-time track information to augment their decision-making.
Data analysed by the system includes projected speeds ahead in relation to signals and speed restrictions and the impact of track geometry, such as curve and gradient. Unlike other driver assist systems, the Rio Tinto format provides drivers with a speed restriction advice. The two innovations have already delivered savings by reducing the amount of training required for drivers, but before long they will be gone altogether.