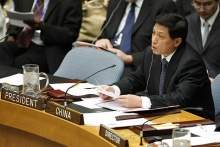 In a bid to strengthen its commitment as a permanent member of the UN Security Council, last month, in an unprecedented move, a Chinese government-affiliated body, the Chinese Chamber of Commerce for Minerals, Metals and Chemicals Importers and Exporters (CCCMC), launched a set of guidelines for Chinese mining and minerals trading companies working overseas.
NGO Global Witness has called the move "groundbreaking", stating it is a sign Chinese companies and the Chinese industry group recognise business can be done better by Chinese companies working in conflict-affected countries.
"It is part of China being able to say, at the global level, we are a responsible player," says Global Witness senior advisor Lizzie Parsons.
"As a permanent member of the Security Council they have a responsibility to work towards peace in a number of conflict-affected countries."
"It is part of China being able to say, at the global level, we are a responsible player."
The guidelines, which closely reflect and are drawn from guidelines published by the Organisation for Economic Co-operation and Development (OECD) and the UN, propose to reduce operating risks for Chinese mining and mineral trading companies overseas and to ensure that they do not trade in conflict minerals – minerals that are mined or traded in a way that fund rogue groups or rogue army elements that commit violence against local people in countries such as Myanmar, the Democratic Republic of Congo (DRC) and Colombia.
Chinese companies in the DRC
China – a country whose pace and scale of growth and economic development holds no precedent – is one of the major players in many conflict-affected areas.
In the DRC, for example, official export statistics obtained by Global Witness and detailed in its Tackling Conflict Minerals report reveal that in North Kivu, a conflict-affected area, from January to July 2014, China and Hong Kong-based firms imported all tantalum and over 80% of tin leaving the region, with a net worth of $11.9m. In March Global Witness discovered that tin coming out of Bise – the largest tin mine in North Kivu – and mineral trading routes out the area had been subject to tax by rogue elements of the Congolese army and partially integrated militia.
Parsons says it is not a case of companies avoiding conflict areas like North Kivu altogether, but "taking responsibility for their sourcing and asking their suppliers for evidence the trade has not financed armed groups or rogue elements of the national army", she says.
Global Witness's report highlights two companies – TTT Mining and Huaying Trading Company – who, according to the NGO, have failed to carry out supply chain due diligence in accordance with DRC law, but still continue to trade out of the country.
In North Kivu, due to recent scrutiny, certain mine sites and trading routes in the area are no longer under illegal control, Parsons says.
"However, given that there are many hundreds of mine sites in the region, we know that there are many other mining areas run by men with guns," she adds.
What the guidelines propose
---
---
Huge socio-economic problems and a government accused of being a kleptocracy, mining in the world's second least developed country is far from straightforward.
---
The new Guidelines for Social Responsibility in Outbound Mining state that, among other things, companies should conduct risk assessments to determine whether traded minerals originate or pass through conflict-ridden areas, conduct supply chain due diligence checks and when operating in conflict-affected areas take steps to monitor business relationship and flow of funds.
They are, however, only voluntary and Global Witness doesn't know of any companies implementing them yet. Parsons admits this is far from ideal, but says the fact the guidelines exist at all is an important first step.
It's the increased scrutiny the guidelines encourage that could be important. Chinese companies have often faced less public scrutiny than Western companies, some of which have also been lax in conducting supply chain due diligence from conflict areas, due to the limited standard of corporate and government transparency in China.
Implementing due diligence as outlined in the guidelines need not be onerous for companies, says Parsons, and can in fact provide reassurance for investors and customers. But how do companies go about doing this in such complex and changeable environments?
"Risk-based due diligence is intended to be a flexible and iterative process, tailored to a specific company's operations and position in the supply chain," says Parsons.
"Under the CCCMC and OECD frameworks companies should have one person who is responsible for ensuring the supply chain checks are carried out. Some companies choose to outsource that responsibility to an industry scheme or external advisor.
"There are useful systems in place – for both downstream and upstream – now that help companies do those supply chain checks."
Supply chain due diligence will be imperative for global business
According to section 1502 of the Dodd Frank Act passed in 2011 in the US, companies listed with the US Securities and Exchange Commission, including any Chinese firms, must carry out a country of origin inquiry on all tin, tantalum, tungsten – for which demand in the US is very high – or gold contained in their products. If these resources come from DRC, which due to the global supply chain is completely possible, or adjoining countries, the companies have to carry out supply chain due diligence to determine whether they have funded armed groups in the DRC.
Parsons says the Dodd Frank 1502 law only led to meaningful reporting in the summer of 2014 and while some companies showed that supply chain oversight is possible, the lack of information in most of the submissions made it's impossible for consumers or investors to see if they are sourcing responsibly or not.
However, she has received anecdotal evidence from traders in Burundi, for example, that already traders in mainland China are asking for information around the sourcing of minerals in relation to the Dodd Frank Act.
Parsons hopes the Chinese government will endorse the new CCCMC guidelines and encourage state-owned companies to conduct these checks in line with their commitment already within the UN Security Council.
"It is good business to do so because they are facing so many risks overseas," she says, "but also reputationally to show they are able to be more responsible in their operations."