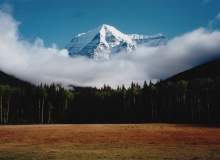 Encompassing the largest part of the Canadian Cordillera, a vast mountain belt rich in minerals and coal, British Columbia has, since the mid-1800s, become a primary producer and exporter of copper, gold, silver, lead, zinc, molybdenum, coal and industrial minerals. More than $2.2bn has been spent on mineral exploration in the province since 2010 and the industry employs over 30,000 people.
Research published by environmental consultancy Hemmera on behalf of the Association for Mineral Exploration British Columbia (AME BC) has found that the province's status as a mining superpower is now under threat.
The report, entitled 'Framing the Future of Mineral Exploration in British Columbia', highlights what it terms as a shrinking land base available for the exploration of hidden and valuable minerals in British Columbia, and increasingly complex provincial government policies governing land access and use.
AME BC fears that without ongoing mineral exploration there will be no major new discoveries, putting thousands of jobs and hundreds of millions of dollars in annual economic impact at risk.
"British Columbia has world-class geology, but land use regulations need to recognise that minerals are hidden and that the nature of this resource hasn't been considered in the planning," says Hemmera's director of development Scott Weston, who is also chair of AME BC's Land Access and Use Committee.
How well do you
really

know your competitors?

Access the most comprehensive Company Profiles on the market, powered by GlobalData. Save hours of research. Gain competitive edge.
Company Profile – free sample
Thank you!
Your download email will arrive shortly
Not ready to buy yet? Download a free sample
We are confident about the unique quality of our Company Profiles. However, we want you to make the most beneficial decision for your business, so we offer a free sample that you can download by submitting the below form
By GlobalData
"Finding an economically viable deposit is like looking for a needle in a haystack," he continues. "Mineral explorers require large tracts of land in order to identify surface signatures and geological anomalies of these hidden resources, and confidence that they will be able secure tenure and advance a project through its various stages to completion.
"Governments rely heavily on mining revenues and the public relies on the products that come out of mines. At present, it takes on average eight years to bring a mine into production; if we are don't invest in the front end of the industry right now, then there will not be mines in the future."
Open and shut case: British Columbia's land access laws
The Hemmera report found that 18% of land in British Columbia is closed to mining and 'conditional' access has been granted on a further 33%, while the remainder of the province is still subject to the normal suite of legislation and regulation governing exploration and mining.
Predicting my first question, Weston argues that the perception that only a small percentage of land is designated as off-limits is misleading. In reality, he says, more than half of the province is severely constrained to the industry due to 40-plus land use classifications and more than 200 land use plans.
"In theory, 82% of the land is open, but Hemmera looked at the provincial government's data sets and discovered that layer upon layer of confusing land designations have been added incrementally, so that today we have a huge amount of land that is effectively closed to exploration," he explains.
"AME BC would like to see the government streamline and clarify hundreds of these overlapping land regulations."
"AME BC would like to see the government streamline and clarify hundreds of these overlapping land regulations as well as provide better access to land designation planning tools and processes."
So, is AME BC, on behalf of the mining industry, calling for more clarification around the rules governing conditional access, or more land to be made available for mineral exploration?
"Both," states Weston. "When land is classified as protected, we ask that the government carries out a full assessment of its value including billions of dollars of potential mineral wealth hidden under the ground. Are we properly assessing the value of that land before saying it cannot be developed?
"For example, certain parts of the province have resource roads in place and yet motorised vehicle access is restricted above a certain elevation. Now, there may be very good reasons for doing that, such as protecting wildlife, but at the same time you are stopping mineral exploration in its tracks.
"The provincial government values mining's economic and social importance, so I don't think this is a political issue," he continues. "Rather, it's the fault of mid-level regulations that tend to look at the landscape from a single perspective, without understanding the broader socio-economic impact."
Economies of scale: sub-dividing land and compensation issues
In 2002, British Columbia confirmed in legislation a two-zone system governing mineral exploration and mining under Section 11.1 of the Mineral Tenure Act. The amendment was intended to ensure that mining applications were considered in all areas except parks, ecological reserves and protected heritage property or where exploration was prohibited under the Environmental and Land Use Act.
At the same time, the provincial government's Protected Area Strategy doubled the protected land base to 12%, with the implication that the remainder would be available to the mining industry.
However, Weston argues that this figure does not take into account a tangled hairball of sometimes redundant regulations that have carved up the territory to such an extent that it is now increasingly difficult for companies to secure the large land packages required for mineral exploration.
"In British Columbia and throughout Canada any individual can stake a claim for sub-surface rights to available public land and this remains a very effective way to encourage development of minerals," explains Weston. "However, the government can't do that by itself – it needs smart geologists.
"As the landscape becomes sub-divided, it is harder and harder to piece together large, continuous tracts of land for even preliminary airborne searches that have no impact on the landscape.
He adds that "Mineral explorers can spend their money anywhere in the world. If British Columbia is to compete we need a basic level of investor confidence to attract meaningful investment and that means access to land, and confidence that tenure can be secured in order to advance economically viable projects.
"In addition, if the government revokes a mineral claim – and there may be a perfectly good reason for that decision – then they need to adequately compensate the rights holder. If potential investors in the province see that compensation is not being fairly paid, why would they come here?"
Green economy: First Nation communities and the environment
Contrary to Weston's comments, $2.2bn of investment in the past five years indicates an industry in rude health rather than under threat, which suggests that AME BC's claim that Canada's base metal reserves are declining may have less to do with land access and more with low commodity prices and dwindling reserves.
"That is not why we're highlighting this issue now," Weston confirms. "Whether it's a good time or a bad time in the global commodity cycle, if we can't get access to land then the mining industry suffers."
"Whether it's a good time or a bad time in the global commodity cycle, if we can't get access to land then the mining industry suffers."
So where are the examples of land access laws negatively impacting local economies?
"It's tough to definitively measure the direct economic impact and we are not saying that land use restrictions are debilitating the economy, but it is having an effect," he says. "For example, from 2008-2013 small towns in the north-west boomed because there was so much mineral exploration.
"Now, those communities don't enjoy that same level of activity and people have lost their jobs. As populations in these smaller communities shrink, so does critical infrastructure such as health and welfare because the community is just not able to support them.
Weston adds: "Outside of major urban areas such as Metro Vancouver there are a lot of First Nation communities and there is no service industry. Those economies rely on forestry, mining and mineral exploration and on oil and gas – and when you put restrictions on investment those communities suffer.
"The mineral exploration and mining industry is the largest private sector employer of First Nations people in Canada and any downturn in the industry directly affects their livelihood as well."
As an environmental consultant, Weston believes it is possible for British Columbia to have both an active mineral exploration and development industry, and a sustainable, healthy environment.
"Demand for minerals is not going to slow down and they have to come from somewhere," he says. "Our modern society demands products for health and recreation, and almost all of these require minerals or metals. I would rather see them come from British Columbia, which has some of the highest environmental standards in the world, a stable government and a clear understanding of the supply chain."