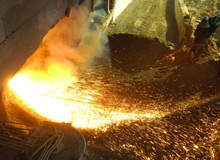 Alex Hawkes: What plans does Xstrata Coal have in place for the remainder of 2008?
James Rickards: For the rest of 2008, Xstrata Coal will continue to grow via acquisitive and organic opportunities. We are currently focused on the recent completion of the Glendell and Liddell open-cut operations in New South Wales, Australia, alongside the pre-feasibility studies of our proposed Wandoan Coal project in the Surat basin of Queensland.
"Xstrata Coal will continue to grow via acquisitive and organic opportunities."
Then, of course, there is the development of the proposed Mangoola Coal open-cut thermal mine in New South Wales, which has recently secured approval from the Xstrata plc Board. The Mangoola coal mine will produce up to 10.5 million tons a year of run of mine (ROM) of both export and domestic quality thermal coal with an expected mine life of 18 years.
Meanwhile, Xstrata has the development of the Blakefield underground following the eventual completion of the Beltana underground operation.
AH: How does this compare to the company's activities in South Africa?
JR: In South Africa we have the 5-Seam underground operation, the further expansion of the Goedgevonden open cut and new opportunities as they arise. We are also entering into an exploratory project stage of the Donkin Project as part of the Donkin Coal Alliance with Erdene Coal in Nova Scotia, Canada.
Our recent interim report and a presentation given to analysts in December 2007 highlight the potential projects we are considering in the near future both in South Africa and Australia.
AH: How does technology play a role in all these development plans?
JR: Technology is assessed when specifying equipment for new and existing operations. The pace of change when it comes to the development of technology is ever increasing and is leading to a demand on the skilled resource pool. Special consideration is given to underground and longwall operations to ensure Xstrata Coal is maximising its opportunities to help develop and implement leading safety and technology principles to ensure the safe working environment of its employees.
AH: What level of automation and control systems does Xstrata Coal currently implement across its mining operations?
JR: We are successfully operating the world's first automated longwall at the Beltana Mine in Australia. This research project was a cooperative effort funded in conjunction with the Australian Coal Association Research Projects (ACARP) fund.
The project included new sensor development for closed loop control of face equipment, integrated operation of face components through open communications systems and new date flow and management methods and technologies. It also involved the identification of skills and qualities of people required for automated longwall operations as well as the development of new on-line condition monitoring and fault detection technologies.
AH: Is automation therefore growing in importance for Xstrata?
JR: In the short term, it will be more likely that Xstrata will study technology that will support operator assistance in conducting their work. However, from a long-term perspective, full automation is still a work in progress.
AH: In what ways does Xstrata Coal harness advances in technology to progress safety measures across its mining operations?
JR: Xstrata Coal is committed to ensuring its operations are zero-harm work environments.
"Xstrata Coal is committed to ensuring its operations are zero-harm work environments."
However, human error will always be a factor in any potential hazard and therefore any automated control or alarm function that can actively prevent, alert or protect an individual from a hazard is actively implemented. Xstrata Coal plays an active role among the industry's key health and safety bodies to help further the development and testing of new technology to reduce risks and remove injuries from the workplace. The safety of our people remains our number one priority.
AH: What efforts is Xstrata Coal making to reduce its overall fuel consumption?
JR: As part of Xstrata Coal's ongoing energy efficiency strategy, we are actively examining the potential benefits and prospects of utilising hybrid mining vehicles on specific sites. However, the size of the equipment used at site currently limits the possibility of any short term significant change.
Nonetheless, Xstrata Coal remains committed to the testing and implementation of new technologies as and when possible in an effort to reduce costs and our greenhouse footprint.
AH: Finally, how pivotal is technology to Xstrata's long term global plans?
JR: Technology will support our ability to expand existing businesses and develop new areas where resources may not be as readily available. We continue to actively consider new technology as we look to grow our business through new organic and acquisitive opportunities.