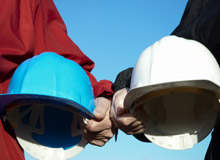 Mining, in all its various disciplines, now contributes to more than half of Australia's total exports. And with an incessant demand to drill even deeper and take advantage of the demand from countries such as Japan, China and India, the Australian mining industry fully understands the need to ensure it is at the forefront of technical innovation and to have the ability to provide an appropriate platform for the skilled workforce that is required to meet this demand.
However, in spite of Australia's current mining successes, one of the major problems within the industry is the 'boom and bust' cycle which seems to replicate itself time after time. This and lack of job security often deters many people from entering the industry.
Dr Mehmet Kizil is a senior lecturer in mining at the University of Queensland in Brisbane. Whilst acknowledging the current mining 'boom' in Australia, thanks in large part to the demand from its Asian neighbours, he is aware of the workforce difficulties that arise.
"One of the biggest problems the mining industry faces during the boom is the lack of a skilled workforce," Mehmet says.
"As the businesses expand and new mines open Australia requires more people to run the mines. [At the same time it is having] more difficulty in finding sufficient numbers of people to run its mines."
Mehmet says the problem is not all about growth, however. The mining industry itself is partly to blame with its history of fluctuating employment rates – during times of bust, a lot of the workforce have suffered with reduced work loads and impending redundancy. And it is not just the current employees that have been deterred.
"This also has a tremendous impact on the number of students that want to choose a career in the mining industry," says Mehmet.
"It usually takes three to four years for the number of graduates to increase to the level the industry requires. This creates a gap which is sometimes filled with migrant skilled engineers and pushes the wages up."
Tapping into research
The double-edged sword is that once wages go up in the mines, universities start to find it difficult to employ experienced engineers and graduates in their own wings, which once again swings back to problems experienced with graduate qualifications, research and development and further training in the field.
"Simulated training and online training will play a big part in the advancement of technology in the mining industry in the future."
This is not to say that Australia does not have a strong record in mining technology research and development through other organisations, which include the Commonwealth Scientific and Industrial Research Organisation (CSIRO), co-operative research centres (including seven centres which are devoted to mining), universities and companies themselves.
A prime example is the Sustainable Minerals Institute's Mass Mining Technology Group which comprises some big names in international mining, including BHP, Rio Tinto, De Beers, CODELCO, Newcrest, CVRD Inco, LKAB and Xstrata Copper.
The group is examining the use of caving techniques in underground mass mining as a potential means of recovering ore grades that have previously been uneconomical to mine.
Chris Carr, manager of strategic mine planning at Xstrata Copper's Mount Isa Mines, says this group is tackling some key mining challenges. One such challenge is understanding how rock behaves when different mining techniques are employed.
"By combining practical mine experience with mathematical and computer programming it is now possible to use computer simulations to investigate rock masses, stresses and cave and flow mechanics," says Carr.
"These computer simulations are currently able to model existing mines from data that has already been collected."
"The next step is being able to predict the best way to mine future operations. Ultimately the aim of this research is to be able to design future operations and mine them 'virtually' to identify the most effective mining methods and sequences."
"During times of bust, a lot of the workforce have suffered with reduced work loads and impending redundancy."
The real value of mining

It is not that Australia does not have the skills to pass down to new recruits, according to Clyde Paton, senior export advisor of the Australian Trade Commission (Austrade) in Sydney.
Paton sees Australian mining technology as fulfilling a unique role within the international industry itself that clearly highlights the level of graduates we have been able to put out in the past.
"The Australian mining equipment, technology and services industry doesn't do the big trucks and other huge capital machinery which is predominantly European, American and Japanese," Paton says.
"But below that, and especially within the niche technologies and software sectors, we do very well [with our skills set] indeed.
"For new mine projects of $1bn and below, our engineering, construction and project management companies are well regarded. This is because a lot of the engineering for the minerals boom in Australia in the late 1960s had to be developed here, as it was not available overseas."
Keeping up with demand
Specialising in plant operator training, assessments, recruitment and labour hire for the mining and civil construction industries, Mining Training Services is based 40 miles north of Perth in Western Australia. It offers a unique training opportunity in that it simulates a proper working quarry for all of its practical training and assessment components.
Trish McGinley is the company's sales and marketing manager. Being at the coalfront of the skilled workforce, she understands the important role that education plays in ensuring that the mining industry remains prosperous.
"It usually takes three to four years for the number of graduates to increase to the level the industry requires."
"We know that the mining and construction industries are short of skilled operators and that training in this area for existing and new employees is integral," McGinley says.
"Practical training will always be necessary. However, simulated training and online training will play a big part in the advancement of technology in the mining industry in the future."
It isn't just the training which will be fundamental to the future of Australian mining. McGinley is also aware of the need to attract workers from other industries if supply is going to meet demand.
"It's crucial that, in addition to younger people starting out on their careers in mining, we also equip more mature age workers who want to upgrade their skills or who are looking for a career change," she says.
"Migrant workers with relevant overseas qualifications will also be highly sought after, as well as members of the indigenous population."
Exploring new territories
The hidden nature of many of Australia's mineral deposits has meant that exploration techniques will continue to be very finely tuned. As a result, Australian geologists continue to develop sophisticated and technologically advanced systems that enable them to explore and develop mineral deposits around the world at minimal cost.
Technologies developed within remote and teleremote control systems, extraction and process, resources analysis and modelling, environmental studies design and infrastructure and mine operation and management have ensured that many marginal projects worldwide have now become viable and profitable. These areas will always require people with the relevant skills to succeed.
Technology will also continue to be developed for processing and control. With it being absolutely crucial to extract the maximum percentage of metals and minerals from each tonne of ore, Australian companies have been responsible for some of the most innovative advances in processing technology to date. Skills in these areas will increasingly be in demand as competition in the mining industry ramps up.
"It will be important for Australia's mining sector to come up with better technologies in all areas of the industry."
In equipment and supplies, Australian innovation and engineering expertise has produced some of the best drill rigs, rock bolting machinery, conveyor systems, pumps, screens, jigs and other forms of processing equipment to ensure that the maximum value can be extracted efficiently from mines both at home and overseas.
Talented people with these skills will also need to be creative, innovative and flexible to adapt their skills to suit specific conditions and requirements to be able to produce equipment which is not only of a high standard but proves to be cost effective as well.
Environmental aspects
Then there is environmental management. With an ecologically fragile land and environmentally aware community, the nation and its mining industry has become somewhat of a world authority when it comes to environmental management. Therefore, as more countries open up to world trade, mining companies all over the world will be increasingly looking to Australia for benchmarks in these important areas.
Therefore, to keep ahead of the competition, it will be important for Australia's mining sector to come up with better technologies in all areas of the industry. To do this, Australian mining will need to look at several other sectors of industry to ensure each area of operation is met with the best equipped workforce possible.
This includes people with specialist knowledge in areas such as climate change, geology, metallurgy, mineral processing, plant operating, operational health and safety issues, drilling and exploration, water shortages and other associated industries. And, with the demand for mining resources being on a global scale, translation and foreign language skills alongside IT and other associated communications skills will also be highly sought after.
A strong future?

Whilst it is the future that will determine the continued success of the Australian mining industry as a whole, Clyde Paton of Austrade says we must not forget the strong skills set that has helped work to get the mining industry to where it is today – recognised as one of the finest mining industries in the world.
"Migrant workers with relevant overseas qualifications will also be highly sought after."
"Australia has had a strong R&D record in minerals development and processing and mining equipment technology and services since the mid 1800s and the discovery of gold," Paton says.
"The continued importance of the minerals industry to Australia's economy throughout the 20th century and especially from the 1960s onwards has been the impetus for institutional and commercial technology improvements which continues today."
Working towards a more equipped skills force will only help ensure Australia maintains its international standing as a competitive, innovative and responsible mining force.