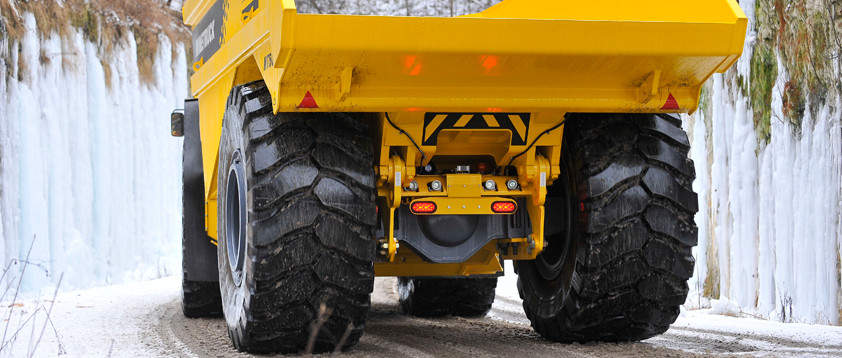 Michelin is one of the top three biggest tire manufacturers in the world. Since being founded in France in 1889, acquisitions have been a key part of its commercial strategy and the company currently owns, among many others, tire brands BF Goodrich, Kleber and Uniroyal.
Its latest acquisition, however, has seen the company look to increase its presence in the mining metals and materials handling sector – a significantly growing market.
Michelin announced in March that it intends to acquire Fenner PLC, a UK-based global leader in reinforced polymer technology for approximately £1.3bn. The company recorded 2017 annual revenues of £655m.
Moving into mining materials handling
Michelin already provides giant tires for the surface and underground mining sector. It invented the world's largest tire, known as 'the 63 inch', for the rigid dumper market and has three factories dedicated to manufacturing surface mine tyres.
Fenner is the largest producer of heavy conveyor belt solutions and reinforced polymer products for the mining and general industrial markets. It has two divisions: engineered conveyor solutions and advanced engineering products, mostly polymer. Though the company works in different sectors, mining remains the group's largest market.
According to Michelin, the acquisition is in 'perfect strategic alignment' with its ambition to leverage its expertise in high-technology materials, particularly polymer.
"Mastering high-technology materials is key to creating value in the coming years. Fenner will enable Michelin to accelerate its growth in this area, and to strengthen its position as a key player in the recovering mining markets with a comprehensive offering", Jean-Dominique Senard, CEO of Michelin said in a statement.
The transaction is expected to allow the group to provide mining industry customers with a comprehensive offering, ranging from tires to conveyor belts with related services and solutions, and to enhance both companies' geographic reach. Furthermore, Michelin hopes to broaden its high-tech materials expertise and innovation. The company has said the addition of Fenner's polymer portfolio will help Michelin break into the reinforced polymer markets, notably in consumer goods, industrial devices and medical segments. Michelin is further developing its expertise in advanced materials and engineered products and Fenner will be used as the cornerstone of this process.
The acquisition still needs to be implemented by means of a court-sanctioned scheme of arrangement. The deal is expected to close at the end of the second quarter.
The right move at the right time: Expanding the product portfolio
A spokesperson from Transparency Market Research Private Limited (TMR), an analytics research and advisory agency, says Michelin's acquisition of Fenner is 'the right move at the right time.'
"If we look into Michelin Group's expertise in manufacturing mining equipment, it is concentrated only into tires, with the acquisition of Fenner it will now have a broader product portfolio ranging from tires to conveyor belts and related services. This will help Michelin to expand its geographical presence – it's a strategic move," the spokesperson said.
As Senard has stated, Michelin wants to take advantage of the significant uptake in the mining market that has seen a significant recovery in the last 18 months after a long, tough downturn. Following a period of minimal activity, the sector is cautiously moving forward with new projects, expansions and exploration that will see more projects come online further down the pipeline, creating future value for Michelin and Fenner.
Significantly, the French tire maker will gain access to Fenner's reach into Latin America and Asia, the former of which has a booming mining sector anticipated for significant growth. Michelin has a limited presence in Latin America but will be looking to expand in the economically growing region.
The global market for bulk material handling products and technologies offered an opportunity worth US$58.86bn in 2015, according to TMR. Analysts at the agency project this market to expand at a CAGR of 1.30% between 2016 and 2024 and reach a value of US$65.74bn by the end of 2024.
The Michelin/ Fenner acquisition is part of a wider trend of increasing activity for European mergers and acquisitions which rose by 47 % to $257.7bn from the start of 2018 to the end of last week, Thomson Reuters data shows.
Streamlining operations brings significant cost savings
Most of the end customers and distributor partners are the same for both Michelin and Fenner, according to TMR. This acquisition will help Michelin strengthen its ties and relationship with both.
Michelin has also identified the potential to achieve material cost savings, including £30m in immediate annual synergies, as well as to unlock processing efficiencies and leverage R&D skills, with a view to delivering faster growth and creating significant value. The pooling of each company's resources will likely create significant cost savings, says TMR, but will also potentially result in job losses because of process automations.
Overall, the deal represents good value for money for Michelin and it is well placed, with its long track record and global reach, to do well in the mining materials and metals handling market.
"Looking into the strategy of broadening product portfolio, expanding geographical presence and utilising processing efficiencies that would lead to significant cost saving. This seems to be a good value for money," says TMR's spokesperson.
Similarly, Igor Kuzniar, managing partner of Teleios Capital, the Europe-focused activist investment firm that own a 5.95% stake in Fenner told Reuters in an email that the firm welcomes the offer and feels it reflects good value for all shareholders.
Overall, Michelin's acquisition of Fenner makes sense for the company on a number of levels and, notably, it could also see it make more, similar acquisitions. In fact, the company said it would consider further acquisitions in February, after announcing the purchase of a 20 % stake in German automotive services provider ATU.