The mining industry continues to be a hotbed of patent innovation. Activity is driven by the need to enhance safety, improve productivity and control costs, and growing importance of technologies such as automation, 3D mapping and geomodelling, robotics and the Internet of Things (IoT). These technologies can improve the success of exploration activities, reduce the environmental impact of mining, improve productivity of operational mines, and, in the case of tunnel ventilation systems, enhance both safety and efficiency. In the last three years alone, there have been over 62,000 patents filed and granted in the mining industry, according to GlobalData's report on Innovation in mining: tunnel ventilation systems. Buy the report here.
However, not all innovations are equal and nor do they follow a constant upward trend. Instead, their evolution takes the form of an S-shaped curve that reflects their typical lifecycle from early emergence to accelerating adoption, before finally stabilizing and reaching maturity.
Identifying where a particular innovation is on this journey, especially those that are in the emerging and accelerating stages, is essential for understanding their current level of adoption and the likely future trajectory and impact they will have.
40+ innovations will shape the mining industry
According to GlobalData's Technology Foresights, which plots the S-curve for the mining industry using innovation intensity models built on over 70,000 patents, there are 40+ innovation areas that will shape the future of the industry.
Within the emerging innovation stage, tunnel ventilation systems, mine drainage systems, and tunnel lining construction are disruptive technologies that are in the early stages of application and should be tracked closely. Battery metal recycling, precision milling and virtual industrial monitoring are some of the accelerating innovation areas, where adoption has been steadily increasing. Among maturing innovation areas are high performance drill bits and hybrid industrial vehicles, which are now well established in the industry.
Innovation S-curve for the mining industry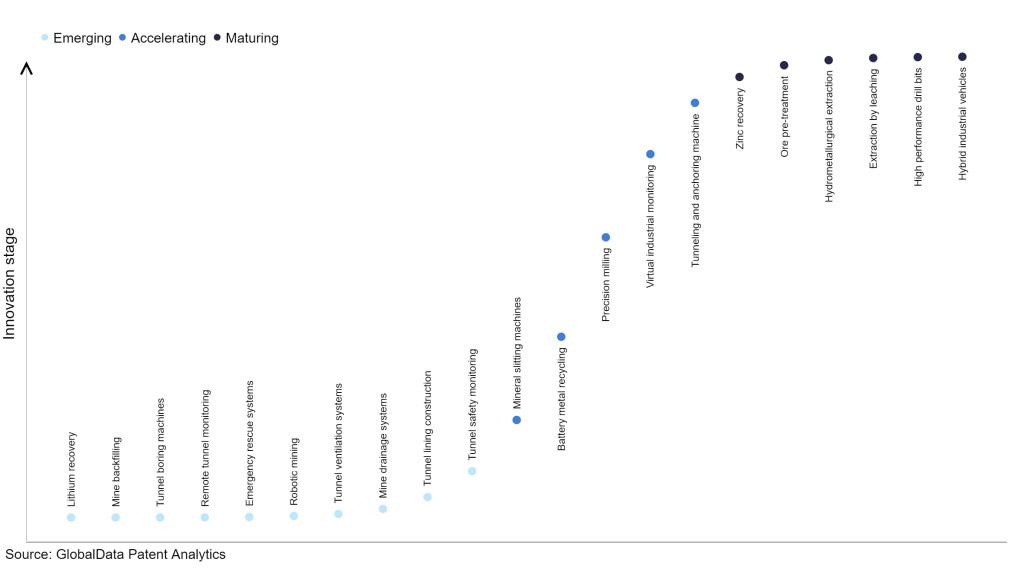 Tunnel ventilation systems is a key innovation area in mining
Tunnel ventilation system is a network of connected sensors to monitor mines, enhance operational safety and efficiency, and optimize mine productivity. Since ventilation systems are the largest consumers of power in underground mines, smart tunnel ventilation systems significantly improve miner working conditions, while also lowering mine energy consumption. Smart digital technologies are being used by companies all over the world to monitor and optimize ventilation systems and ensure a safe working environment.
GlobalData's analysis also uncovers the companies at the forefront of each innovation area and assesses the potential reach and impact of their patenting activity across different applications and geographies. According to GlobalData, there are 180+ companies, spanning technology vendors, established mining companies, and up-and-coming start-ups engaged in the development and application of tunnel ventilation systems.
Key players in tunnel ventilation systems – a disruptive innovation in the mining industry
'Application diversity' measures the number of applications identified for each patent. It broadly splits companies into either 'niche' or 'diversified' innovators.  
'Geographic reach' refers to the number of countries each patent is registered in. It reflects the breadth of geographic application intended, ranging from 'global' to 'local'.
Patent volumes related to tunnel ventilation systems
Source: GlobalData Patent Analytics
Epiroc is one of the leading patent filers tunnel ventilation systems. Epiroc provides a complete ventilation solution for tunneling and underground mining operations, including system design and installation of fan stations and ducting. The company's Serpent Ventilation System is made up of highly efficient, low-noise fans and long-lasting PVC-coated ventilation ducting. Advanced sensors measure carbon monoxide and nitrogen dioxide levels on a regular basis to determine air quality, and then automatically adjust fan speed to maintain adequate air flow and a perfectly regulated underground work environment. The smart Serpent Automatic module reduces energy consumption, while adhering to all environmental requirements and regulations.
China Energy Investment, China Communications Construction Group, and Xi'An Kuoli Machanical and Electrical Technology are some of the other key patent filers in this space.
In terms of application diversity, Epiroc leads the pack, while Shandong Dongshan Xinyi Coal Mine and POSCO stood in the second and third positions, respectively. By means of geographic reach, Epiroc held the top position, followed by Changs Ascending Enterprise and POSCO.
To further understand the key themes and technologies disrupting the mining industry, access GlobalData's latest thematic research report on Mining.
Premium Insights
From
The gold standard of business intelligence.
Blending expert knowledge with cutting-edge technology, GlobalData's unrivalled proprietary data will enable you to decode what's happening in your market. You can make better informed decisions and gain a future-proof advantage over your competitors.