The mining industry continues to be a hotbed of patent innovation. Activity is driven by the need for improved productivity and safety, cost control and reduced environmental impact. New technologies such as GPS, new drilling technologies, 3d mapping and geo-modelling, autonomous equipment and process controls can improve the success of mining activities, reduce the environmental impact and improve productivity at mines. In the last three years alone, there have been over 62,000 patents filed and granted in the mining industry, according to GlobalData's report on Innovation in mining: mineral slitting machines. Buy the report here.
However, not all innovations are equal and nor do they follow a constant upward trend. Instead, their evolution takes the form of an S-shaped curve that reflects their typical lifecycle from early emergence to accelerating adoption, before finally stabilizing and reaching maturity.
Identifying where a particular innovation is on this journey, especially those that are in the emerging and accelerating stages, is essential for understanding their current level of adoption and the likely future trajectory and impact they will have.
40+ innovations will shape the mining industry
According to GlobalData's Technology Foresights, which plots the S-curve for the mining industry using innovation intensity models built on over 70,000 patents, there are 40+ innovation areas that will shape the future of the industry.
Within the emerging innovation stage, tunnel ventilation systems, mine drainage systems, and tunnel lining construction are disruptive technologies that are in the early stages of application and should be tracked closely. Battery metal recycling, precision milling and virtual industrial monitoring are some of the accelerating innovation areas, where adoption has been steadily increasing. Among maturing innovation areas are high performance drill bits and hybrid industrial vehicles, which are now well established in the industry.
Innovation S-curve for the mining industry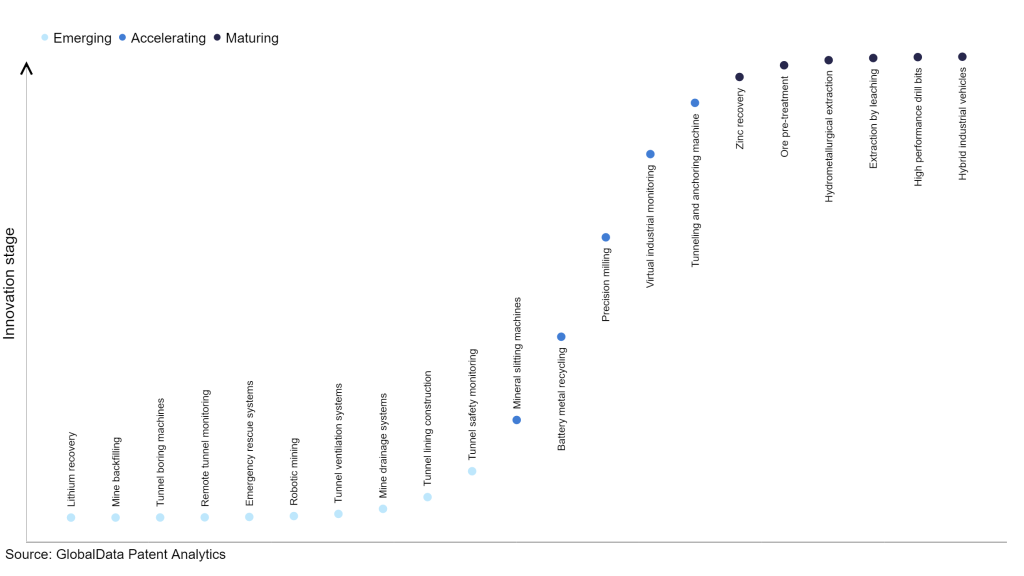 Mineral slitting machines is a key innovation area in mining
A slitter machine (commonly referred to as a slitter rewinder) is a special type of equipment used to convert / slit many different materials so they can be cut down into narrower rolls. Master rolls are often made to be as large as possible in order to be cost-effective.
Shearers are by far the most popular type of cutting machines. A shearer consists of a machine body containing electric motors, hydraulic equipment and controls which is mounted over the Armored Face Conveyor (AFC). Horizontal cutting drums, laced with cutting picks and rotating in a plane parallel to the face, are mounted on the machine's face side. The shearer can cut into the face for the full web width if the AFC is pushed towards the face as the cutting drums rotate and the shearer travels along the face. This is referred to as sumping in. Once fully embedded in the web, the shearer can cut the web the entire length of the face.
GlobalData's analysis also uncovers the companies at the forefront of each innovation area and assesses the potential reach and impact of their patenting activity across different applications and geographies. According to GlobalData, there are 50+ companies, spanning technology vendors, established mining companies, and up-and-coming start-ups engaged in the development and application of mineral slitting machines.
Key players in mineral slitting machines – a disruptive innovation in the mining industry
'Application diversity' measures the number of applications identified for each patent. It broadly splits companies into either 'niche' or 'diversified' innovators.
'Geographic reach' refers to the number of countries each patent is registered in. It reflects the breadth of geographic application intended, ranging from 'global' to 'local'.
Patent volumes related to mineral slitting machines
Source: GlobalData Patent Analytics
Leaders in mineral slitting machines include Komatsu, Caterpillar and Sandvik. Caterpillar offers mineral slitting machines in the EL 1000, EL 2000, and EL 3000 models. For high-performance longwall mining operations, cutting machines with the highest productivity, availability, and reliability are required. Caterpillar developed powerful automation technologies that take Cat shearers to the next level. Cat shearers, equipped with high-powered ranging arms and haulage units, can cut, and load up to 5kt per hour and more, depending on mining conditions. The one-piece mainframe provides maximum structural integrity and service life.
Cat installed cutting power to provide world-class output even in the most difficult mining conditions. The EL3000 has a cutting power of up to 860 kW (1,380 hp) and the EL2000 has a cutting power of up to 750 kW (1,200 hp). A new 1,200 kW (1,930 hp) ranging arm is being developed, which will be retrofittable to existing EL3000 shearers during rebuild.
Joy shearers from Komatsu have been used in the world's most productive longwall mines and under the most difficult conditions. Models are available in seam lengths ranging from 1.3 to 9.0 metres. Furthermore, the series offers a full range of installed ranging arm power options ranging from 300 to 1100 kW. Joy shearers are built to last, have high availability, and are modular in design. The body is made up of a controller case and two haulage cases that come together to form a rigid structure with no underframe. Joy designed and manufactured the gears used in the two ranging arms, which play an important role in maximizing performance.
In October 2021, Komatsu partnered with Vale to advance the future of underground hard rock excavation by optimizing the use of Komatsu's DynaCut mechanical cutting technology at the Vale's Garson mine in Canada. The technology allows for more precise rock cutting, reducing the amount of equipment required to reach the ore body. Instead of using the traditional blast and drill method, Komatsu's MC51 mechanical rock excavator (MRE) with DynaCut technology continuously cuts through hard rock. The MC51 with DynaCut technology is a fully electric system with zero emissions that can continuously and precisely break rock.
Komatsu also introduced the Joy Compak Next Gen hydraulic control system in 2022 to facilitate the shearer cutting rate with cycle times improved by up to 12%.
To further understand the key themes and technologies disrupting the mining industry, access GlobalData's latest thematic research report on Mining.
Premium Insights
From
The gold standard of business intelligence.
Blending expert knowledge with cutting-edge technology, GlobalData's unrivalled proprietary data will enable you to decode what's happening in your market. You can make better informed decisions and gain a future-proof advantage over your competitors.