The mining industry continues to be a hotbed of innovation, with activity driven by cost control, safety and productivity. Miners are choosing hydraulic mining conveyors due to the need for greater reliability thereby increasing mine productivity, efficiency and overall performance. Hydraulic conveyors use water jets as the conveying medium for bulk materials via pipes or troughs. These conveyors are used for material handling and debris removal in underground mines. In the last three years alone, there have been over 48,000 patents filed and granted in the mining industry, according to GlobalData's report on Robotics in Mining: Hydraulic Mining Conveyors. Buy the report here.
However, not all innovations are equal and nor do they follow a constant upward trend. Instead, their evolution takes the form of an S-shaped curve that reflects their typical lifecycle from early emergence to accelerating adoption, before finally stabilising and reaching maturity.
Identifying where a particular innovation is on this journey, especially those that are in the emerging and accelerating stages, is essential for understanding their current level of adoption and the likely future trajectory and impact they will have.
150+ innovations will shape the mining industry
According to GlobalData's Technology Foresights, which plots the S-curve for the mining industry using innovation intensity models built on over 350,000 patents, there are 150+ innovation areas that will shape the future of the industry.
Within the emerging innovation stage, defect detection techniques, energy demand optimisation, and magnetic route detectors are disruptive technologies that are in the early stages of application and should be tracked closely. Hydraulic mining conveyors, tunnel safety devices, and tunnel lining construction devices are some of the accelerating innovation areas, where adoption has been steadily increasing. Among maturing innovation areas are CAD for drill planning and SCARA robotic arms, which are now well established in the industry.
Innovation S-curve for hydraulic mining conveyors in the mining industry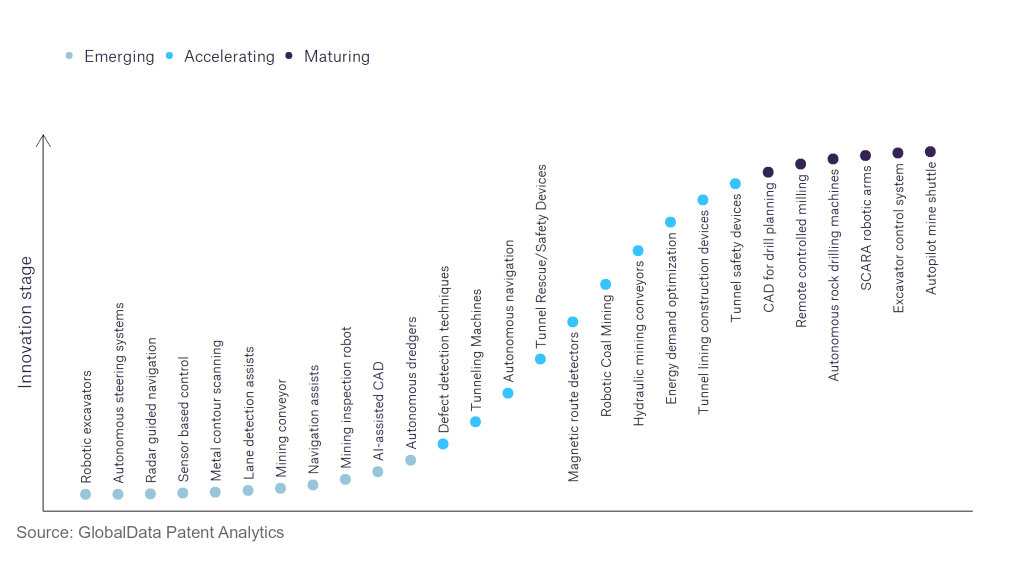 Hydraulic mining conveyors is a key innovation area in robotics
Hydraulic conveyors employ water jets which form the conveying medium for bulk materials through pipes or troughs. These conveyors are used in underground mines for material handling and debris removal.
Hydraulic mining conveyors, which are relatively simple and low-cost equipment, are used to transport high-capacity materials over long distances. Furthermore, the conveying process is usually safe and easy to control, with low maintenance costs. As pneumatic conveying technologies reach their physical and economic limits for long conveying distances, high capacities, and particularly stringent product purity requirements, hydraulic conveying is becoming increasingly important.
GlobalData's analysis also uncovers the companies at the forefront of each innovation area and assesses the potential reach and impact of their patenting activity across different applications and geographies. According to GlobalData, there are 30+ companies, spanning technology vendors, established mining companies, and up-and-coming start-ups engaged in the development and application of hydraulic mining conveyors.
Key players in hydraulic mining conveyors – a disruptive innovation in the mining industry
'Geographic reach' refers to the number of different countries each relevant patent is registered in and reflects the breadth of geographic application intended, ranging from 'global' to 'local'.
Leaders in hydraulic mining conveyors include Caterpillar, Tian Di Science & Technology, Komatsu Ltd and Yankuang Group.
Patent volumes related to hydraulic mining conveyors
Source: GlobalData Patent Analytics
Komatsu has long been a market leader in mining technology. Hydraulic systems from Komatsu are designed to remove slack from the belt for a smooth conveyor start in a variety of loading conditions. Hydraulic systems from Komatsu are available in standard configurations ranging from 10 feet to 60 feet of travel and can handle complex conveyor systems thanks to controllers for main and tripper drives. Komatsu's systems, with tried and tested drive packages, can provide start times more than 240 seconds and optimal load sharing between main and multiple tripper drives.
Catepillar's Cat® Armored Face Conveyors are one of the most powerful underground mining transport systems, with maximum capacity, high drive power, high availability, and reliability. The conveyors are designed for dependable and low-maintenance operation over a long service life, promoting high productivity and delivering a high return on investment.
To further understand the key themes and technologies disrupting the mining industry, access GlobalData's latest thematic research report on Mining.
Premium Insights
From
The gold standard of business intelligence.
Blending expert knowledge with cutting-edge technology, GlobalData's unrivalled proprietary data will enable you to decode what's happening in your market. You can make better informed decisions and gain a future-proof advantage over your competitors.