The mining industry continues to be a hotbed of innovation, with activity driven by the need to enhance safety, improve productivity and control costs, with the growing importance of technologies such as automation, 3D mapping and geomodelling, robotics and IOT. These technologies can improve the success of exploration activities, reduce the environmental impact of mining, and improve productivity of operational mines. In the last three years alone, there have been over 48,000 patents filed and granted in the mining industry, according to GlobalData's report on Robotics in Mining: Energy Demand Optimisation. Buy the report here.
However, not all innovations are equal and nor do they follow a constant upward trend. Instead, their evolution takes the form of an S-shaped curve that reflects their typical lifecycle from early emergence to accelerating adoption, before finally stabilising and reaching maturity.
Identifying where a particular innovation is on this journey, especially those that are in the emerging and accelerating stages, is essential for understanding their current level of adoption and the likely future trajectory and impact they will have.
150+ innovations will shape the mining industry
According to GlobalData's Technology Foresights, which plots the S-curve for the mining industry using innovation intensity models built on over 350,000 patents, there are 150+ innovation areas that will shape the future of the industry.
Within the emerging innovation stage, defect detection techniques, energy demand optimisation, and magnetic route detectors are disruptive technologies that are in the early stages of application and should be tracked closely. Hydraulic mining conveyors, tunnel safety devices, and tunnel lining construction devices are some of the accelerating innovation areas, where adoption has been steadily increasing. Among maturing innovation areas are CAD for drill planning and SCARA robotic arms, which are now well established in the industry.
Innovation S-curve for robotics in the mining industry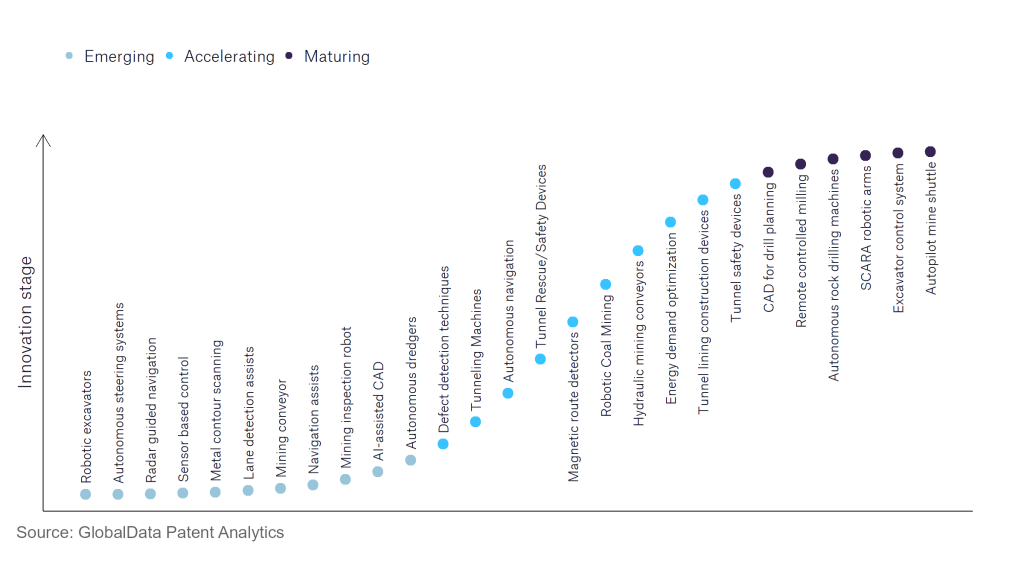 Energy demand optimisation is a key innovation area in robotics
Mining needs to be done more efficiently in terms of energy and costs. One way to save energy is by blasting more and crushing/grinding less. This way you can reduce the feed size before primary crushing, increasing circuit throughput and reducing the energy required for downstream comminution. Since the mining industry works with a lot of data, mining companies are continuously implementing advanced information technologies to improve processes while simultaneously reducing energy consumption and operating costs.
GlobalData's analysis also uncovers the companies at the forefront of each innovation area and assesses the potential reach and impact of their patenting activity across different applications and geographies. According to GlobalData, there are 9 companies, spanning technology vendors, established mining companies, and up-and-coming start-ups engaged in the development and application of energy demand optimisation.
Key players in energy demand optimisation – a disruptive innovation in the mining industry
'Application diversity' measures the number of different applications identified for each relevant patent and broadly splits companies into either 'niche' or 'diversified' innovators.
'Geographic reach' refers to the number of different countries each relevant patent is registered in and reflects the breadth of geographic application intended, ranging from 'global' to 'local'.
Patent volumes related to energy demand optimisation
Source: GlobalData Patent Analytics
Leaders in energy demand optimisation include JFE and ArcelorMittal. JFE developed a Guidance System for operators to efficiently use fuels and electricity in domestic steelworks to cut down on energy use and CO2 emissions. The Guidance System analyses enormous amounts of real-time data derived from CPS and each factory's detailed manufacturing plan, calculates precise future demands, considers operational restrictions and contract information, runs simulations to determine the optimal operational plan for minimising external purchases, and then directs operators toward this optimal plan.
ArcelorMittal is utilising the EMOS platform for continuous, real-time monitoring and automated reporting of their energy consumption and flows. All influential factors from the furnace, including tonnage, setpoint temperature, type of heat treatment, heating time, and regulation mode, were considered using flexible architecture and data science algorithms. Similarly, ArcelorMittal collaborated with Capgemini Engineering to create new physical and techno-economic models, as well as data analysis processes, to identify the primary sources of waste heat and evaluate potential recovery solutions.
To further understand the key themes and technologies disrupting the mining industry, access GlobalData's latest thematic research report on Mining.
Premium Insights
From
The gold standard of business intelligence.
Blending expert knowledge with cutting-edge technology, GlobalData's unrivalled proprietary data will enable you to decode what's happening in your market. You can make better informed decisions and gain a future-proof advantage over your competitors.