The mining industry continues to be a hotbed of innovation, with activity driven by the need for both improved safety and productivity. Related to this, autonomous navigation is being increasingly introduced into the mining sector in both surface and underground mining. Productivity is enhanced as the room for human error is reduced, making transit times more predictable, while safety is improved through a reduction in accidents. Further benefits from autonomous navigation include increased machine and tyre life, and lower fuel consumption, all reducing operating costs. Overall, in the last three years alone, there have been over 48,000 patents filed and granted in the mining industry, according to GlobalData's report on Artificial Intelligence in Mining: Autonomous Navigation. Buy the report here.
However, not all innovations are equal and nor do they follow a constant upward trend. Instead, their evolution takes the form of an S-shaped curve that reflects their typical lifecycle from early emergence to accelerating adoption, before finally stabilising and reaching maturity.
Identifying where a particular innovation is on this journey, especially those that are in the emerging and accelerating stages, is essential for understanding their current level of adoption and the likely future trajectory and impact they will have.
150+ innovations will shape the mining industry
According to GlobalData's Technology Foresights, which plots the S-curve for the mining industry using innovation intensity models built on over 350,000 patents, there are 150+ innovation areas that will shape the future of the industry.
Within the emerging innovation stage, tunnel rescue/safety devices, CAD for moulding, and mining process simulation are disruptive technologies that are in the early stages of application and should be tracked closely. Autonomous navigation, defect detection techniques, and remote tunnel monitoring systems are some of the accelerating innovation areas, where adoption has been steadily increasing. Among maturing innovation areas are autopilot mine shuttle and mine navigation simulation, which are now well established in the industry.
Innovation S-curve for artificial intelligence in the mining industry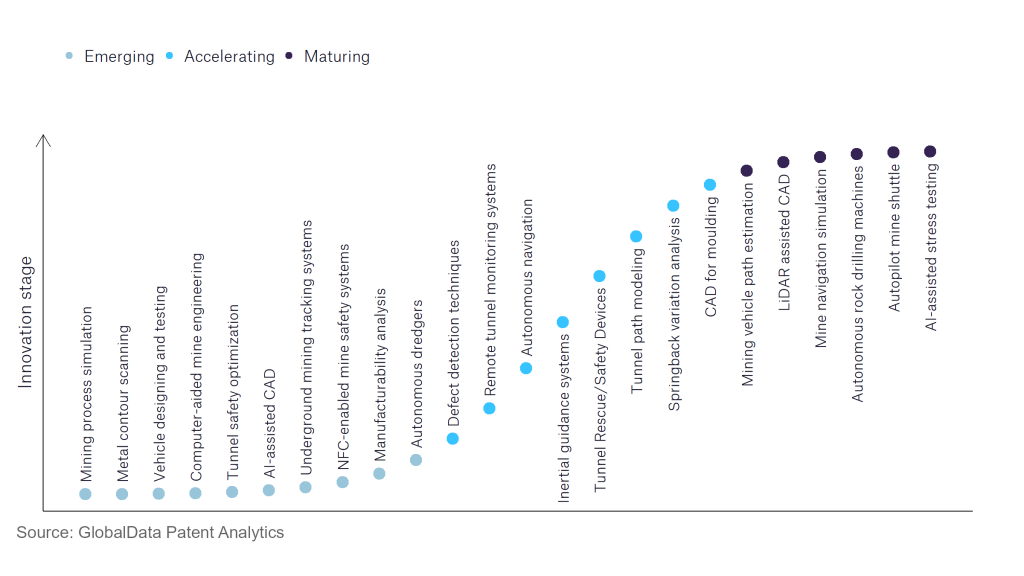 Autonomous navigation is a key innovation area in artificial intelligence
Autonomous navigation enables a vehicle to plan its path and execute the same without human intervention. On mine sites, autonomous navigation is being used in a variety of machines from 200-400t (short) surface mining trucks to underground mining trucks and loaders, with automation increasingly used for surface drills and even water trucks.
GlobalData's analysis also uncovers the companies at the forefront of each innovation area and assesses the potential reach and impact of their patenting activity across different applications and geographies. According to GlobalData, there are 10+ companies, spanning technology vendors, established mining companies, and up-and-coming start-ups engaged in the development and application of autonomous navigation.
Key players in autonomous navigation – a disruptive innovation in the mining industry
'Application diversity' measures the number of different applications identified for each relevant patent and broadly splits companies into either 'niche' or 'diversified' innovators.
'Geographic reach' refers to the number of different countries each relevant patent is registered in and reflects the breadth of geographic application intended, ranging from 'global' to 'local'.
Patent volumes related to autonomous navigation
Source: GlobalData Patent Analytics
Leaders in autonomous navigation include Sandvik, Komatsu, Epiroc, Hitachi and Caterpillar. Caterpillar and Komatsu are the two main suppliers of autonomous haul trucks, accounting for over 85% of surface trucks in operation. Caterpillar's most popular autonomous truck is the 793, which accounts for over 80% of its autonomous haul trucks, with other models being the 797F (400 Ton Ultra class), 794 AC (300 Ton), 789D (200 Ton) and 777 (100 Ton).
Komatsu's most popular model is the 930E, which accounts for 70% of its autonomous fleet, ahead of the 400t, 980E, which makes up 15% of the total.
Leading patent filers include Sandvik, which has introduced the AutoMine concept for both underground equipment and surface drills. It allows vehicles to adapt and plan their own routes, and includes obstacle detection, collision avoidance, and 3D online mapping capabilities.
Meanwhile, Epiroc, as part of its 6th Sense underground solutions, has created technologies to enable drills to be quickly and precisely navigated and drill according to a drill plan.
With the drive to continue to improve productivity, reliability and safety, the number of mines using autonomous navigation is expected to increase substantially over the remainder of the decade, with autonomous haul trucks, for example, predicted by GlobalData to exceed 1,800 by 2025, from just over 1,000 in mid-2022.
To further understand how artificial intelligence is disrupting the mining industry, access GlobalData's latest thematic research report on Artificial Intelligence (AI) in Mining.
Premium Insights
From
The gold standard of business intelligence.
Blending expert knowledge with cutting-edge technology, GlobalData's unrivalled proprietary data will enable you to decode what's happening in your market. You can make better informed decisions and gain a future-proof advantage over your competitors.