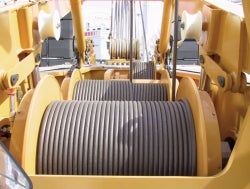 The Lebus spooling system comes with a lifetime guarantee that your wire rope spools smoothly on to and off the drum under absolute control, offering a totally dependable performance every time.
Lebus International Engineers are experts in wire rope spooling – contact us or visit our website to find out how our technology can benefit your projects.
Issue 9 of the Lebus International Engineers news bulletin includes articles on the world's largest pipe laying vessel, Lebus's new factory hall, The Investigator oceanographic...