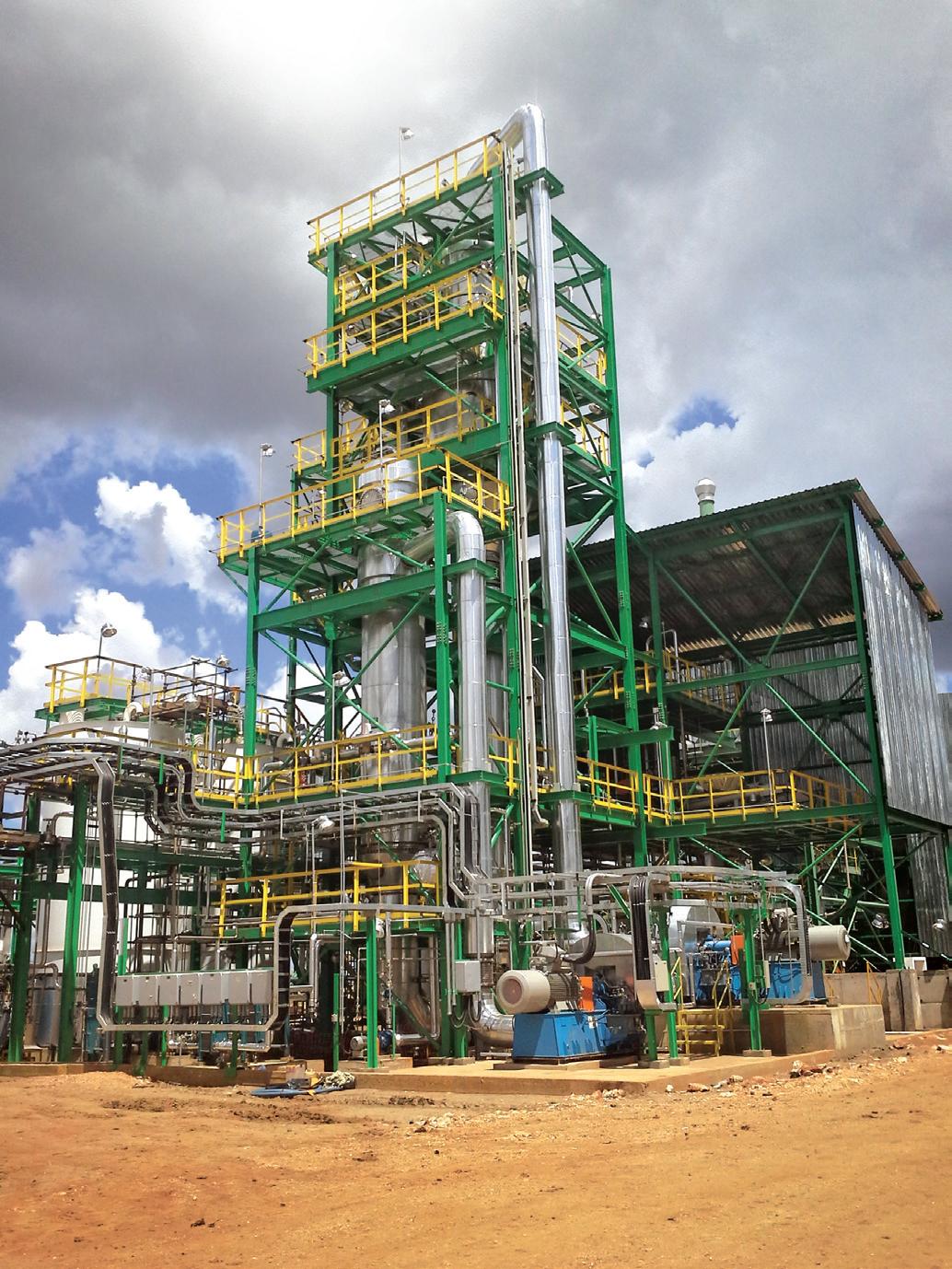 In 2012 Canadian metals company Largo Resources began work on its flagship project, the Maracas Vanadium project in Bahia, Brazil. Largo sought only the most advanced equipment, latest technology and innovative designs with specific experience in Vanadium processing from around the globe. This led the company to South Africa's Process Plant Technology (PPTech), of whom PROXA owns a majority share.
With more than 30 years of experience supplying equipment to and constructing complete vanadium plants, PPTech has developed many similar solutions in the past being able to provide leading edge technology and technical know-how.
Saving thousands on operating costs each month
Recycle streams within Vanadium plants require evaporation to recover significant volumes of water from concentrated solutions. Since reverse osmosis is ruled out the only option is thermal evaporation.
The PPTech design of this crystalliser reduces energy demand by a factor of five, when compared with a conventional crystalliser design saving many MW of thermal energy. Water loss through evaporative cooling is also reduced.
Innovative design
PPTech's innovative plant design incorporates modern, reliable mechanical vapour compression technology which yields major energy savings compared with steam driven plants. They are also less complex to operate.
This crystalliser was designed for the first time to include a polishing unit to ensure very high-quality water is produced increasing the possibility for re-use within the Maracas process.
Recycling sodium sulphate for re-use
One of the major expenses when it comes to extracting vanadium is the huge amount of sodium sulphate (or carbonate) required as a reagent. In some cases, this valuable side-stream is discarded as waste into a pond, whereas at Maracas, the sodium sulphate is crystallised out of a mixed salt stream as a relatively pure compound for reuse as a reagent in the kiln. An additional solution concentrate is recycled to the precipitation section for re-use of the ammonium sulphate.
The crystalliser was tailored to the plant's unique environment, the feed, and the required output. It took only 18 months to complete construction and commissioning support is being provided by PPTech to ensure smooth startup and optimal functionality.
Back-up measures to minimise downtime
Crystallisers need regular maintenance. In order to function effectively, tanks need to be cleaned, lines need to be unblocked, and many other processes are required to keep systems running.
The typical availability for a crystalliser is around 85%. The system at Maracas is designed to include a buffer feed tank, a boil out tank as well as a dump tank, to make these tasks as easy as possible and to minimise downtime.
The PPTech crystalliser was built to be slightly oversized, which means that the plant has a 'catch-up' capacity to process feed (in the buffer feed tank) which accumulates while it was being cleaned out.
These back-up measures ensure that cleaning does not impact other unit operations, in the case of downtime.
Low-cost producer on the market
Aside from producing the highest grade of vanadium in the world, the Maracus Vanadium project is also on track to be one of the lowest cost vanadium producer. And with an estimated annual production at 9,634t of flake V2O5, this plant is a vanadium powerhouse.
---
Image: The Maracas Vanadium project in Bahia, Brazil. Photo: courtesy of PROXA.
The current drought in South Africa has forced many companies to reduce production or accept...