The industrialised world of mining, oil & gas, food & beverage processing, power generation and solid waste & water processing are embracing the wastewater treatment equipment by Ecomister Evaporator of Canada, entitled the Ecomister, it's "Nature's Environmental Solution".
Recognized as the global leader of mechanical evaporation systems, Ecomister Evaporator has been meeting the demand and solving the nastiest excessive water challenges for over 16 years. The robust and industrial designed Ecomister surpasses the standards for Enhanced Evaporation. By launching the water molecule into the air at a specific size and pressure the vaporization process is immensely increased. The Ecomister will reduce your tailings pond water level naturally and cost-effectively. Unmanageable and expensive reclamation operations are converted into controllable and feasible processes when deploying the Ecomister.
Ecomister Evaporator invites you to experience our unique product line and water management solutions. All models vary in size and capacities and are available in a land-based (wheeled or fixed) and floatation option. Take advantage of our engineering ability to customize an Ecomister that will meet your specific application and requirement.
Quality components guarantee long-term service
Engineered and built durable with quality components and resilient coatings will tolerate the harshest industrial conditions. The Ecomister has been tried, tested and proven against process tailings effluents that are generated in a mine processing plant. Self-cleaning filter system and specialized nozzle configuration and openings tolerate extremely high TDS water with over 100,000 ppm comfortably. Always reliable, it requires limited maintenance and virtually no field servicing. Engineered and develop to run constantly for 24/7/365 days.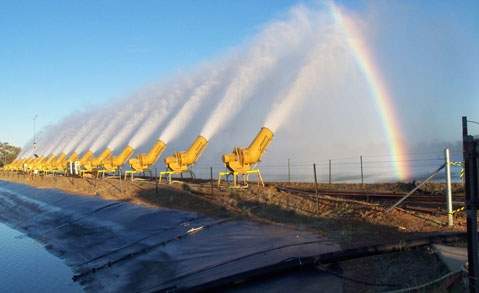 Working with mother nature - deployment of multiple units.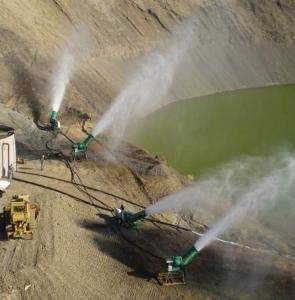 Mining low elevation application.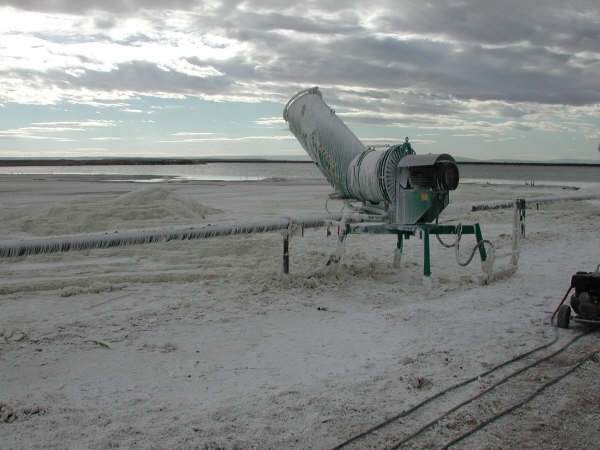 Extreme corrosion resistence TDS application - > 34% or low Ph 2 – 4.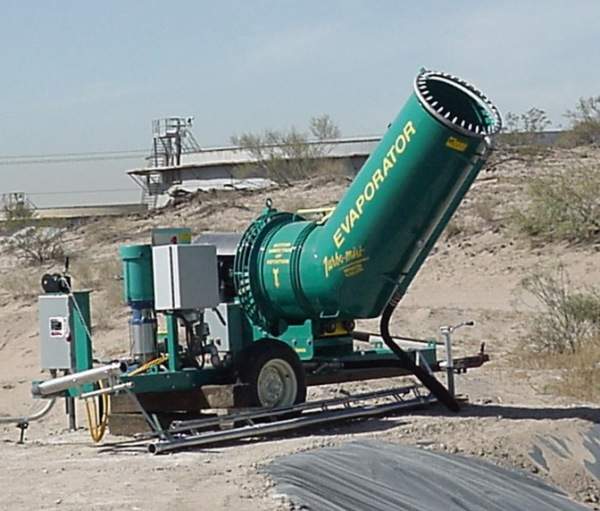 Mobile unit model # S30TP – portable/rapid deployment.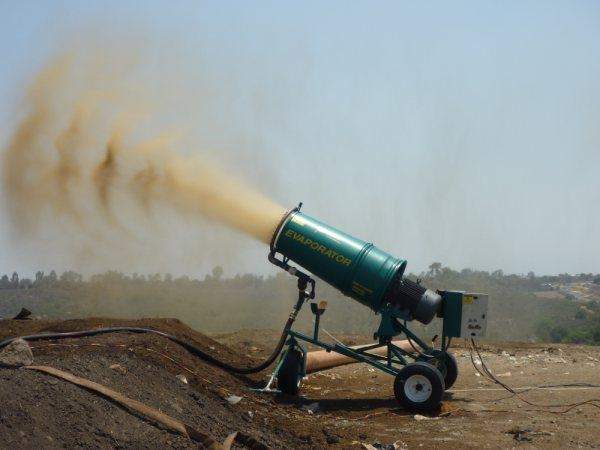 Mobile unit models #S19W & #S24W - low volume.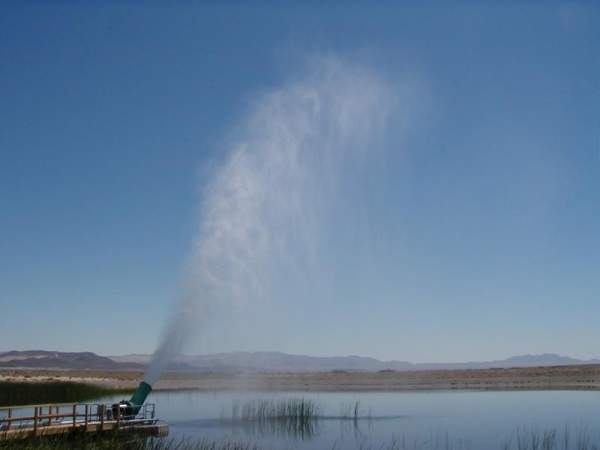 Float single unit model #S30FP – 1 evaporator 1 pumping system.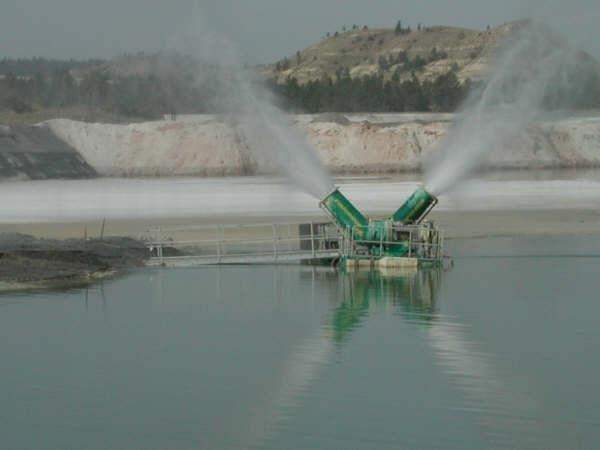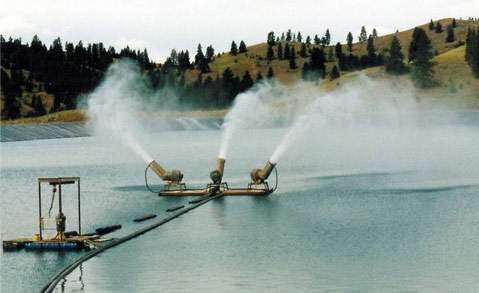 Float model tri pac # S30FP3 – 3 evaporators 1 pumping system.
Land-based model # S30LP – 1 evaporator 1 pumping system.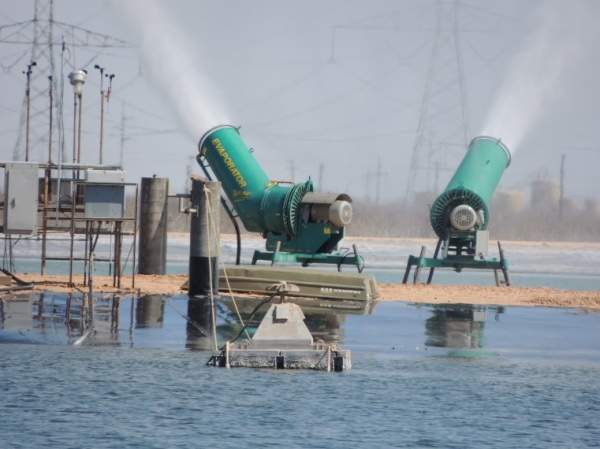 Land-based model # S30LP2 – 2 evaporators 1 pumping system.
Cost-effective solution
The Ecomister initial capital and whole life costs are affordable when comparing to alternative solutions. They are easy to install, are simple to operate and can be activated either manually or remotely. The Ecomister's power consumption cost is fractions of a penny. The average cost of eliminating wastewater using our system is two-tenths of $0.01/gal, including maintenance, operations and amortisation of the capital cost. Any desired volume can be managed by using multiple numbers of units. The existing site climatic conditions or pan evaporation rates are used to calculate the efficiency of each unit required to reach zero discharge.They will minimize or eliminate the need to expand existing containment or storage surface areas.
The Ecomister advantage
Systems are available in all worldwide voltages and amperages. Our high-efficiency motors are customized and fabricated to meet our industrial motor specifications which are capable of enduring a wet, hostile and/or corrosive environment existing at most mine sites. Evaporation units are designed to handle a PH range of 2-11 without any special upgrades. Should scaling growth issues occur, a quick detached cam lock system allows one to switch out the stainless steel nozzle ring assemble swiftly and conveniently. Release two cams, detach the scaled ring and replace with a spare descaled nozzle ring. Units will handle extremely high TDS and high salinity solutions.
Suggested list purchasing options
The Ecomister is available in three various sizes 19″, 24″ and 30″ models. Respectfully each size delivers a specific spray pattern of water volume and pressure. Each model number indicates the size, the base option (land, wheeled or float),whether it is scotch coated and/or pumping system is included. For example: Model # S30LP (Scotch coated, size 30 inch, Land-based, Pumping system included). The majority of sales are in our 30″ series and can be purchased with or without our pumping systems. Model numbers with a 2 or 3 at the end indicate the Dual-Pac or Tri-Pac system option. For example: Model # S30LP2 (Scotch coated, 30″, Land-based, 1 pumping system, 2 evaporation units). The Tri-Pac includes and 1 pumping system and 3 evaporation units.
Evaporation design and customized product options
Ecomister Evaporator is an accomplished solutions provider capable of offering evaporation design expertise and customized product fabrication options. Pending wastewater volume and containment area limitation, consultation is a necessity in selecting the appropriate product, minimize spray drift and/or maximize water removal. Wastewater containment area consulting and designs are available prior to purchasing. Computerized remote-control automation systems, weather stations and drift control equipment are available upon request. As a full turnkey solutions provider, our complete package is pre-assembled and third-party tested prior to shipping.
Global market provision provider
The Ecomister Evaporator worldwide market covers both hemispheres, various temperate & extreme climate zones. To name a few our successes have been achieved in Australia, Bahamas, Bolivia, Chile, Brazil, Canada, Honduras, India, Jamaica, Oman, Pakistan, Peru, Russia, Saudi Arabia, South Africa and the USA. Over 700 units have been sold and operating since 1994. We include a worldwide warranty with all our products. Our established sales history speaks for itself and is back by an excellent product and continued service record. To receive more information regarding our satisfied clientele or make an enquiry we encourage you to complete the business form below. Ecomister Evaporator prides itself on an exceptional product line and being a solution provider.