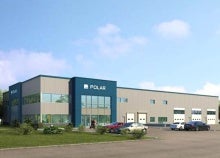 Since 1981 Polar Mobility Research has been dedicated to the design, manufacture and distribution of air conditioning, heating and ventilating systems for heavy-duty mobile equipment including highway trucks, off-highway vehicles, oilfield equipment, boom trucks, logging machinery, military and mining equipment.
Polar specialises in custom design and manufacture of unique and special purpose HVAC solutions.
Due to the continued growth experienced by Polar, a dramatic expansion in service and manufacturing capability was required. As of November 2013, Polar will be moving to a new, custom designed facility in Calgary. With more than double its existing capacity, the new building will provide Polar with a significant increase in office and warehousing space, along with a similar expansion in shop floor area.
The facility features a two acre secured fenced yard for customer vehicle storage. The expanded manufacturing and warehousing area will allow Polar to warehouse more product and parts inventory, and better service customer requirements. It will also facilitate the research, development and manufacture of Polar's own custom line of HVAC products. With increased parking, easier access and the capacity to handle future growth Polar is excited to announce this major investment in the company's future.
The new facility is located at 7860-7862 Street, South East in Calgary, Canada.