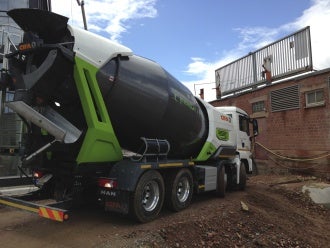 CIFA is exhibiting at Intermat Paris 2015 on 20 – 25 April, alongside operators and concrete field aficionados.
The company will be showcasing Energya E9, the hybrid truck mixer that cares for and respects the environment.
This unconventional vehicle has a drum powered by an electrical engine and fed by a state-of-the-art lithium smart battery group, that recharges both during transportation on road and during loading or downtimes.
This system thus guarantees a consumption reduction of up to 30%, higher attention to the environment thanks to carbon emissions abatement and reduction of noise up to 10dB.
Energya E9 is the ideal solution for castings in closed spaces, for example, in tunnels, where using an electrical engine is essential, as well as in city centres where it's important to reduce noises and pollutant emissions to improve air quality.
Energya E9's new design and performance is for energy efficiency and environment sustainability. The truck mixer was designed in E8 and E9 models, with a carrying capacity of 8m³ and 9m³ respectively, and tested on field in Italy and Germany to prove the reliability of its technical solutions.
Visit CIFA at Intermat Paris booth 7H001 for all technical details of the machine, its functionality and advantages of use.
---
Image: The CIFA Energya E9 truck. Photo: courtesy of CIFA.