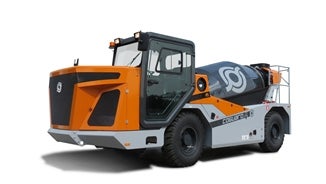 Coguaro is the new and robust mixer from CIFA designed for transportation of concrete in demanding environments such as tunnels and mines, where vehicles undergo extreme challenges.
Coguaro's small dimensions allow it to move in confined spaces, but at the same time it has a carrying capacity of up to 4m³.
Looking closely at the vehicle, one can see its unmistakable made in Italy style, which it matches aesthetics, quality, technology, functionality and ergonomics.
An electrically operated hydraulic transmission, a hydraulic pump and two hydraulic engines mounted directly on the axles ensure maximum traction, reliability and minimum fuel consumption. Four driving and steering wheels and a sturdy frame ensure high agility.
High safety is due to the drum rotation control during vehicle movement and safety systems to block the drum when carrying out maintenance. The machine functions are controlled by control speed drive (CSD), driving safety is guaranteed by ROPS-FOPS closed cabin, and visibility by infrared rear-view camera for manoeuvres in tunnels.
Coguaro is available with electronic sensors for obstacle detection and active fire control system. The engine is Diesel Perkins STEP 3-A.
The new mixer will be put to the test in Peru, in an Andean mine in Chungar. This will be a real challenge due to its 4,700m altitude, underground temperatures of 38°, high humidity level and presence of acid water.
---
Image: Coguaro truck mixer is suitable for intensive underground applications. Photo: courtesty of CIFA.