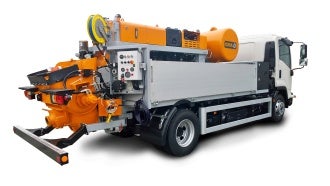 CIFA will introduce its new truck-mounted pump model UB504 at Intermat 2015.
A completely new product for CIFA, its small size and ease of use allows installation on truck to easily and quickly reach the construction site, even if located in places usually not reachable by other truck-mounted pumps such as narrow city streets.
It is simple to get close to casting places, in particular screeds of apartments, basements, car parks or other kinds of construction.
Equipped with an S6 open circuit pumping unit, 200mm x 1,000mm cylinders and a 250l hopper, it is provided with standard pipes that include all the reductions necessary to realise a complete line.
For Europe, the UB504 is mounted on a two-axle vehicle ISUZU F11, with a 4,060mm wheel base. It small size, 7,200mm-long and 2,618mm-high, and it is available without the truck.
Two options for diesel start-up are:
Deutz TD 3.6 L4 engine for European, US and Canadian markets
Perkins 404D-22T engine for all other markets
---
Image: CIFA's new UB504 city pump. Photo: courtesy of CIFA.