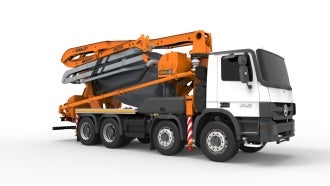 The MK25H truck mixer was first previewed at Bauma Munich in 2013, and is achieving resounding success all over Europe. The mixer boasts a series of exclusive patents and news that is pleasing clients.
Based on client suggestions, CIFA developed a pack of aesthetic and functional updates that will be introduced during Intermat Paris 2015.
MK25H is a truck mixer pump with a four-section boom (the final two in composite material) and 'Z' folding system assembled on four axles (or three for the Italian market) with maximum a weight of 32t.
Piping is 100mm and the drum has a nominal capacity of 7m³ that develops a geometrical volume of 12.8m³. It is made in ultra-resistant steel of more than 300HB.
The new 607 CC EPC close circuit pumping unit is operated electronically. Extremely fluid, it allows a linear cast without shakes, it reduces consumptions and noises, thus reducing vibrations during pumping.
The new MK25H, with its two carbon sections, meets requirements of the strict regulations that set weight limits for this kind of machines, allowing clients to carry more concrete each trip, with immediate effects on productivity in the construction site and return on the investment.
The boom can be opened in 5.2m height only and it reaches a pumping height of more than 24m, with a horizontal opening of over 20m.
To prove quality and high resistance in time of components, CIFA offers customers a five-year warranty for all steel and composite material components, two years for the structure of chassis of the base machine, and four years on the drum. This is all supported by a quick and punctual after sales service.
---
Image: MK25H is a truck mixer pump with a four-section boom. Photo: courtesy of CIFA.