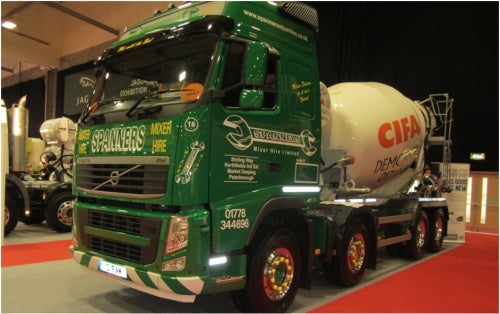 CIFA has reached the UK. In 2012 a new dealer was enrolled for mixer and batching plant products. Spanners Mixer Hire is based in Peterborough, UK and has operated in the concrete industry for more than 20 years.
Spanners Mixer Hire managing director Peter Spooncer said: "The quality of CIFA products is very good and now, thanks to a growing market, we will try to establish ourselves as one of the top three brands in the industry."
The market requires more than 350 truck mixers a year and has always been competitive between local producers and large, German firms.
Spooncer added: "CIFA is well-known in the field of truck mixers, even if in the last 20 years this product line has not been proposed.Thanks to our expertise in after-sale service, we also can contribute to a revival of the batching plants sector."
CIFA has released almost 30 mixers on to the market, competing with even the larger ready mix firms, such as by Cemex and Lafarge.
In addition to the success of the mixers, a range of concrete pumps has been taken up by UK dealer, Danfords. Through the dealership CIFA was able to deliver the K20L and K35L models and even a K52L pump to end customers; these sales produced their highest revenue from the British market to date. UK orders have been placed for a K39H and K41L from the Carbotech range, and the K41L will be exhibited at the UK Concrete Show in Birmingham in February 2014.
Head of region for Europe, Renato Biavati, said: "It is the sign of a renewed vitality of the English market. And this gives us energy to propose our products in a territory that has never been among the main markets destination for CIFA."