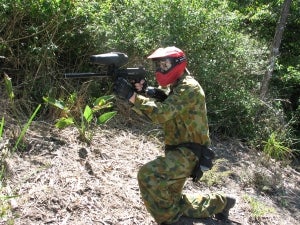 At Top Gun Paintball, we recognise the importance of work performance and the value of friendship that is created by fun team building exercises.
Hailed as one of the most effective forms of stress release, paintball is used extensively in the USA, Europe and Scandinavia for corporate and sporting situations to boost teamwork, self-confidence and communication skills, and is an excellent way to control stress.
At Top Gun, we can bring out leadership skills and focus on the personal development of employees. Paintball can improve friendships, socialisation and, ultimately, motivation and commitment.
To help your workplace achieve this, we are offering a free Terminator Pack ($120 value) for every 10 players booked. This offer is valid until the end of June 2013, so ring our office on 07 3847 1933 to place your booking now.