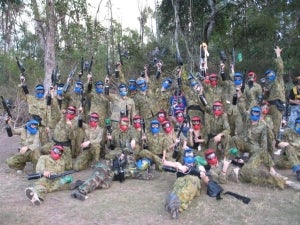 Top Gun Paintball is pleased to announce a special offer that will see the giveaway of a free Terminator pack worth $120 for every ten players who book and play in September and October 2013.
The Terminator pack includes:
– Full facemask and goggles
– Camouflage clothing
– Tippman A5 semiautomatic marker
– 500 paintballs
– Harness
– Breast plate for women
Hailed as one of the most effective forms of stress release, paintball is used extensively around the world for corporate and sporting situations to boost teamwork, self-confidence and communication skills, and is an excellent way to control stress.
The offer is valid right now, so ring our office on 07 3847 1933 to place your booking.