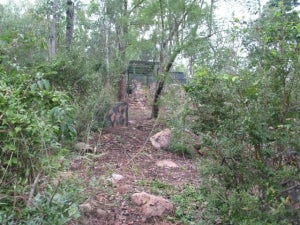 After four months of development and building, our new Ruins field is now open. This exciting paintball field is one-of-a -kind in Australia, featuring a maze effect and bombed-out buildings.
Paintballers start in a flat area at the bottom of the field and have to work their way through thick bush tunnels that create a maze-like feeling to reach the mid-point of the field. Players that survive that challenge then have to avoid being attacked across an open area of hill with a series of bombed-out builds at the top.
This new field is a fantastic place to develop teamwork, determination and communication, and we have developed a great range of game scenarios to encourage this.
One of our games is King of the Hill, where one team has to defend all of the buildings on the hill top, whilst the attacking team works their way through the bush maze to take the headquarter building. It's not only a fantastic way to encourage teamwork and co-operation, but is the ideal way to get new teams to quickly build a rapport.
Top Gun Paintball is based just outside Brisbane, and offers corporate packages for mining companies. For more information please contact using the form on this page.