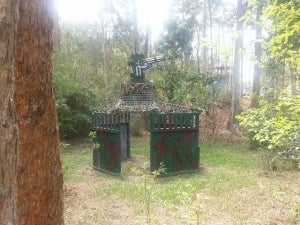 You have been working hard all year…
Why not start your Christmas break off with a BANG – or a hundred!
Top Gun Paintball is offering a FREE 100 PAINTBALLS for each player who plays at our fields during December 2013 & January 2014 – Just for you to show everyone how much you have missed them.
For a Christmas holiday to remember we are offering all mining employees, family AND friends an experience like no other to get the party started.
With all our fields re-developed and new equipment, we offer the best paintball experience in Brisbane!
A game of paintball is the perfect for people of all ages and abilities, plus you don't need any previous experience to take part.
It's also a great ice-breaker… so if you want to release some Christmas stress you can legally shoot the boss, husband, son, mother-in-law – there's no better way than by handing them all a paintball gun and letting them 'resolve' their differences on the battle field. Pretty great huh?
All packages include:
Full facemask and goggles
Camouflage clothing
Semiautomatic marker
100 FREE PAINTBALLS plus paintballs per package you chose
Harness
Breast plate for women
The offer is valid right now, so ring our office on +61 7 3847 1933 to place your booking.