KAM develops and manufactures high-quality tensioning technologies for industrial and mining applications.
With increasingly demanding pressure on mining operations, companies can now reduce maintenance time on their dozer equipment by up to four days by leveraging this track adjuster's capabilities. When crucial machine or equipment breaks down on-site, the potential impact on revenue is significant to an operation.
KAM's track adjuster design provides a safer, durable and more reliable tensioning system for high-risk and harsh environments in Australia.
Track adjuster cannons for mining structures
KAM Mining's high-quality steel track adjusters are designed and built to Australian Standards to help reduce time and cost consumption related to operations, maintenance, and downtime.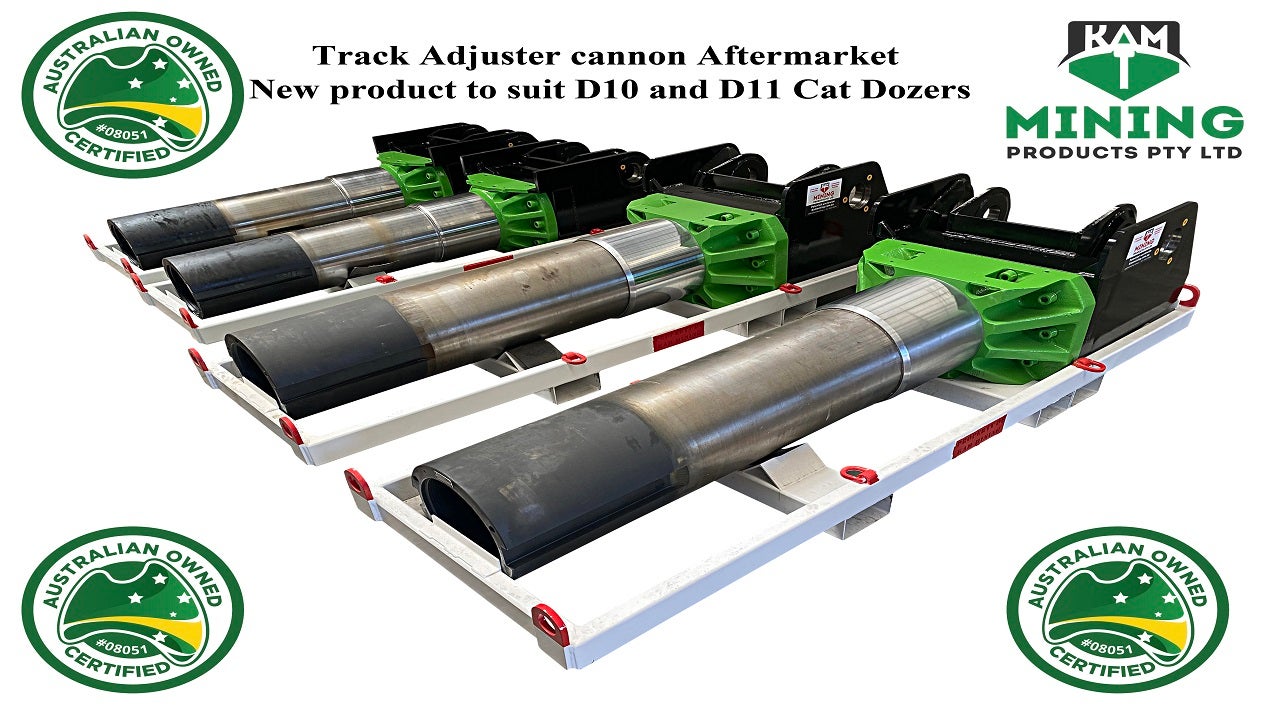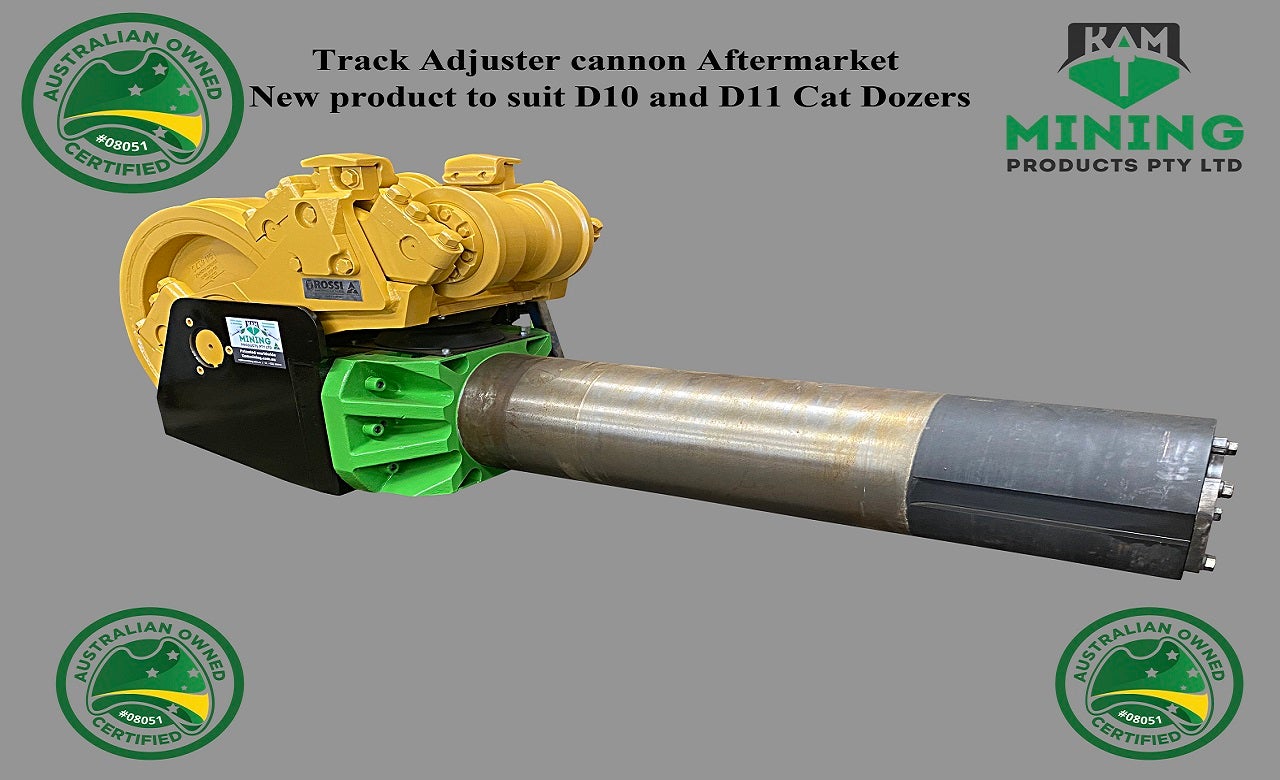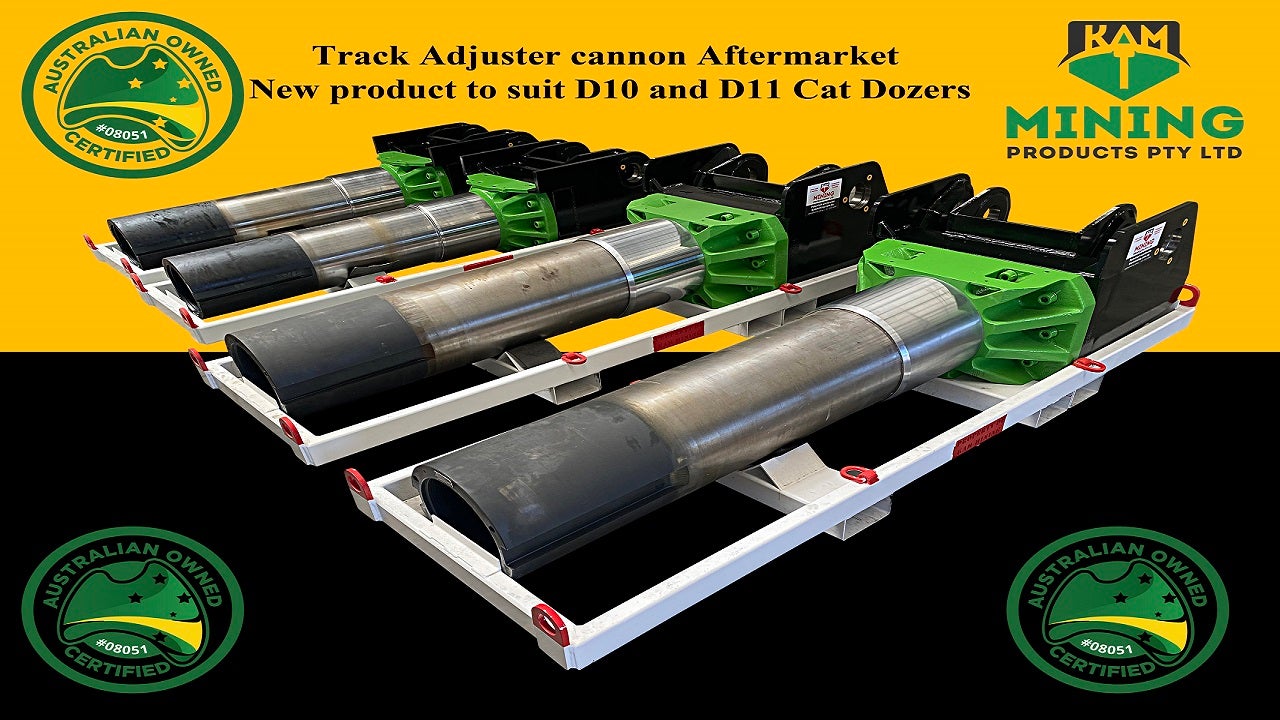 Our innovative design allows for safe, easy access to the parts. The Track Adjuster Cannon itself is split into two pieces and is held together as an assembly with ten bolts, making it easy to service.
If the cannon assembly wears on one end (in the keyways), it can be rotated 180˚ and used again, effectively doubling its life. Instead of days, it can be switched out in a matter of hours, allowing the equipment to be operational again much sooner. This process could lead to an 80% reduction in repair or maintenance time for the track adjuster cannon.
The shaft has an increased thickness with no weld joint, resulting in improved strength while a reversible cannon shaft prolongs the service life. A wear-resistant coating is available as required and the operator is safe from the recoil assembly, even when you remove the idler end.
In addition, the track adjuster cannon from KAM Mining Products is manufactured in Australia, eliminating the extra time and the cost of international shipping.
Development of track adjuster cannons
KAM's parent company, Metal Testing Pty Ltd, is leading the way in testing metal structures for fatigue cracking. With more than 15 years of experience, we are a NATA-accredited non-destructive testing company.
Metal Testing owner Mohan Narayan noticed a trend in the way the track tensioners from dozers were failing.
Mohan said: "Because we were testing so many dozer track tensioners from clients across Australia, we saw a pattern in the way the stress fatigue cracks were developing."
Drawing on his experience with metal structures, he further investigated the trend. Having identified the weakness in the failed tensioners, Mohan became determined to provide a solution that would better serve his clients and give them real value.
After four years of research and development, KAM Mining Products brought its first track adjuster cannon to the market. Featuring a modular design comprising two main parts instead of one, it has several key features to reduce stress in the components and give the assembly the qualities that equipment owners are looking for, including strength, reliability and reduced downtime during maintenance.
Long-lasting, comprehensive safety and design of track adjuster cannons
Failure of a cannon shaft presents an additional problem. The uncontrolled release of energy from the spring assembly poses a significant safety risk to maintenance personnel.
Metal Testing had to address these fatal risks during the design process. To achieve this, the company used finite element analysis, a computer-based method for solving engineering problems, to fine-tune their design. The analysis confirmed that the design was markedly superior under stress to equivalent components on the market today.
The result is a safe, reliable and more durable tensioning system for D10 and D11 dozers.
These track adjuster cannons were introduced five decades ago. This is the first time that interchangeable aftermarket parts have been made for them, and we have manufactured them in Queensland, Australia.