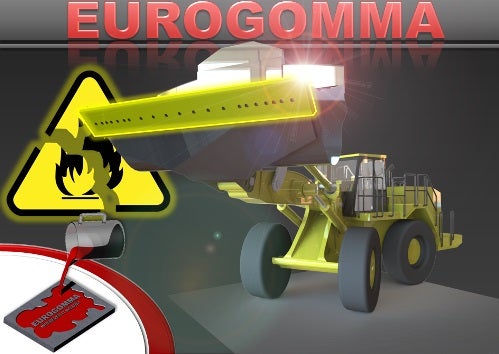 Flammable materials require special precautions. Loading wood chips, lignite, phosphorus, sulphur, fluorite, etc. can be extremely hazardous because the steel buckets of wheel loaders may generate sparkles when scraping on the ground.
Our polyurethane cutting edges for wheel loaders are spark free and prevent any risk of flaming. In consideration of the low friction coefficient and the high abrasion resistance of our polyurethane, our cutting edges are a fantastic product for several loading applications.
Our spark-free polyurethane cutting edges have a solid steel plate inside to resist the mechanical stress given by the bucket pushing against the ground. They are fastened to the bucket with strong structural bolts and nuts.
The bolt and nut application allows the rapid change of our spark-free polyurethane cutting edges once worn out. Our cutting edges are suitable for every bucket model and brand. Contact us to understand how we can apply our polyurethane cutting edges to your wheel loaders. Your fire hazards will disappear.
Founded in 1975 in Bergamo, Italy by Mr Luciano Annoni EUROGOMMA is an Italian Manufacturer of high-density polyurethane elastomers for wear protection.
EURO-PS is the most versatile modular system of EUROGOMMA.
EUROGOMMA supplies polyurethane tensioned screens that offer high-performance and wear-resistance.