TOMRA Sorting Solutions
Sensor-based Ore-Sorting Technology for the Mineral Processing Industry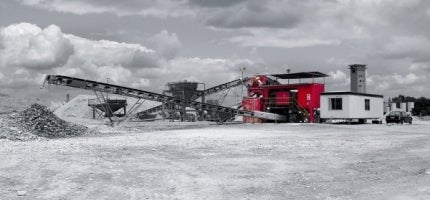 The material moving through the sorting process is heavy, dusty and abrasive. High demands on the equipment from all fronts require a very special technology.
Materials handling, product recognition and pressurised air ejection are brought together by TOMRA Sorting Mining in a robust and tested system, which reliably separates valuable mineral ores from waste rock. This technology provides top efficiency, precision and speed.
Material-sensitive mineral sorting
Regardless of whether it is diamonds, gold, limestone or coal that is being processed, the sensors recognise the target material on the basis of typical characteristics such as colour, atomic density, transparency or conductivity. The valuable mineral-bearing rock is then selectively expelled using a precise pulse of pressurised air from the high-performance nozzle system, regardless of whether it is a small diamond or a heavy lump of ore. Not even the smallest particle size evades this intelligent system, even though it works much faster than traditional sorting technologies.
Reduction of run-of-mine (ROM) cost and increased efficiency
A large proportion of the mined rock is worthless stone. This run-of-mine (ROM) must be transported, crushed, milled and classified multiple times during the beneficiation process. This is a significant expense that can be reduced if a large proportion of the waste rock can be removed after the primary crushing or even underground.
Sensor-based sorting can also bring added value in other parts of the mining process. Right at the end, for example, enormous waste rock dumps still contain large amounts of valuable minerals that are created during processing with standard methods. This waste may now turn into treasure using TOMRA Sorting technology.
TOMRA Sorting technology can be seamlessly integrated with, and individually tailored to, existing mining processes. This increases efficiency within tried and tested procedures and installations.
The scope of applications is limitless. Whether minerals, metals, fuels, gemstones, slag or diamonds, every deposit has its own characteristics. TOMRA Sorting will take on this challenge.
Mineral-specific separation technology
Four product lines are available to support the specific needs of ROM applications, industrial processing of minerals, diamond and gemstone recovery and metal recovery from slag. For each product line a number of sensors are available to support the specific separation task. Our products can be supplied with a width ranging from 600mm to 3000mm. We also offer many options and 'add-ons' that include different resolutions (depending on the size of the objects to be detected), valve block types and configurations. Please check each individual product sheet for further details.
TOMRA´s sorting systems are integrated solutions consisting of:
Detection system (EM, PM, COLOR, COLOR NIR, XRF, XRT, RM)
Control system with local HMI and modem
Valve block system including and air regulator(s)
Vibratory feeder with electronic control
Material handling and feed presentation system
Accompanying documentation
Test your own material at the TOMRA Sorting Centre
All our clients have the opportunity to visit our test centre to perform tests on their ore or raw materials and make sure that they get the perfect solution to their sensor-based ore sorting tasks. Please use the form on this page to find out more about this service.
Pioneer in sensor-based sorting
TOMRA Sorting Solutions is the pioneer in sensor-based sorting. The experience gained from more than 10,000 installed systems in the mining, food and recycling industries plus experience from 15 test facilities around the world have led to significant advances in sensor-based technology. TOMRA Sorting´s mining business was previously known as CommodasUltrasort.
A more efficient way to process global resources.
TOMRA Sorting Solutions Images
Press Release
The contribution of X-ray ore sorting to the efficiency of mineral processing is growing, and TOMRA's new COM XRT 2.0 sorters are taking the value added by this technology to another level.
Read more
The Federation of European Mineral Programs (FEMP) organizes and coordinates business support for the European Mining, Minerals and Environmental Program (EMMEP) for students in Resource Engineering, Mining- and Geotechnical Engineering, Mineral Processing, Recycling and related academic studies.
Read more