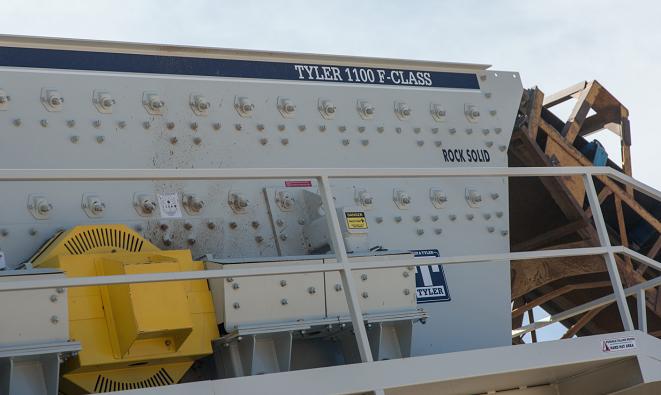 Haver & Boecker has introduced its Tyler F-Class Split-Bucket Mounting System, which offers simplified maintenance and bearings change-outs for operators and, in-turn, cuts service downtime in half. The rubber mount housing, or split-bucket system, provides operators easy access to critical components, such as rubber mounts and body brackets.
The all new Tyler F-Class Vibrating Screens feature the upgraded mounting system, which includes 16 rubber mounts and four body brackets.
The split-bucket rubber mount includes a two-piece body bracket, which allows operators to remove the side arm and bucket in one piece. Prior to these improvements, in order to remove the side arm, technicians were required to disconnect the rubber mounts along with removing 15 bolts. Now, the process is simplified. Technicians can remove the side arm and split-buckets off of the screen as a whole assembly, reducing the number of bolts removed to eight.
Beyond the new split-bucket mounting system, the F-Class includes Haver & Boecker's exclusive four bearing Tyler design, which allows for multiple machine installations within the same building or structure. It's also ideal for screening situations that require consistent, load-independent performance at constant g-force in all operational modes. With the right media choice, it virtually eliminates blinding and pegging. The F-Class is designed to handle the toughest applications; it can easily scalp and classify ores, minerals, stones, sand and gravel.
"Our F-Class four bearing design is the best in the industry because it minimises structural vibration and delivers a consistent stroke, which two-bearing screens cannot provide. However, because of its unique design, common maintenance, such as changing the rubber mounts and accessing critical components took extra time," said Karen Thompson, president of Haver & Boecker Canada. "This is why we worked with our customers to address this challenge and design the F-Class split-bucket design. Its innovative design provides the best, most efficient vibrating screen, while still being easy to service."
The F-Class includes a standard 18-month warranty from the date of shipment, 12 months from the installation date or 6,000 operation hours, whichever comes first. This warranty can be increased with optional customer-specific warranty upgrade packages. Uptime, an optional 36-month warranty package, offers customers a full-service approach to equipment optimisation, from parts inspection and equipment assessment to screen media evaluation.
Ty-Plate offers wear resistance in square, round, hexagonal and slotted openings. It is available in...