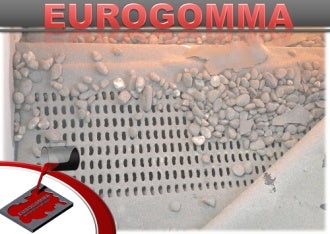 Eurogomma has gained great success in Austria with its flip-flop screening equipment.
The company's Austrian distributor Werupa Gmbh confirmed that customers are happy with Eurogomma's screens.
One client, Lasselsberger had experienced issues with previous equipment and was trying to solve the blinding problem with its technology, without any success. Then it decided to try Eurogomma products through Werupa.
Eurogomma's screen panels with boomerang shaped apertures have now been running at Lasselsberger for more than a year with no blinding effect at all, and no blanking after a few hours of operation.
In addition, Eurogomma's screen panels show no wear despite the screen deck being fed with 0mm > 32mm gravel and 0mm > 4mm quartz.
Eurogomma is proud to supply superior products to help all of its customers solve their operational challenges.
---
Image: Eurogomma flip-flop screen. Photo: courtesy of Eurogomma.
We love when we are called to do something new because that is the philosophy...