Systemgroup is a team of dedicated technology consultants experienced in solving complex business problems through the development and integration of customised software solutions. As an award-winning solution provider, in business since 1994, we have delivered a broad range of IT and business management solutions that bring competitive advantage to medium and large-sized organisations.
Advance Analytics reporting and data management solutions for mine management
The Systemgroup Advance Analytics® operational reporting system is a purpose-built solution that accelerates business intelligence maturity by providing an architecture that captures data from disparate source systems at remote mine sites. This data is then communicated and analysed to enable better and faster decisions, from the site through to corporate, in near real-time. It provides a foundation for improved decision making, which increases efficiency at the site while reducing costs based on visibility of information within a single platform.
Mining data is typically distributed and fragmented across several operational systems within a mine site, making it difficult to control data quality. Incomplete and poor-quality data is a real business issue that affects all divisions and areas of a mining company. With the Systemgroup Advance Analytics operational reporting system, users can:
Have access to timely and accurate information
Access data distributed across extreme geographical areas
Avoid constrained bandwidth and technological shortcomings, with the system's near real-time site updates
Political and partnership disputes can also hinder data management and business decisions, such as: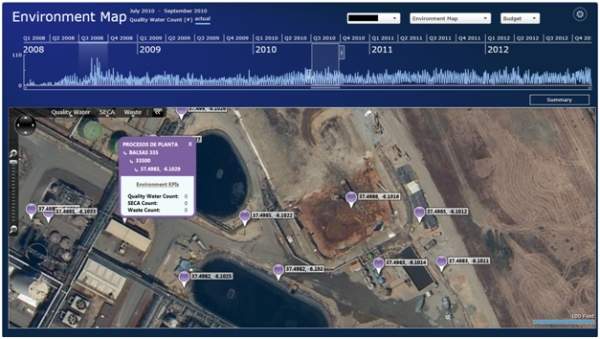 Advance Analytics provides many different views of data including a geospatial view of KPIs, which shows the locations at a mine site where environmental incidents occurred.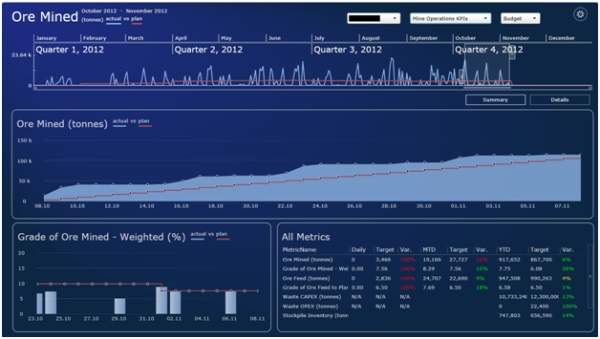 Advance Analytics shows trending information (top), scorecard information (bottom-right), and related information (bottom-left) for each KPI being reported on.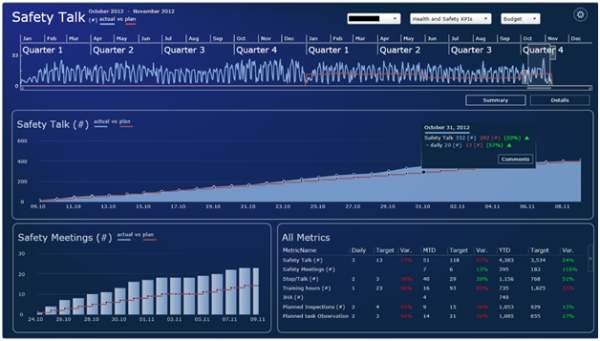 Advance Analytics provides a robust visualisation platform to report on each department's KPIs; in this case providing actual versus target data on safety measures implemented at the mine site.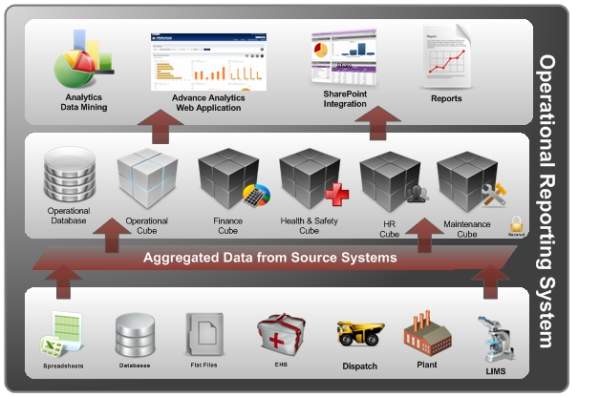 With all data collated on one station with near real-time updates, mine operators can make better informed decisions.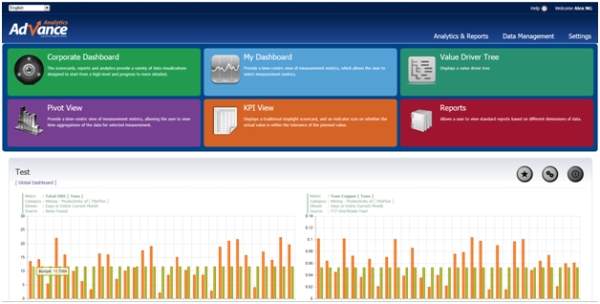 Advance Analytics has an easy-to-use interface which provides super-menu functionality to easily navigate to areas of the system.
Security considerations for data storage and data communication
Infrastructure procurement, deployment, and retention issues
Application security policies and procedures forecasting
Forecasting operational and cost values can be complex due to the many variables that influence these metrics – this can be difficult to model manually without accurate information
Benefits of data resource management for mining operations
Advance Analytics provides the tools to generate customised reports from diverse data sources at preset intervals; from monthly to near real-time.
This accurate, cross-enterprise view of an organisation's operating health and performance is what distinguishes successful organisations from those struggling with data management capabilities. Ensuring data accuracy down to the granular level instils a sense of confidence and direction no company can afford to be without. The certainty of knowing that key data, once captured, can be measured and analysed from every conceivable angle is essential to informed decision making.
By consolidating corporate intelligence into a scalable data management system, response times accelerate, productivity is boosted and wasteful redundancies and data bottlenecks are prevented. The focus of the employees can return to where it's needed most: on day-to-day operations, continuous improvement and strategic planning for future growth.
Module-based approach to mine data assessment
It is about accessing the data you already have and identifying the data you require and then transforming that data to information that can be readily acted upon. Advance Analytics provides a foundation to drive operations and process efficiencies, leading to cost containment and reduction through increased and improved operational insight from the mine to corporate decision-makers.
The Advance Analytics platform enables the transformation of raw site data into information, while providing insight and facilitating action on customised operational metrics at all organisational levels, including:
Production and processing efficiency
Asset efficiency and availability
Energy and fuel consumption management
Health and safety accident analysis and trending
Community relations incident tracking
Environmental issues tracking
Operational metrics effect on capital expenditures
Mine operations
Plant operations
Maintenance
Geology
Built on proven open systems technology for IT confidence
Advance Analytics' Business Intelligence suite encompasses the entire spectrum of technologies necessary to build a successful end-to-end decision support solution.
Extraction transformation and loading (ETL) module – enables the data collection from a variety of source systems including dispatch, health and safety, production and financial
World-class data warehouse – open platform, recognisable industry standard database provides a flexible, scalable solution
Online analytical processing (OLAP) cube – comprehensive data manipulation and analytics
Robust reporting engine – allows for the creation of preprogrammed and automated report building
Analytics made simple – by utilising a single platform to pull and collect data through a data entry framework, analyse and present
Role-based security – utilises security technology to determine who sees what information at what level; controlled by authorized access
Master data management – creates a single, proven, accurate source of the truth for the indicators that improve organisational performance and drive cost savings
Mobile with HTML5 – renders an interactive web experience that is universal across all computing devices