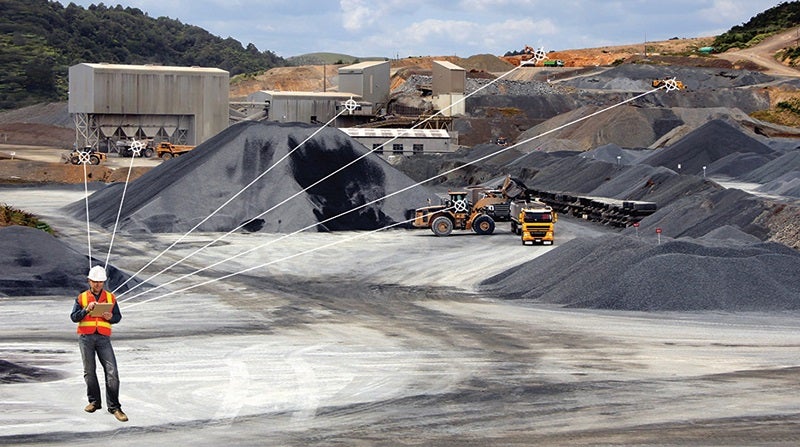 Recent changes to Chain of Responsibility (CoR) legislation have expanded the responsibility of aggregate producers and increased penalties for incidents and accidents due to overloading. Technology like onboard weighing systems can help to reduce the risk of accidents and penalties under CoR legislation.
Tight margins and pressure to deliver products quickly and cheaply make it tempting for transport companies, aggregate suppliers and primary producers to cut corners on their logistics management, but a strict chain of responsibility legislation makes this a very risky practice.
Chain of responsibility (COR) legislation was created to keep all parties safe, reduce pressure on truck drivers, and acknowledge that unlawful behaviour is often influenced by external parties. It holds all members of the transport chain liable for the safety of the driver, the public and the payload. Therefore, if you consign, pack, load or receive goods as part of your business, you are legally responsible for preventing road incidents.
As of late 2018, CoR laws now require parties in the chain to actively identify, assess and control hazards and transportation risks, and specifically notes that each person in the chain has a duty to ensure safe transport operation practices. The noteworthy part of this change is that now parties must ensure safety "so far as is reasonably practicable". Therefore, it requires that you:
Eliminate/minimise public risk – these are safety risks or risk of damage to infrastructure
Ensure that no-one, either directly or indirectly, encourages drivers to contravene Heavy Vehicle National Law (HVNL) such as overloading trucks.
Importers, exporters, primary producers and aggregate suppliers can all be held legally responsible for heavy vehicle incidents under the legislation. To avoid heavy penalties, it is important to understand the rules and know what precautionary measures should be taken.
Dan Barry, General Manager from SmartTech, agents for Trimble LOADRITE onboard weighing systems says: "In today's competitive climate, companies are facing ever-shrinking margins, which put pressure on everyone involved in the supply chain, from consignors to transport companies to consignees. The Chain of Responsibility is in place to hold people responsible for their actions and ensure these parties are taking all reasonable steps to comply with safety regulations, which will, in turn, prevent major accidents."
A key element of CoR addresses vehicle mass limits, as an even slightly overloaded truck has the potential to cause major incidents. Under CoR, suppliers must take all reasonable steps to ensure vehicles are loaded within their legal mass limit. They may be required to provide verifiable documentation if an investigation should occur.
Under the legislation, penalties can range from improvement warnings (where a minor breach has been identified) through to court-imposed intervention orders, licensing and registration sanctions and hundreds of thousands of dollars' worth of fines – for companies and individuals alike. There have been thousands of charges laid against consignees and consignors in recent years under CoR.
There are three categories of penalties:
Behaviour: recklessly exposing someone to a risk of death of serious injury/illness
Penalty: $3 million for a corporation, $300,000/5 years imprisonment for an individual
Behaviour: exposing someone or multiple people to a risk of death or serious illness/injury
Penalty: $1.5 million for a corporation, $150,000 for an individual
Behaviour: person contravenes the primary duty
Penalty: $500,000 for a corporation, $50k for an individual
"If one truck is in breach and causes a major accident, they commonly investigate the entire fleet. This can lead to an investigation of the producing and receiving companies as well. Managers, directors, employees, drivers, weighbridge operators and loader operators can all be targeted, said Dan. "Because quarries and aggregate producers cannot control driver actions on the road, it is essential to follow reasonable steps of defence to protect themselves if an investigation were to occur."
"Payload management technologies can provide a "reasonable steps" defence against CoR charges, while still ensuring maximum efficiency for companies. With accurate scales, you can achieve substantial gains in revenue, decrease fuel costs per tonne delivered, aid in efficient planning of logistics, and decrease driving hours. Plus, it ensures loads are compliant with vehicle mass limits," said Dan.
It is critical to have real-time measurements of loads and monitor how they are being loaded as well as clarity into what goes in and out of a site in order to ensure CoR compliance and avoid heavy penalties.
Payload management technologies like onboard scales are an accurate and credible way to measure the sum of a payload with exceptional accuracy. Most onboard scales also provide the added advantage of documenting data that can prove critical in the defence of overload and mass related charges.
Traditional load monitoring systems such as weighbridges are expensive to set up and can be too far away, especially for construction sites or remote sites. Using Legal for Trade loader scales, the producer can bypass the weighbridge and reduce the cycle time by a few minutes depending on weighbridge traffic. This means happier customers and may mean more haul cycles per shift.
SmartTech specialises in advanced scale systems for loaders, excavators and conveyor belts, as well as reporting software. The real-time weighing information and data reporting system ensures trucks are loaded to their optimal payload and reduce the risk of overloading and underloading trucks.