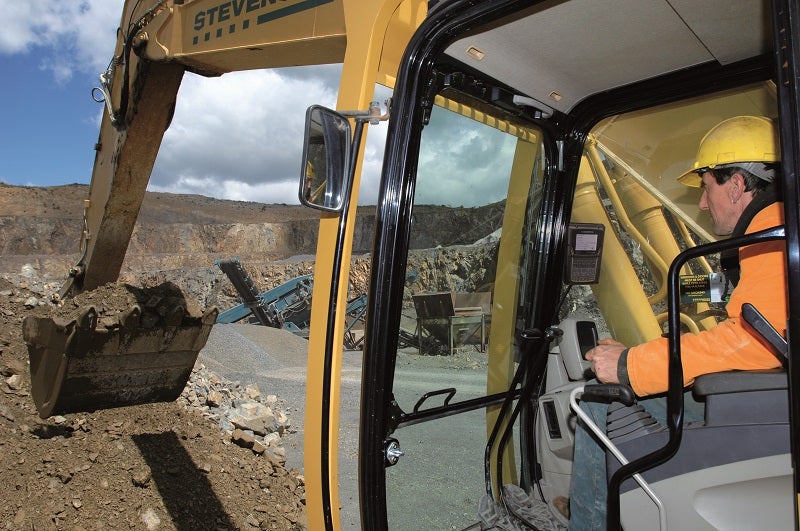 Georgiou is a national building construction, engineering and property development company, delivering major projects across Western Australia, Queensland, Victoria and New South Wales.
In late 2014, Georgiou management engaged to work collaboratively on an upcoming Earthworks project north of Perth. Georgiou required a way to better manage site planning and project progress beyond the current manual system, to improve productivity and efficiency of the project and ensure key deadlines were met.
A solution was proposed that seamlessly would meet the needs of Georgiou and provide management with the tools they required to have greater visibility into the project and be in a strong position to react and plan for any project deviations in near real-time.
Three operating excavators' on-site (Cat 385C and 2 Komatsu PC1250's) were fitted with Trimble's on-board weighing system LOADRITE. The Loadrite X2350 excavator system measures the bucket payload in real-time as the excavator operates and allows the operator to ensure each truck is loaded to capacity.
The benefits were immediate and obvious to Georgiou as the type of material loaded meant each truck was consistently being under-loaded. This presented an immediate cost-saving initiative that justified our solution in the very first week by making modifications to each truck that allowed them to operate at optimum capacity. The LOADRITE X2350 systems report measured payload data wirelessly connected to InsightHQ, a web-based reporting and analysis tool for the payload of each excavator and the site. From this tool, Georgiou management made informed decisions about their mass haul planning, have precise material measurement to support their decision making and movement across site, all in near real-time.
Loadrite provides smart solutions to increase productivity and maximise profits through confident loading performance.