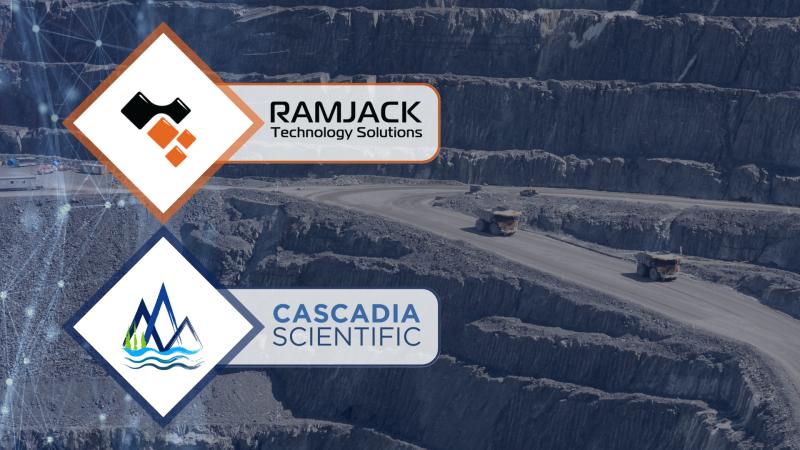 Ramjack Technology Solutions, a specialised system integrator for advanced technologies in the mining industry, announced today that they've selected an innovative solution by Cascadia Scientific to further provide global customers with decision intelligence to drive optimised mining operations. Cascadia Scientific's turnkey solutions unlock productivity, efficiency, and availability gains by combining high-precision sensing, vehicle network integration and leading-edge machine learning (ML) techniques.
This new technology solution will elevate Ramjack's ability to combine best-of-breed products and localised, custom services, for their mining customers. With a goal to lead the charge to bring the disruptive power of machine intelligence to mines of every size and at all points along the digital transformation curve, Ramjack will help bring Cascadia Scientific's innovations to all corners of the globe.
"Ramjack's established presence in strategic markets and its unique approach to end-user value redemption provide the foundations for what I know will be a fruitful partnership, said Kevin Dagenais, CEO Cascadia Scientific. "We are thrilled to work alongside their team as we continue our mission to bring the transformative power of machine learning to mines at every point along the technology adoption curve."
"We are extremely pleased to bring the Cascadia Scientific technology stack to our solutions portfolio," said Mike Jackson, CEO at Ramjack. "Collaborative partnerships are key to successful technology adoption in mining. I'm excited to be aligning efforts with Cascadia towards achieving our shared mission of minimising the carbon footprint of our industry."
About Cascadia scientific:
Cascadia Scientific shares an enthusiastic optimism for the potential of machine intelligence to revolutionize mining. They are proud of their work to improve mine haulage sustainability and are driven to help customers address their most pressing needs through data-driven decision support. 21/30 of the world's largest mining companies have pledged to reduce GHG emissions or become net zero by 2050. Cascadia Scientific strives to minimize the carbon footprint of heavy mining equipment and will continue toward this path until our industry achieves complete decarbonization.
About Ramjack Technology Solutions:
With their vast range of experience in mining technology and partnerships with the best mining technology manufacturers from across the globe, Ramjack Technology Solutions provides a suite of products and services that can solve any of the operational challenges that mines face today. Whether on surface or underground, Ramjack are experts in applying best-of-breed technologies and customised services to increase productivity and improve safety performance.