Triple Point Technology's premier QMASTOR software solutions drive bottom line improvements by enabling mining companies to achieve optimised, efficient, and effective coal and mineral supply chains. QMASTOR solutions manage over one billion tons of bulk commodity movements each year with customers including BHP Billiton, Rio Tinto, Vale, Anglo American, Xstrata and Peabody Energy.
QMASTOR products manage the tonnage, quality, and value of coal and minerals from "pit" to the point of export or consumption. They help companies reduce operational, logistical, marketing, and commercial costs by optimising and automating the management of complex supply chains that include multiple mines, stockpiles, transport legs/modes, and ports.
Mining supply chain management
QMASTOR Pit to Port™ is a decision support system enabling management to plan, record, track, optimise, account, reconcile, and report the tonnage, quality, and value of materials from the mine to the point of export or consumption. Pit to Port synchronises operations, logistics, marketing, and commercial functions for a transparent view of export, import, and domestic supply chain operations across the enterprise.
Pit to Port's flexible, modular design enables it to be customised to suit specific operational requirements. Pit to Port ensures the right bulk material goes to the right place, at the right time, and at the right cost.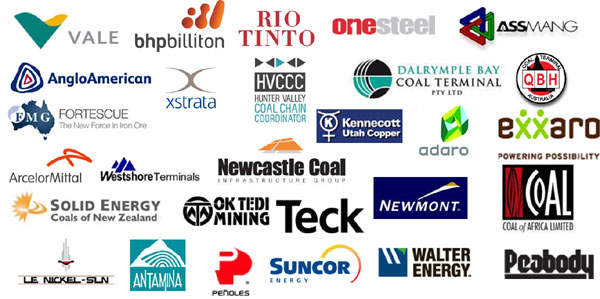 Triple Point's QMASTOR solutions are contracted to manage over one billion tons of bulk commodity movements per annum in coal, iron ore, nickel, bauxite and copper/gold.
Peer products include Pit to Plant, which provides advanced functionality from mine to refinery/smelter/power plant operations, and Port to Plant for port to processing plant operations.
Stockpile management
QMASTOR SMS3D® is a stockpile management solution that tracks and visualises parcels of material in three dimensional space. The system is used to track and dynamically model stockpile tonnage, grade, and value in real-time to enable proactive grade management and optimise process plant configuration, blend planning, and reclamation/load planning. SMS3D delivers extremely accurate tonnage and quality forecasts, and simplifies blend planning to ensure deliveries are within specification.
Bulk terminal management
QMASTOR PortVu® is an award-winning integrated bulk terminal management system that manages the complexities of stockyards, inter-modal transportation, and vessels while ensuring equipment is scheduled and utilised efficiently. PortVu integrates terminal operations with suppliers, customers, transport providers, agents, laboratories and other partners through the use of a common platform. PortVu can be interfaced to a terminal control system to provide necessary information on stockpile position for yard equipment instructions, task and route management, vessel load and hatch plans, and belt weightometers for accurate data reconciliation and reporting.
Advanced planning and scheduling optimisation
QMASTOR Horizon™ is an advanced planning and scheduling system enabling complex supply chains to be modelled, planned, and scheduled simply and efficiently. The solution utilizes a business rules-based engine coupled with manual and automated scheduling mechanisms for optimised planning and scheduling based upon site-specific sets of strategies and weighted key performance indicators. Horizon can be used across the entire supply chain, or for specific processes and functions including terminal stockyard asset utilisation and inventory management.
Horizon provides optimised results for the fulfillment of export, import and domestic bulk commodity demands, shipping and berth scheduling, bulk terminal stockyards, transportation (including rail, truck and barge), mine product stockyards, and process plants (e.g. wash plants; crushers; OBP).
Additional solutions
Triple Point offers bulk vessel freight chartering and coal trading and risk management solutions for more broad-based mining companies. In addition, Triple Point offers Metallurgical Accountant™, a complete metal accounting solution that reconciles production data for metallurgical accounting and inventorying purposes. Consulting services and supply chain management training are also available.
Triple Point solutions have been recognized industry-wide for delivering a significant, measurable return-on-investment with awards including the International Bulk Journal IT Solutions award and the Australian Bulk Handling IT Solutions award.
About Triple Point Technology
Triple Point Technology® is the leading global provider of cloud and on-premise commodity management software that delivers advanced analytics to optimise end-to-end commodity and energy value chains. The company provides real-time, innovative solutions to competitively address the complex and volatile commodities supply chain: buying, selling, trading, and procurement; enterprise risk management; scheduling and logistics; storage; processing; and settlement and accounting.
Triple Point's Commodity Management platform enables over 400 customers in 35+ countries to profitably manage exposure to energy and raw materials across industries, including energy, metals, minerals, agriculture, transportation, shipping, consumer products (CP), industrial manufacturers, and big box retailers. Triple Point was named a "Leader" in Gartner's ETRM Magic Quadrant for its completeness of vision and ability to execute in 2009, 2010, 2011, and 2012. Founded in 1993, the company employs over 800 staff in 14 offices and support centres around the globe.