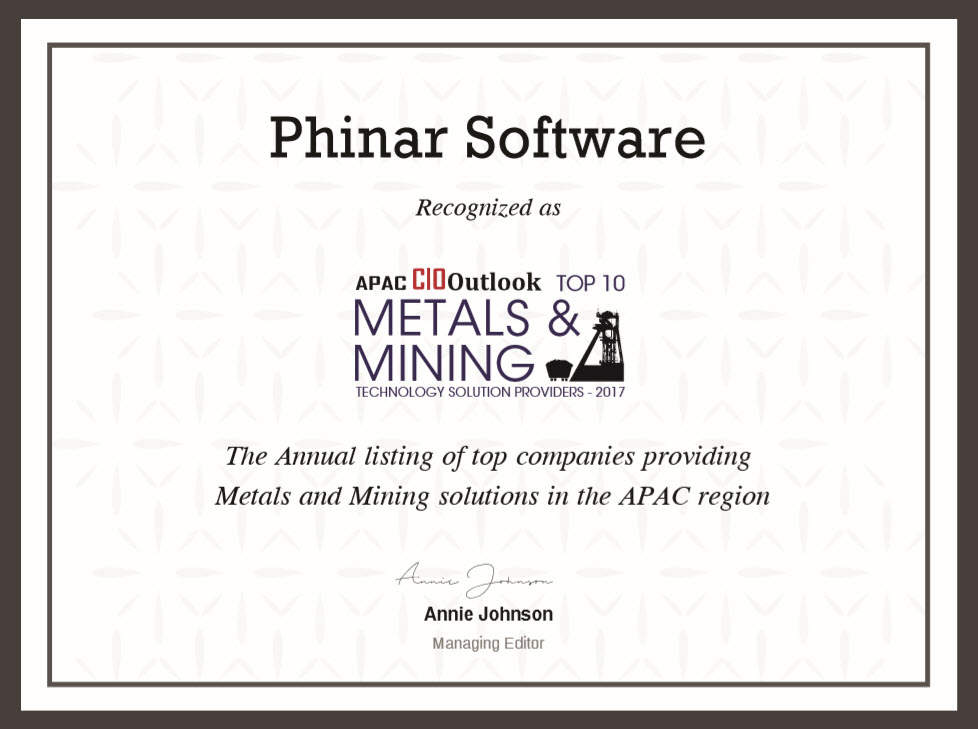 APACCIO Outlook recently announced that Phinar Software is one of the top ten mining and metal solution providers across the Asia Pacific region along with companies such as Telstra and Trimble. Phinar Software's flagship X10-Geo product is a powerful and extendable data analytics software platform for geoscientists that combines raw and derived data analysis, graphing and statistics, with cutting-edge interactive 3D visuals.
Published in Silicon Valley APACCIO Outlook is a magazine focused on reaching CIO's and senior level IT managers in the Asia Pacific Region. The criteria they applied in selecting the top ten was that the solution provider must 'integrate operations, optimise performance, and apply the best practices across their value chain in the metals and mining domain'.
Phinar software director Rob de Bruin said: "The Phinar team is very pleased to have been recognised by APACCIO Outlook alongside some big names in the industry. X10-Geo has been successful because we are bringing powerful, new generation tools to the geoscientific market that are competitively priced and backed up by responsive support.  We are now looking forward to 2018, with the release of X10-Geo V2 containing our unique Workflow Technology."
X10-Geo
With today's large and increasingly complex multi-disciplinary data sets, it is now more important than ever to have a tool that easily lets you dig down into your geological data. Used to analyse and compare data in exploration, grade control, resource evaluation and block modelling, X10-Geo is an efficient way to gain a clear picture of the important relationships and anomalies contained within various mining data sets, turning data into useful information. X10-Geo is a proven time saver 'Swiss Army knife' of 3D data analytics, with all the tools to analyse your drilling and block model data in the one place, a total integration of 3D, graphing and statistics. Within seconds X10-Geo presents data grouped any way you like. Graphs can be overlaid, stacked, sorted by statistical and other parameters, nested, and reported, all with one click. X10-Geo updates graphs and tables as new data are coming in, and automatically reports graphs to documents.
Phinar Software mining technology Specialist Dave Groocock said: "By understanding the data sets, you are investigating and the interrelationships between that data, particularly early in the mine value chain you can reduce the risk and uncertainty in making those important mining decisions."
Building best practice into their workflows resource and mine geologists, planners and engineers use X10-Geo as a flexible and efficient auditing tool to validate and compare resource estimates and other block model data. The robust validation of models combined with the integrated reporting of data demonstrates extremely good operating practice in the context of statutory reporting.