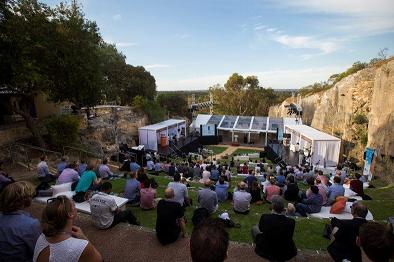 ARANZ Geo has celebrated its Lyceum innovation and thought leadership event in Perth.
Around 200 Leapfrog customers, partners and guests gathered at Perth's Quarry Amphitheatre to engage with mining industry leaders on the latest industry-changing innovations and to experience a showcase of innovation, from jetpacks, to unmanned aerial vehicles (UAVs), to advanced core scanning and the opportunities presented by big data.
Shaun Maloney, managing director of ARANZ Geo says, "Innovation is at the heart of everything we do at ARANZ Geo and by bringing the industry together to inspire innovation, everyone benefits. Lyceum was the meeting place for discussing and debating mathematics, science and philosophy in ancient Greece. ARANZ Geo's Lyceum was a unique opportunity to hear how innovators are embracing fresh thinking to solve problems and create real business value."
Lyceum was designed to give Leapfrog customers, partners and others in the mining industry the opportunity to engage with industry leaders and innovators, share experiences about initiatives that are shaping mining's future, look for innovative solutions to industry problems, and get inspired about innovation.
Tim Kerr, marketing manager at ARANZ Geo says, "We set out to create a new standard for events in the mining industry to deliver a showcase that was truly different, and the feedback was overwhelmingly positive. The Quarry Amphitheatre with soaring limestone walls and manicured lawn terraces in a natural bushland setting provided the perfect backdrop. The fast paced format saw speeches by mining industry leaders and other innovators punctuated by blocks of discussion and networking. Most importantly, attendees left feeling energised and ready to innovate in their own companies."
The event was opened by Chris Ellison, managing director of Mineral Resources and New Zealand's honorary consul to Western Australia. Mining industry speakers discussed the latest innovations and methods, while keynote speakers including Glenn Martin, inventor of the Martin Jetpack and Scott Houston, the founder of high performance cloud computer company GreenButton, shared their unique stories and invited the audience to apply their thinking to their own companies.
Martin pursued his dream of revolutionising human transport for over 30 years until mid-2015. He continues to evangelise about innovation and shared his advice on managing innovation. "The great thing about Lyceum was that it wasn't just about ARANZ Geo, there were ten-12 other companies talking about the future and what's in development. For anyone in the mining industry that wants to find out what's going to happen in the future, they need to come along to events like this, otherwise they are going to be left behind," says Martin.
Houston, now a director of ARANZ Geo, shared his insights and experiences, from setting up GreenButton in 2006, until its acquisition by Microsoft in 2014.
Several companies from the expanding Leapfrog Partner Programme also presented. The Leapfrog Partner Programme brings specialist software providers together to collaborate on an ongoing basis to provide customers with valuable integration to deliver the best possible mining software solutions.
Maloney says, "The breadth and depth of partners at Lyceum was fantastic to see. It was a great way to demonstrate how we collaborate and how much of an impact we have in the market collectively. Our partners serve a key intent to bring 'joined up' solutions to the market; those that combine best in breed functionality and ensure users can readily switch between programmes to reap the benefits."
Maloney adds, "Last week was a week of industry-firsts for ARANZ Geo; first with Lyceum, and then with the launch of Leapfrog Aspect, our augmented reality app which allow users to visualise their geological models in the real world using augmented reality."