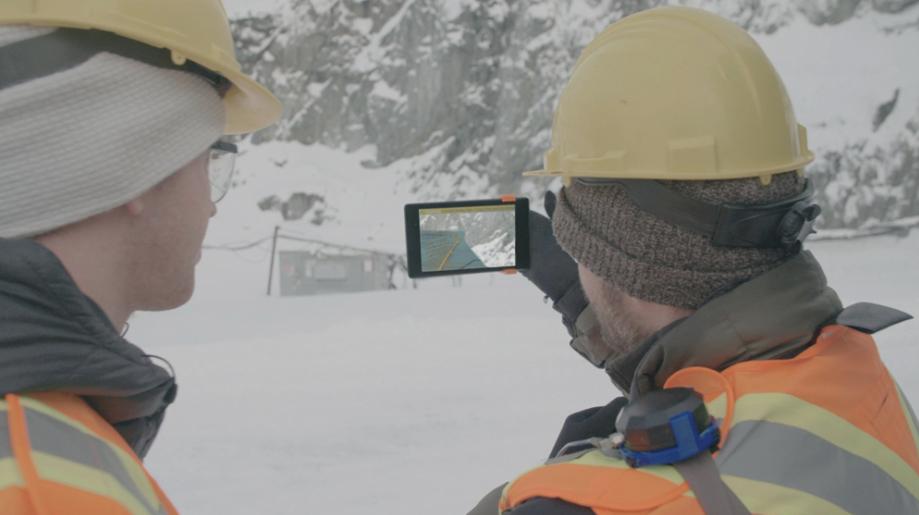 ARANZ Geo Limited, the developer of 3D geological modelling software Leapfrog®, has released the Leapfrog Aspect application to allow users to visualise their geological models in the real world using augmented reality. The app allows users to stand in the field, open Leapfrog Aspect on their device, and see their data super-imposed on the real topography.
Shaun Maloney, managing director of ARANZ Geo says, "Leapfrog Aspect brings augmented reality to geological modelling for the first time, merging the real and digital worlds. This rapidly emerging way of thinking, seeing and engaging allows Leapfrog Aspect to communicate the excitement of discovery right there in the field, which is very powerful."
Augmented reality fast-tracks communication
Leapfrog Aspect allows users to quickly validate and confirm their interpretations and advance the speed of visual checks. Field Geologists and Resource Geologists can review and collaborate on geological models in the field, and consultants can be quickly brought up to speed and explore scenes from the model right at the resource.
Leapfrog Aspect product manager Patrick 'PJ' Hollenbeck says, "Leapfrog Aspect propels users from a third-person view into a first person global view which fast tracks communication. Being able to visualise the model superimposed on the topography has instant wow factor that helps gain buy in from stakeholders, regardless of whether or not they have a geological background."
How Leapfrog Aspect works
Leapfrog Aspect, available for free download from the Google Play store for Android devices running 4.1 or higher, uses GPS data or a QR code scanned at the site to position the model accurately. Users can then explore scenes from their Leapfrog models in detail from their mobile device.
Hollenbeck says, "It's very empowering for the user as it literally allows them to carry their models around in their pocket and visualise them in a real setting to validate, collaborate and communicate. Leapfrog Aspect is fun and intuitive like most Leapfrog products, and adds real value to modelling by bringing even more realism and context. It's a rapidly evolving technology and there's lots more to come."
Leapfrog
Leapfrog is 3D geological modelling software for the mining, exploration, groundwater contamination and geothermal energy industries. Trusted worldwide, Leapfrog sets the standard in geological modelling and reduces risk by giving more time and opportunity to understand the geology. Leapfrog aids operations and long term planning and enables all round efficiency and productivity gains.