Earth Sciences Information Systems specialise in environmental data management systems for mining environments.
Mining environmental compliance software
ESdat software is a specialist environmental data management system for groundwater, surface water, soil, air, emissions and other environmental data.
Its design allows for efficient importing into a central environmental database from a range of data sources such as data loggers, field notes, PDAs and laboratory files. It also provides data comparison and analysis, comprehensive reporting, and integration with other software. The system also performs QA analysis and has automatic data validation checks.
The flexibility of ESdat means that it can be customised to meet the unique needs of individual users, either by end users or by our staff.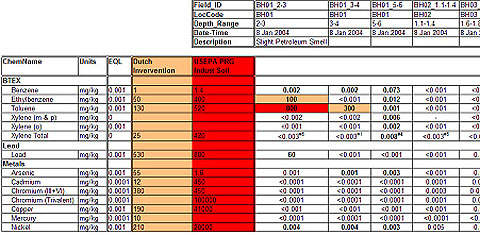 Chemistry result tables with different orientation, exceedance formatting, grouping and template options.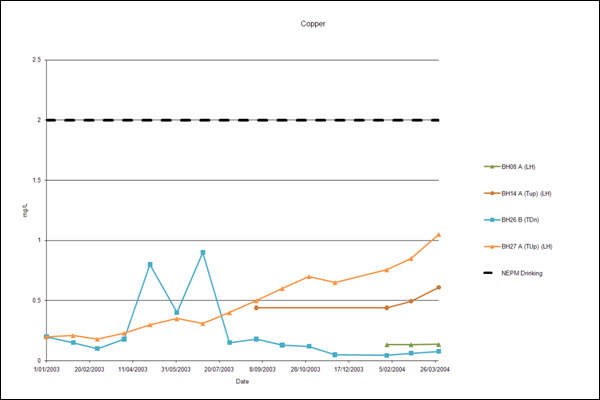 Timeseries graphs with optional trend analysis.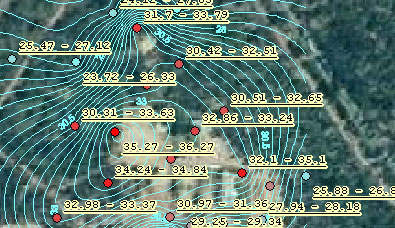 Map showing result ranges and colour scales.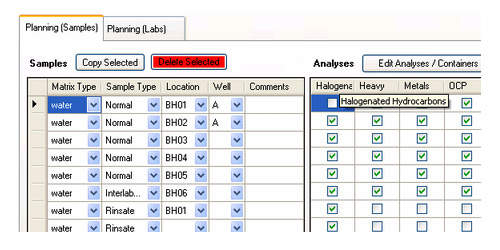 LSpecs extension for ESdat provides a complete data tracking and data management system.
Custom database queries can be created, mapped, analysed, graphed, and reported.
Site managers who need to track ongoing monitoring or investigations can traditionally collect large isolated datasets. Electronic copies of the data may be in non-consistent formats, meaning that data re-use and integration is difficult and expensive.
ESdat provides a systematic approach to storing, managing, analysing and reporting this data. ESdat also has optional flora/fauna and operational extensions that can extend the system to include all of your site's environmental data.
ESdat environmental mining data software
Chemistry tables:
Chemistry tables are produced via export to Excel. Users are able to specify the compound orientation, grouping, format, environmental standards and other settings. Environmental exceedances or problem data can be highlighted.
Timeseries graphs:
Trend graphs can be produced for any time-series data. Features of graphs include:
Mann Kendal or linear regression trend analysis
Inclusion of environmental guidelines / trigger levels
Automatically updatable (for ongoing monitoring users only have to click the 'update' button)
Are produced an Excel chart (can be edited like any other Excel chart)
Templates can be customised
Trends are easy to confirm (TUp, TDn, and LH stand for trending up, trending down, and last value is highest)
Maps:
Understanding the spatial and timeseries variations in a dataset is often critical to forming an effective conceptual understanding. ESdat has inbuilt mapping with standard label and colour options which enable users to see common variations at the click of a button. Users can immediately see where their data is located without having to use external applications. In addition ESdat can export to ArcGIS, MapInfo, and Surfer if required.
Customisation:
ESdat is also designed to work closely with the underlying database in the management and manipulation of your data. Competent users may add additional tables, or write additional queries. This can be achieved by directly opening the underlying database using the access link (or management studio for SQL server databases). So long as the queries in the database run without errors they can be used through ESdat. This means the database is transparent to users and outputs can be customised to almost any extent.
Integration:
ESdat can integrate with your other software and systems. Standard links are provided to MapInfo, Surfer, ArcGIS, gINT, WinLog, EVS, MVS, Excel and other applications.
Environmental standards, monitoring and regulatory compliance of mining environments
ESdat has always been designed to work with site data. Now the LSpecs extension for ESdat in combination with PLog Environmental provides a complete data tracking and data management system from before field work (ie Sample Planning), during fieldwork, through data validation and reporting. An integrated workflow manager is provided with LSpecs to assist users in following the correct steps.