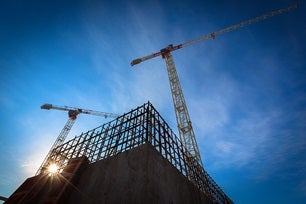 Customers are discovering how integrating Building Information Management (BIM) with BlueCielo Meridian supports the creation, exchange and distribution of the technical engineering information in all phases of the facility lifecycle.
Delivering Value with Building Information Modeling
The construction industry has undergone a sustained phase of rapid transformation. Project teams working on the management or construction of infrastructures are liable to substantial changes in the years ahead, both in processes and technology. This transformation is being driven by the rapid adoption of Building Information Modelling (BIM). BIM is an intelligent model-based process that provides insight to plan, design, construct and manage buildings and infrastructure. BIM is more conventionally associated with the design and construction of buildings and infrastructure assets however when combined with BlueCielo Meridian it can significantly enhance the full lifecycle performance of facilities.
BIM Is Big, Meridian Makes It Great
Capital projects can range drastically in size, complexity and cost. These large-scale infrastructures are planned, designed and built with the involvement of a large number of stakeholders. Whenever BIM data is exchanged between departments, all information must be controlled and monitored in an audit trail. However, ensuring that correct versions of the appropriate information are included in the handover is a serious challenge. When project team members receive the BIM data from various sources, this information can be incomplete, contain errors and exist in multiple formats. With BlueCielo Meridian, all relevant data can be managed across the facility lifecycle – from concept and design through its operating life.
Benefits of an Integrated Solution
By integrating BlueCielo Meridian with BIM tools like Autodesk Revit, owner operators benefit from a single source of truth for CAD files. This includes not just 3D data, but also 2D data from multiple engineering disciplines. The integration ensures that this data can be shared and used by Operations and Maintenance for future facility maintenance and/or modification projects. Regardless of the number of handovers, BlueCielo Meridian prevents loss of data integrity. When the facility information is finally needed for future projects, stakeholders can have confidence they are working with accurate and complete information.
BlueCielo customers recognize the growing importance of BIM and how valuable it is to integrate this information with Meridian. According to Gary McDanel of the Bureau of Reclamation: "Revit integration is key to the future of modeling and critical to the implementation of the Industrial Internet of Things (IIoT). Linking the model, documents, and resources together allows us to move management of resources and assets into the 21st century."
Learn more about our Revit integration for BIM.
Continue reading this article on our website.