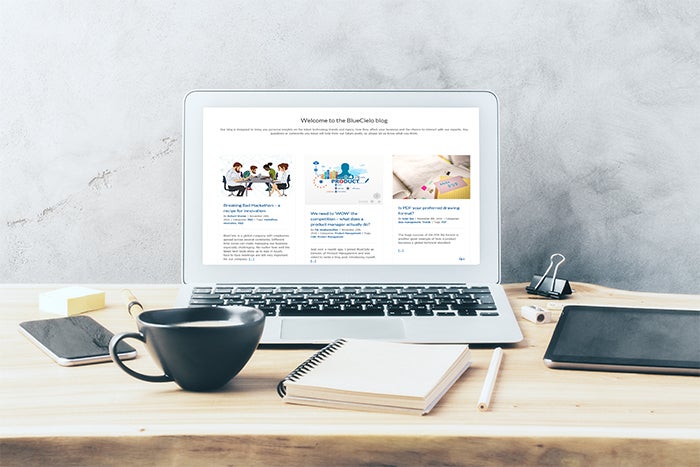 Our blog was created to provide a forum where you can have your say on the key issues of today. The blog showcases an array of exclusive content on which you can comment on and ask questions directly to our experts. Learn more and meet the people behind the blog.
BlueCielo blog features a wide spectrum of content related to current technology news, BlueCielo product information, and insights about our R&D practices. It is written by a group of dedicated BlueCielo experts and offers a platform to share insights on trends, highlight good ideas, spread best practices and celebrate the virtues of working together.
Sharing is key
The primary goal of the BlueCielo blog is to provide a relevant and engaging online community where customers and readers have a collaborative, open, and transparent environment to share their views and expertise. We encourage you to explore our blog and let us know what you think. We hope you will find the wide range of topics we address here both interesting and informative. We've got some great content lined up, but we will need your help to keep it fresh, on trend and interesting, so please let us know which topics you find interesting. You can give us your feedback by leaving a comment on the blog page itself or addressing it with our experts. Keep an eye on our weekly blog posts and follow us for more updates on technology trends. You can access our blog directly at blog.bluecieloecm.com or find it on our corporate website right under resources section.
"With our business becoming increasingly more competitive, we felt that it was the right time to give an alternative commentary on developments within the organization, our solutions, and interesting technology developments in the asset intensive industry sectors that we serve. We hope that the blog will prove of value to various audiences including our customers, future prospects, partners and our own employees who are widely spread across the globe" said Willem-Jan Scholten, CEO of BlueCielo.
"The BlueCielo blog is a chance to show the world what our company is all about; innovation, sharing, continual improvement of our software portfolio including market-leading Meridian. A company where everyone can learn something and discover a different viewpoint while delivering value to our customers" commented Pat Jenakanandhini, Director of Product Management, at BlueCielo.
Read our company blog to learn more about who we are at blog.bluecieloecm.com.
Continue reading this article on our website.