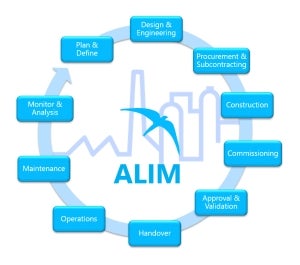 Some industries are building new plants and factories, while others are re-purposing existing facilities. All need to get the most out of their asset investments.
An emerging information technology strategy offers a comprehensive solution: Asset Lifecycle Information Management (ALIM).
ALIM improves operational excellence
ALIM acts as the glue between systems and teams.
By standardizing asset information services, emphasising interoperability and supporting extended analytics over wider data sets, ALIM provides a foundation for physical and human asset performance and productivity.
An ALIM strategy covers more than just enterprise content management or asset information management. It includes project performance management (PPM), asset performance management (APM), and asset and project portfolio management (APPM).
In addition to information storage, ALIM strategies now include strategies for workflow, integration, security, role-based portals and workspaces. This facilitates improved business planning, unlocks opportunities for optimization and supports continuous improvement.
Change your strategy
ARC Advisory Group, a technology research and advisory firm and the thought leader in supply chain and (process) manufacturing, has created a white paper introducing the applications of ALIM.
Download the free ARC white paper and discover:
What ALIM is
How ALIM improves asset performance
ALIM strategies
ALIM solutions from BlueCielo
How you could benefit
Continue reading this article on our website.