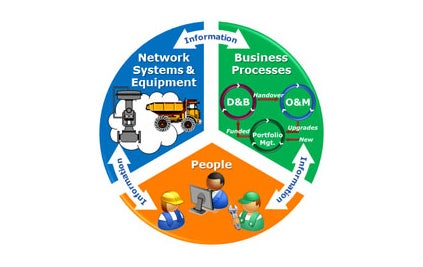 Industry in Transition: Navigating the New Age of Innovation
February 8-11, 2016 – At the ARC Forum many industry trends, such as Industrial Internet of Things (IIoT), Smart Manufacturing, Industry 4.0, Digitization, and Connected Enterprise, have been discussed. These concepts have moved past the hype stage to the point where real solutions are emerging, backed by strongly associated business cases. At the 2016 Industry Forum in Orlando, a new topic emerged: the integration of IIoT requirements into the engineering & build phase of the asset lifecycle to enable a smooth transition of brownfield plants into the new age of innovation.
IT/OT Convergence
This is not merely about "connecting the shop floor and top floor". A wide range of technologies are now being employed in industrial operations to improve operating performance, solve intractable problems, or to introduce the Industrial Internet of Things. But the greatest rewards are achieved when companies begin to operate in new, collaborative ways across the whole of the asset lifecycle within the extended enterprise.
Asset Performance Management
New technologies driving the next wave of advances include the Internet of Things (IoT), social, analytics, and 3D visualization where huge volumes of "big data" are transformed into actionable information. These technologies have the potential to drastically improve asset performance resulting in increased profitability. One of the key factors in this process is transforming data analytics related to primary production processes into actionable, easily understood information.
Engineering the Smart Factory
Plant modifications may be required to optimize processes or improve asset performance monitoring. While implementing an IIoT throughout the entire factory is in many cases impossible, the best practice presented at the ARC Forum is to gradually incorporate IIoT-enabled machines into the factory. R&D and Engineering departments should therefore incorporate requirements for the smart factory into the Good Engineering Practices.
Integration and innovation for excellence
Gary McDanel, Manager Information Management of the United States Department of the Interior Bureau of Reclamation (USBR) explored how EAM, IIoT, and business process automation improved the KPIs.
Continue reading this article on our website.