Technosub
Multi-Stage, Vertical and Submersible Pumps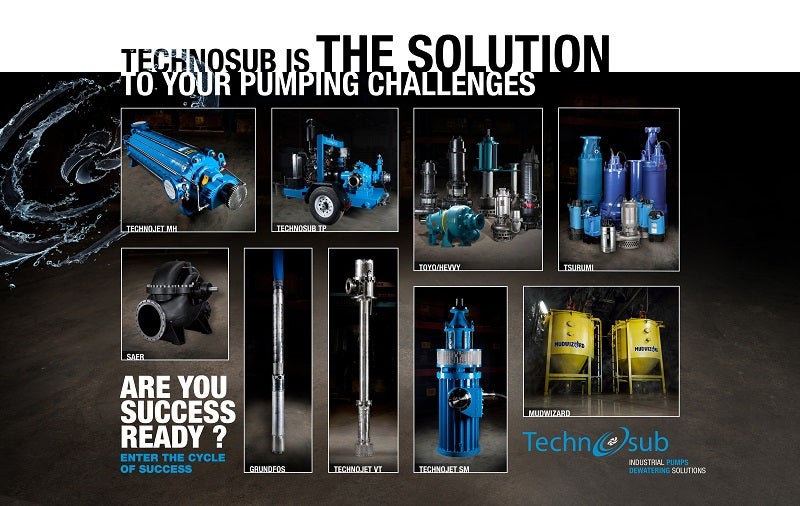 There are many pump companies, but very few understand the mining industry and the many challenges that a mine has to face when it comes to pumping applications. Delivery delays are also one of the most important factors a mine will take into consideration.
At Technosub, we have made our name by providing reliable engineering dewatering solutions and turnkey projects to mines. We also provide the fastest repair and equipment delivery in the Canadian mining industry. Over the last 30 years, more than 60% of all mining companies in Canada have put their trust in Technosub because they know they can rely on our expertise to cope with the challenges that arise from dewatering.
Technosub offers a complete variety of pumps specifically made for the mining industry.
Multi-stage pumps for the mining industry
Technosub's Technojet pumps, MH series, work up to 64bar pressure. They are designed with multi-stages to match flow and pressure requirements, especially high-pressure ranges. The maximum flow obtained with the Technojet series is 0.450m³/hr and maximum head pressure can reach 650m. These pumps are manufactured in our factory according to each customer's specifications.
Technojet pumps are made of cast iron for suction, discharge and stages casings. Impellers and diffusers are made of duplex stainless steel designed to handle corrosive liquids.
Submersible multi-stage pumps
Technosub can offer a wide range of submersible multi-stage pumps. These pumps come with high tech 'Subteck' motors and cover deep wells with diameters of 4in, 6in, 8in and 10in with power ranging from 0.37kW up to 185kW.
Tsurumi submersible pumps
Technosub is also Tsurumi Canada. Technosub is the sole authorized Tsurumi pump distributor in Canada. Tsurumi carries one of the world's most best-known lines of submersible pumps. The selection and variety offered surpass that of all competition.
Durable and efficient, single-phase or three-phase industrial, these pumps are designed to perform under the most demanding conditions in the mining industry, including pumping corrosive liquid or slurry in high-volume and/or high-head dewatering applications.
Vertical turbine pumps
Noted for its dependability and high yield, the Technojet VT-SS series is manufactured by Technosub, offering its users exceptional advantages when dealing with corrosive water. Pump frames are made entirely of duplex stainless steel. Maintenance is simple and this pump series is well known for its durability and longevity. Maximum flow obtained with the Technojet VT-SS series is 0.450m³/hr and maximum head pressure can reach 400m.
Custom pump manufacture
Technosub has the knowledge to fabricate custom pumps suited to our customers' needs. We also manufacture a wide variety of spare parts for all makes of pumps. The company's large installation also allows us to repair, adjust and test any pump in the shortest time in the industry.
Technosub owns a test bench that is unique in Canada. It is equipped with a 24,000gal basin and a 1MW generator. We can test pumps up to 800hp and 4,160V. All of the pumps that leave our facility are tested in order to make sure that their performance meets the customer's requirements. All pumps are delivered with the test results, indicating the performance curves.
Mine dewatering engineering services
Technosub has an interesting portfolio of solutions and realisations in mine dewatering. We have been working with the EPCM formula for many major projects in Canada. Every mine comes with its own challenges. All of our products and solutions are developed and tailored to adapt to our customers' limitations, be they environmental, operational, technical or financial.