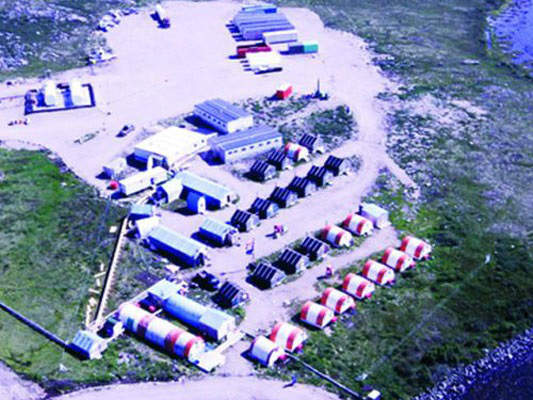 The Gahcho Kué diamond mine is located approximately 280km north-east of Yellowknife in the Mackenzie District of the Northwest Territories, Canada.
The project was developed by a joint venture of De Beers and Mountain Province Diamonds. De Beers operates the mine and holds a 51% stake, while Mountain Province Diamonds owns the remaining 49%.
Construction of the mine started in December 2013. It began production in September 2016 and commercial operations in March 2017. It is estimated to extract 54 million carats of rough diamonds from approximately 35 million tonnes of kimberlite mined during a lifespan of approximately 11 years.
As of 2010 estimates, the capital cost of the mine is $650m. The project employs 530 full-time workers during operations.
Gahcho Kué diamond mine details, geology and reserves
The diamond mine comprises diamondiferous kimberlites 5034, Hearne, Tuzo, and Tesla. The 5034, Hearne, and Tuzo pipes are estimated to contain a reserve of 31.1 million tonnes (Mt) of ore grading at 1.57ct a tonne, while the Tesla pipe is of less significance.
The Gahcho Kué kimberlite cluster is a part of the south-east Slave Craton, which comprises 4.05 billion year-old rocks. The central and eastern regions of the craton are filled with metasedimentary rocks with less common metavolcanic rocks. The kimberlite intrusions are believed to have formed during the Cambrian age dating approximately 540 million years ago (mya).
The region surrounding the Gahcho Kué cluster is filled with granite, granitic gneiss, minor granodiorite, and diorite. Granite is the most common rock type and it ranges from medium-coarse grained, equigranular facies to highly foliated granitic gneiss rock.
The proven and probable reserves of the Gahcho Kué diamond mine were estimated to be 33.8Mt at a grade of 1.53ct a tonne containing 52 million carats of diamonds.
"The proven and probable reserves of Gahcho Kué diamond mine were estimated to be 33.8Mt at a grade of 1.53 carats per tonne containing 52 million carats of diamonds."
The indicated and inferred resources of the mine were estimated to be 15.2Mt of kimberlite ore containing 18.1 million carats a tonne as of December 2015.
Mining and processing of the kimberlite ore
The quarry is mined using a conventional loading-hauling method followed by drilling and blasting. Pre-stripping of ore is conducted starting with the 5034 pipe, followed by Hearne and Tuzo. Ore is hauled to the surface and transported to the processing plant by trucks.
The mining fleet includes CAT 777F haul trucks, diesel hydraulic front shovels, and a CAT 994F rubber-tired front-end loader.
At the 3Mtpa processing plant, the ore is broken up in a primary crusher followed by wet screening. The oversized material is processed in high-pressure grinding rolls (HPGR) and fed to the dense media separation (DMS) cyclone plant. Diamonds are recovered from the concentrate by applying x-ray and grease table technology.
"Diamonds are recovered from the concentrate received from the DMS cyclone plant by applying x-ray and grease table technology."
Construction and infrastructure facilities at the Canadian diamond mine
The diamond mine project was 17% complete as of February 2014. It is accessible either through a 271km Tibbitt-Contwoyto winter road or travel by aeroplane / helicopter. Plant equipment and supplies were delivered using approximately 670 truckloads.
Major work included construction of main airstrip and prefabricated units of the main camp, as well as delivery and installation of eight 500m³ fuel tanks.
On-site diesel-powered electric generators are used to supply power to the mine.
An accommodation facility to house between 360 and 380 members was constructed. Other infrastructure developed includes an administration complex; a maintenance and warehouse facility; fuel tanks; a storage area for oil, glycol, and explosives; a sewage treatment facility; site roads; and an airstrip.
Key players involved with the Gahcho Kué mine development
WWW International Diamond Consultants were engaged to conduct valuation of the Gahcho Kué diamonds for inclusion in the feasibility study.
JDS Energy & Mining was engaged to conduct the definitive feasibility study for the mine.
Mineral Services was engaged to conduct the updated National Instrument 43-101 resource estimate for the Tuzo Deep pipe.